Summer 2006
TABLE OF CONTENTS
Feature Article: Sustainable agriculture and Diabrotica control in Lombardy - An American Professor's Experience
Department News
From the Head Bug: Genomics and the Land Grant Mission
Outreach Update
Entomology Students
Alumni News
Calendar
Sustainable agriculture and Diabrotica control in Lombardy - An American Professor's Experience.
During July and August 2005, I had the great opportunity, thanks to the Consorzio di Difesa delle Colture Intensive della Provincia di Brescia, to work with Dr. Mauro Agosti and other colleagues in Italy on the project "Sustainable agriculture and control of Diabrotica virgifera virgifera LeConte in Lombardy." [Full Story] Diabrotica in Italy 2004-2005 [MAP]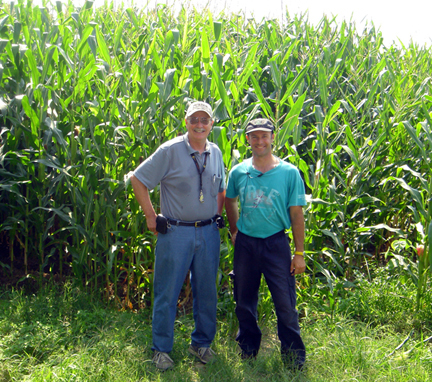 Dr. C. Richard Edwards (left) with Dr. Mauro Agosti, monitoring for western corn rootworm in Brescia Province, Italy in August 2005.
2006 Osmun Award Winner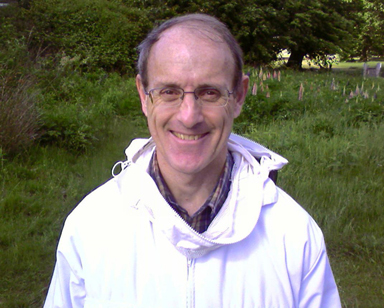 Dr. John M. Mumford learned beekeeping with Tom Stiles at Purdue and still keeps bees as a hobby.
Dr. John M. Mumford (BS '74) has been selected to receive the 2006 John V. Osmun Alumni Professional Award in Entomology. Dr. Mumford is Professor of Natural Resource Management and Deputy Director of the Centre for Environmental Policy at Imperial College London, England. He received is bachelor's degree in entomology at Purdue in 1974, then completed a Ph.D. in applied entomology at Imperial College in 1978. He joined the faculty at Imperial College as a lecturer in 1979 and has been there ever since. His areas of interest include agricultural and environmental risk analysis, economic assessment of risk and management of agricultural pests, quarantine and international trade, and management and eradication of agricultural pests. For more information about Dr. John Mumford visit his website at: http://www3.imperial.ac.uk/people/j.mumford
John worked with Tom Turpin and Curt Wilson, setting out field plots and counting and collecting insects in corn and alfalfa. He spent long hot days in the fields digging corn roots with John Thieme (BS '72) and setting out pitfall traps with Dotty Lund (MS '75). John surveyed corn insects with Milan Busching (MS '75). They found the bugs but weren't always sure what county they were in. Alfalfa pest research was a big step up. No shovels were needed, but they did have to carry a D-Vac which was hot, heavy and noisy. Being very cold hardy, alfalfa weevil parasites survive easily in frozen soil. John measured their freezing points in the lab with Tom Hintz (BS '64, MS '72). Dr. Del Broersma, who "taught with great enthusiasm" encouraged John to move into entomology as a major. John's wife, Megan and his son, William Mumford (born in 2003) will accompany John on his trip to Purdue this fall. This year's Osmun Award ceremony will be held in the Pfendler Hall Deans Auditorium on Friday, September 22nd.
Pest Control Hall of Fame 2006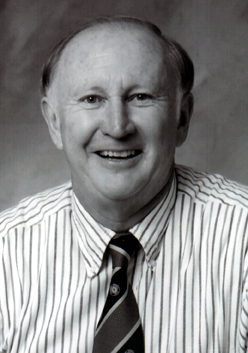 Gary Bennett
Congratulations to Gary Bennett who has been elected to the 2006 Pest Control Hall of Fame. The induction will be part of the National Pest Management Association's PestWorld show on Oct. 24 at the Gaylord Texan Resort and Convention Center. Gary will be one of four individuals recognized with this honor in 2006. He joins Purdue Entomology emeritus faculty John V. Osmun and J.J. Davis, and Purdue Entomology alumni Austin Frishman (PhD '68) and Charlie Hromada (MS '54) in the Hall of Fame. [More]
New Books Published by Faculty and Alumni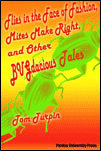 Flies in the Face of Fashion, Mites Make Right and Other BUGdacious Tales by Tom Turpin.
If you want a real insect bite, this wonderful collection of verbal sketches from the "Bug Bowl" guru, Tom Turpin will have you snug as a bug in a rug in no time. After you're through, you'll know more about the six-legged kingdom and its occupants than any bookworm you run across. [More]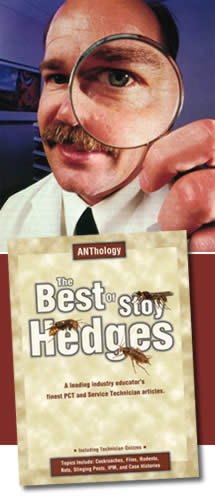 ANThology: The Best of Stoy Hedges by Stoy Hedges.
Comprised of 9 chapters filled with valuable information on cockroaches, ants, flies, rodents, bats, and other pests. We've also included management tips and technician's quizzes to test your knowledge. Discover new and better approaches to solving some of your most difficult pest problems in one complete book written by one of the industry's most respected experts. [More]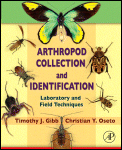 Arthropod Collection and Identification Techniques by Timothy J. Gibb and Christian Y. Oseto.
The most current and comprehensive illustrated guide to collecting and preparing insects, mites, ticks, and spiders for display and study. Designed to be taken into the field or used in the laboratory and classroom, this book summarizes all commonly used techniques for catching, handling, rearing and preserving arthropods. [More]
Faculty Publication Featured in The Connection
Bob O'Neil's article, Determination of the Suitability of Rhamnus and Related Species as Primary Hosts of the Soybean Aphid, Aphis Glycines Matsumura is featured in the August 2006 issue of The Connection, a newsletter published by the North Central Region IPM Center.
New Staff
Richard Smith is a Research Technician in the area of Hessian fly population genetics. Richard came to the department in July and works for Brandi Schemerhorn. For the past eight years he worked with soybean pathogen research in the Botany and Plant Pathology Department at Purdue, with three and a half years as a USDA position.
Departing Staff
Mike Mullis is starting a new teaching career at the West Lafayette High School this August. Mike has been the department Outreach Coordinator since January 2004.
Christine Emore, a technician for seven years in Greg Hunt's lab has decided to return to school and will begin the Masters program this fall. Christine will study genetics and continue to work with Greg.
Births
Congratulations to Solange Munoz-Eifler and husband, Jonathan Eifler (BS '97), who have a new baby girl. Gabriela Amelie Eifler, their first child, was born on June 11th. Solange is a technician for Judy Loven in the USDA Wildlife Services.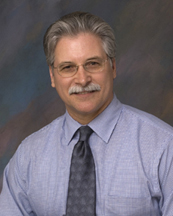 Steve Yaninek
Genomics and the Land Grant Mission
Every now and then, a breakthrough in science and technology marks the beginning of a new age such as mechanization and the industrial revolution in the 19th century, or fast computers and the information age in the 20th century. The application of genomics in the life sciences is poised to do the same during the 21st century. Advances in genomics are shedding new light on old questions and raising new questions never possible before... Read on for information about a national conference on the convergence of genomics and the land grant mission planned for next year. [Full Story]
2006 Tippecanoe Butterfly Count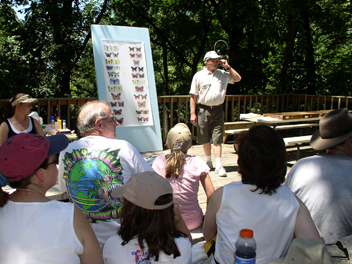 Arwin Provonsha, Entomology Museum Curator, answers questions from volunteers about butterfly identification.
On July 15, 2006, we held our annual Tippecanoe Butterfly Count at the Lilly Wildlife Habitat Area, a 100 acre nature preserve directly south of the Eli Lilly Tippecanoe Laboratory. About 50 people participated, including Entomology staff and students, Lilly employees, and members of the general public who ranged in age from infants to retired folks. Some came from as far away as Indianapolis. The count was part of a nationwide program sponsored by the North American Butterfly Association intended to monitor local butterfly populations and observe national trends in diversity and abundance. The Count also provided individuals an opportunity to get to get familiar with local butterflies and to develop an appreciation for their role in the environment. It was also simply a lot of fun. The group tallied 430 individual butterflies, representing 21 species. Additional information about the count, including a complete list of the species encountered and a pictorial guide to the butterflies of the area can be found on our Outreach Website.
[More Photos]
Solving the Pathway Puzzles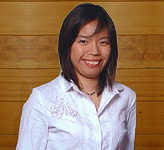 Hongmei Li
When I saw the ball drop in Tim es Square at the last minute of 2005, I realized this was my fourth New Year's Eve spent in the USA. I was born in Tianjin, a city neighboring Beijing, China. When I turned 16, I started to think about my future career. I was influenced by my two high school biology instructors a great deal, who talked about a lot of interesting subjects and phenomenon in biology class. They inspired me to enter the field of biology. After I received my bachelor's degree in Biology Education at Tianjin Normal University, I pursued a Master's degree studying the taxonomy of Lepidoptera at Nankai University for three years. I then switched my focus to the insect molecular biology field. I realized that if I was interested in doing research, the right place to go would be the United States for my doctorate study. Professor Pittendrigh's lab of molecular biology and toxicology of Drosophila melanogaster gave me an opportunity to start. I was also impressed by the long history and reputation of the Agriculture College at Purdue. I came to Purdue in August of 2002. At the beginning of graduate school, I was involved in the sequence analysis of the cDNA libraries of the cowpea weevil and body lice genomics. Working together with the senior graduate student in the lab, we found plenty of expressed sequence tags of interesting digestive enzymes. I became a co-author for two important papers. I am currently working on the proteomics profiles of the fruit fly midgut response to plant defensive compounds. I am trying to solve the puzzles of several pathways and preparing to write another two manuscripts. I became a teaching assistant for the ENTM 207 lab course and several other undergraduate classes. Even though I had some teaching experience in China a few years ago, I am still excited about meeting new students and interacting with them. I like Purdue University a lot, not only because I enjoy the research and teaching I am doing but also because I was fortunate to meet my other important half here. I married Wayne Byarlay, a systems administrator for the Purdue Libraries, in August of 2005 at Ross Camp, West Lafayette. I will have my preliminary exam in this spring semester and visit my family in China this summer. I'm sure 2006 will be a very productive year for my doctorate study.
Summer Graduates
Omprakash Mittapali (PhD '06) has accepted a post-doctoral position with Ian Baldwin at the Max-Planck Institute for Chemical Ecology. The work will focus on gene silencing via RNA interference in lepidopteran species.
Nick Geraci (MS '06) will attend Midwestern University, the Chicago College of Osteopathic Medicine to pursue a medical degree. He hopes to practice internal medicine with an emphasis on public health and infectious diseases.
Luke Jacobus (PhD '06) is negotiating final contract details for a position with a private industry.
Jesse Hoteling (MS '06) has been accepted to the doctoral program at University of California Riverside. Jesse will be working with Mike Rust.
New Graduate Students
Walter Baldauf, MS with Doug Richmond
Philip Morton, PhD with Brandi Scherhorn, Host Plant Resistance
Thiago Bennatti, PhD, with Jeff Stuart, Insect Genetics, Brazil
New Undergraduate Students - Spring 2006
Nicole Holmes, Sophomore CODO from Science comes from Monticello, Indiana
Bradley Fry, Freshman from Howe, Indiana
John Shukle, Junior from West Lafayette, Indiana
Gregory McGraw, Junior CODO from Liberal Arts comes from Tulsa, Oklahoma
New Post Doc
David Hogenkamp is a new post doc working with Cate Hill in the area of mosquito sensory perception. Originally from Canada, David received his PhD from Kansas State University.
Telgu Wedding
Venu Margam and his new wife, Swapna, were married last May in India. See more photos and learn more about the culture and traditions surrounding their beautiful Telgu wedding. Margam is a Doctoral candidate studying molecular entomology with Barry Pittendrigh and Larry Murdock.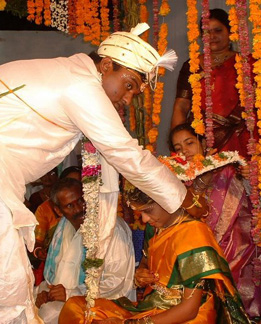 Venu Margam tying the three knots (Mangalasuthram, which means Holy thread) is one of 18 rites and rituals of the marriage ceremony.
Summer Canoe Trip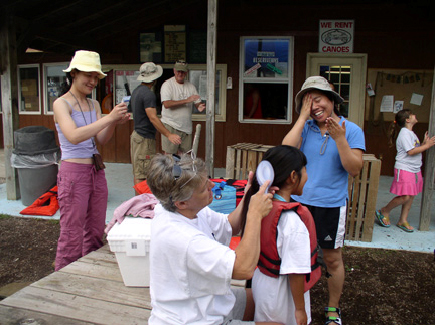 Sugar Creek Canoe Trip 2006
The graduate students organized another successful canoe trip in July. The canoe trip began at Deer's Mill Covered bridge and went through Shades State Park and Turkey Run State Park. [More Photos]
Soledad Rodas (MS '05) and husband, Alfonso, welcomed a new daughter, Daniela, born on April 27th.
Luis Canas (MS '96, PhD '00) and Nuris Acosta (MS '98) are the proud parents of a new son, Luis Gabriel, born May 12th.
Dr. William A. Allen (MS '64) I have wonderful memories of my time at Purdue and owe so very much to Glen Lehker, John Osmun, Howard Day and Dave Mathews. They were very patient with me and taught me the things that I needed to know to be a professional entomologist. I am indebted to all of them. I retired 11 years ago from Virginia Tech. Even so, Dorothy and I are really enjoying ourselves in retirement. We have changed our residence to Palm Coast Florida but still summer here in Blacksburg where we have longtime friendships. We still enjoy canoeing, hiking, gardening, fishing and beaching. Our oldest son, Morgan, lives locally and works for the University where he is Director of software development. Our second son Erik owns a small Consulting Engineering firm in Richmond that specializes in watershed management issues.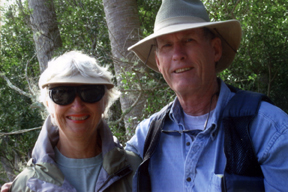 Bill and Dorothy Allen taking a break during a canoe trip in Florida
Rea Dorette "Dottie" Lund (MS '75) is currently working as an independent consultant to the structural pest control industry. Her company is called Lund Technical Specialists. Her most recent activities include working with termite damage related law suits, help with preparation of training videos for Copesan Services, and serving on the Nomination Board for the John V. Osmun Professional Alumni Award in Entomology.
Dr. Elizabeth "Beth" Grafton-Cardwell (MS '80) has been named Director of the Lindcove Research and Extension Center . She was also selected for the Excellence in Integrated Pest Management Award from the ESA Pacific Branch. The award is given for outstanding contributions which have a direct relation to integrated management of arthropod pests. Beth is an Extension IPM Specialist and Research Entomologist at University of California Riverside.
Kathy Heinsohn (PhD '98) In January, I left Western Pest Services after almost 8 years and joined The National Pest Management Association (NPMA) as their staff entomologist in the technical department. Anyone visiting the DC metro area can stop by and say hi and have a tour. My new job is like being an extension urban entomologist without having to worry about tenure! It nicely combines my technical and field experience with my knowledge and my desire to work with and help people in the pest control industry. I recently completed a 7 week beekeeper's course, received my two packages of bees and have set up two beehives in the backyard. I never got to fit it into my schedule to take Dr. Fischang's course, and I always regretted it, so I guess I'm making up for lost time! At any rate, the bees are amazing, and I am continually in awe watching them. I purchased an old Victorian house near Harper's Ferry. Some may find a correlation with my "save entomology hall" days. And, my best buddy is my 125 pound pup, Clifford, a St. Bernard mix and squirrelologist extraordinaire! If you are ever in this area, drop in and say hi to us!

Clifford, the 'squirrelologist'
AUG 8-20 Indiana State Fair
AUG 16 Purdue Day @ Indiana State Fair
AUG 21 Fall Classes Begin
AUG 31 Fall Picnic
SEP 16 Forensic Science Workshops for the Public [More Information]
SEP 22 Osmun Award
SEP 23 Homecoming
NOV 18 Forensic Science Workshops for the Public [More Information]
DEC 11 Purdue Entomology Alumni Reunion - ESA Meeting in Indianapolis