The format of the on-line issue has been updated in an effort to improve the quality and service of the newsletter and we hope you will take the time to give us some feedback. Please send your comments, suggestions, or new ideas for stories to plloyd@purdue.edu.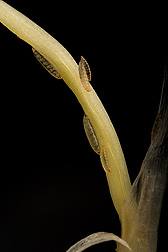 Once the outer leaves of the wheat seedling are peeled away, Hessian fly larvae can be seen feeding near the base of a susceptible plat (larvae are about 800 micrometers long).
ARS has done such a good job of combating the Hessian fly pest of wheat that many people think the problem is history.
Not so, says Brandon J. Schemerhorn, an ARS entomologist in the Crop Production and Pest Control Research Unit at West Lafayette, Indiana. That's where historic Hessian fly research was begun in the 1920s.
"We have been successful so far, but we also have to keep researching to stay one step ahead of it," says Schemerhorn. "We have a lot more tools to fight it today, but so does the fly."
Outstanding Service Award:

Jody Pearson

receives award plaque from

Steve Yaninek

.
Jody Pearson has been with Purdue since March of 1995 and came to the Entomology Department in March of 1998. The department benefits greatly from the knowledge and resources that Jody has accumulated during this time. Jody and her husband, Matt, have four charming daughters; Samantha 16, Olivia 7, Elizabeth 4, and Emma 1. A reception for Jody and a department holiday celebration followed.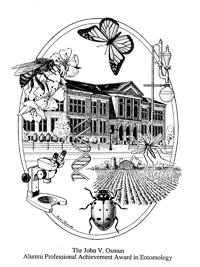 Osmun Award logo designed by

Arwin Provonsha
Nominations are being accepted for the 2007 John V. Osmun Alumni Award in Entomology. Nomination forms and information about the award are available on the Entomology web site.
The 71st Annual Purdue Pest Management Conference, held Jan. 8-12, ushered in the new year with style and substance. Dedicated to Pest Control columnist and Hall of Famer Austin Frishman (PhD '68), the Purdue conference drew 800 pest management professionals (PMPs) from 39 states and five other countries (Canada, Mexico, Australia, South Africa and South Korea).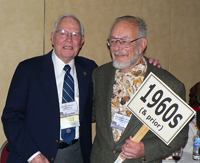 Former Department Head, John Osmun (left) and

Ken Preuss

(BS '54)
On December 11, 2006, 100 or so friends, alumni and current students of the Department of Entomology gathered at the Westin Hotel in Indianapolis for the Purdue mixer associated with the national ESA meeting. The food was plentiful, libations adequate, and the fellowship boisterous as graduates of various decades traded stories and renewed friendships. Timeline charts Of alumni graduation dates and years of employment for former and current faculty and staff, illustrated the people history of the Department of Entomology. Former Department Head John Osmun and Eldon Ortman were honored guests.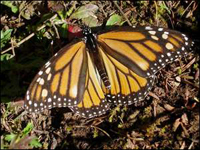 Monarch Butterfly

: The Purdue University Department of Entomology plans to take students to Mexico to visit butterfly preserves after Christmas.
To Mexico They Can Go
Every winter, millions of monarch butterflies find a retreat high in the mountains in the Mexican state of Michoacan.Now Purdue University is offering students a chance to follow them. Steve Yaninek, head of the Purdue University Department of Entomology, says they will arrange to take graduates and undergraduates to Mexico for 10 days after Christmas. On the trip, they will visit butterfly preserves near the small town of Angangueo, as well as take a glimpse of modern Mexican culture in Mexico City.
Kurt Saltzman (MS '97, PhD '04) and Kristin Saltzman (MS '03) welcomed a new son, William Eric, on January 25, 2007. Kurt is a Post Doc working with Christie Williams.
Rajat Agarwal and his new wife, Neha, were married on January 4, 2007 in Punjab, India. Rajat is a PhD candidate studying Insect Genomics under Jeff Stuart
David L. Matthew, Jr., 86, Retired Professor [More]
David Hogenkamp, 30, Post Doc [More]
Charles Ash, 78, (BS '53) Alum [More]
Vince Parman, 49, (BS '78, MS '81) [More]
FROM THE HEAD BUG by Steve Yaninek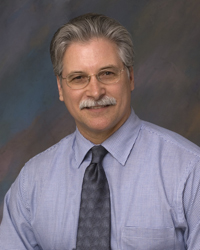 Steve Yaninek
Good things come to those who persevere, and thanks to the hard work of our campaign committee, I'm pleased to announce the establishment of the John V. Osmun Professorship in Urban Entomology. Credit goes to the 51 donors who committed gifts and pledges totaling just over $1 million to endow the first ever professorship in Entomology. The endowment is a tribute to John's many important contributions to the partnership between Purdue and the pest management industry. Judy Dold, the chairwomen of our campaign committee, made the announcement at the Purdue Pest Management Conference banquet in early January to the cheers and standing ovation of an appreciative Purdue and industry crowd.
The "On Six Legs" column was established in 1988 as a method to disseminate entomological information to the general public. The bi-weekly column was written by Tom Turpin and distributed by the Purdue Agricultural Information Service. Designed to reach the general reader with fun and interesting insect information the inspiration for the approach and the title for the column was Anna Botsford Comstock's 1903 book "Ways of the Six-Footed." The column has been published on a regular basis since that time.
Establishment of the John V. Osmun Professorship in Urban Entomology has been announced. (See article From the Head Bug)
The following students have been chosen for the Entomology Outstanding Student Awards. These students will be sent forward as nominees for the College of Agriculture Outstanding Student Awards.
Amy Lockwood
Outstanding
Freshman

Mike Skvarla
Outstanding
Sophomore

Shauna Stapleton
Outstanding
Junior

Nick Seiter
Outstanding
Senior
A caravan of 3 vehicles with 15 people traveled from West Lafayette to Northern Kentucky University to represent Purdue University and compete in the Ohio Valley Entomological Association (OVEA) 2006 Nineteenth Annual Forum. Twenty-three students from 6 different universities took part in the competition. Purdue gave 10 presentations and came home with 3 award winners, John Shukle, Paul Marquardt, and Thelma Heidel.
Kali Donohue, Freshman CODO (Pre-Vet), from Spencer, Indiana
Diana Castillo, MS with Bob O'Neil, from Guatemala
Mildred Linkimer, an exchange student with Cliff Sadof from Costa Rica
Jesus Orozco, PhD with Doug Richmond, from Columbia
Julia Prado, Visting Scholar and PhD prospect for Fall '07
Janice Van Zee, PhD with Cate Hill, from Brazil (Fall '06)
Ashley Carnes, BS 2006
Kyanne Reidenbach, BS 2006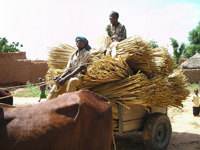 Taking the harvest to home
Cowpea in sub-Saharan Africa is grown by mostly small scale farmers as a subsistence crop and is a major source of dietary protein for millions of people in Africa. My current project involves developing micro-satellite markers to characterize populations of cowpea pod borer Maruca vitrata, a major pest insect on cowpea grown in sub-Saharan Africa. Currently, we have very little understanding about the population structure of Maruca including the genetics, host-plant specificity and migration.
The Fishy Entomologist
At a young age, growing up in Saskatchewan, Canada, I knew I was going to be a biologist. I have to admit, however, that I was surprised when I became an entomologist as my initial passion was ichthyology. When I was nine and my family moved into a house with a pond in the backyard, I got my first fish. Because winters in Saskatchewan are REALLY cold, I got an aquarium to put the fish in for the winter. In the spring, when the fish went back outside, I had this empty aquarium sitting there, so I bought some fish for it. Of course, when the next winter rolled around, I needed another aquarium. By the time I finished high school, I had 12 aquaria, ranging in size from 2-180 gallons. To this day, I maintain my interest in fish and currently have 800 gallons of aquaria in my basement and a koi pond in my kitchen (yes, the pond is in my kitchen).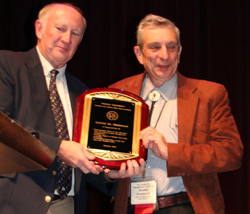 Purdue's Gary Bennett (left) presents a plaque to Austin Frishman. This year's conference was dedicated to Frishman, who made his final appearance at the Purdue Pest Management Conference. (Photo: Brad Harbison)
PCT On The Road: Purdue Pest Management Conference Coverage
A quick look at topics for this year's Purdue Pest Management Conference demonstrates how pest control has evolved into a technically involved profession requiring continuing training. Thus, it is appropriate that this year's conference, being held this week at Purdue University, has been dedicated to one of the industry's foremost proponents of education - Dr. Austin Frishman.
---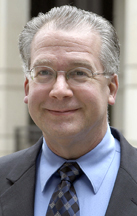 Robert Waltz
Robert Waltz (MS '82, PhD '86) who has served as state entomologist and director of the DNR Division of Entomology and Plant Pathology since 1988, has been appointed state chemist by Gov. Mitch Daniels.
---
George A. Adrian (BS '43) retired in November of 2002 after 55 years of "active full employment" as a fruit grower in Indiana and Mississippi. George was the owner and manager of Cherry Creek Orchards in Pontotoc, Mississippi. His remembers C. L. Burkholder (his mentor), Dr. H. O. Deay (his favorite teacher), and Dr. J. J. Davis (Department Head) who gave him an "H" on his thesis. George has 8 grandchildren and 9 great-grandchildren.
---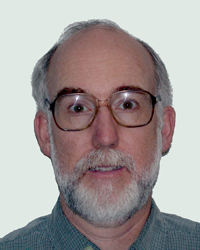 Larry Bledsoe
Larry Bledsoe, (MS '81) recently celebrated 25 years with the Department of Entomology at Purdue University. Larry is a research assistant in Field Crops IPM.
"I feel privileged to have been able to serve Indiana agriculture and the science of Entomology by doing something that I so completely enjoy."


---
J. Wayne Brewer (PhD '68) is a Professor in the Department of Entomology, Auburn University since 1995 and Coordinator of the Alabama Gypsy Moth Survey Program. Prior, Wayne was Professor and Head of Entomology at Auburn (1987-1995) and also at Montana State University (1984 -1987). He remembers, and admires, John Osmun, William Fischang, and Leland Chandler. Wayne has been recognized with several teaching awards during his career. [Web site]
---
Raymond Buchko (BS '82) is the owner of PestAgon Termite & Pest Management, Inc. in Sarasota, Florida. Ray remembers Gary Bennett's guidance and instruction that he uses "on a daily basis." http://www.pestagon.com
---
Michael Meyer (MS '01, PhD '05) is Assistant Professor of Biology, Chemistry and Environmental Science at Christopher Newport University in Virginia. Looking for a job in his chosen field of study didn't "bug" Dr. Michael Meyer for long - he discovered that Christopher Newport University was looking for a science instructor to teach entomology, the scientific study of insects.
---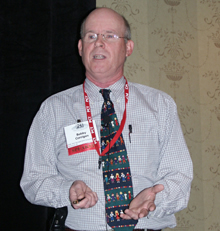 Robert Corrigan (BS '77, MS '80, PhD '95) Robert M. Corrigan is one of the nation's foremost experts in rodent control, but it is a different species that riles him up the most. "Are we very smart?" he asked his students last month, suggesting that a creature known as Homo sapiens, roughly translated to "wise man," should know better. "We want the rats to go away, but we keep trash under our desks. We want the city to kill the rats, but we throw McDonald's bags out the car window."
April 14-15: Bug Bowl/Spring Fest