ENTOMOLOGY STUDENTS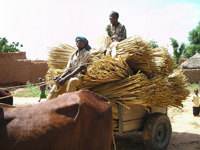 Taking the harvest to home
Cowpea in sub-Saharan Africa is grown by mostly small scale farmers as a subsistence crop and is a major source of dietary protein for millions of people in Africa. My current project involves developing micro-satellite markers to characterize populations of cowpea pod borer Maruca vitrata, a major pest insect on cowpea grown in sub-Saharan Africa. Currently, we have very little understanding about the population structure of Maruca including the genetics, host-plant specificity and migration.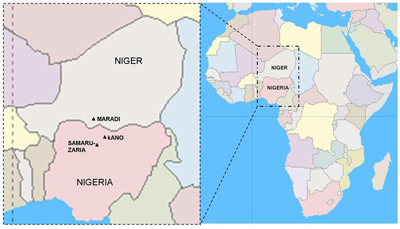 The context of the project is to have a sound integrated resistance management plan in place before transgenic cowpea is introduced. Another aspect of the issue is to know the status of alternate hosts of Maruca, which would serve as natural refugia, when cowpea is grown during the year.
"You will probably go there in six or seven years' time from now," is what Dr. Larry Murdock used to say whenever I asked him if I would ever make a trip to West Africa. It came as both a pleasant surprise as well as a shock to me when my major advisors Drs. Larry Murdock and Barry Pittendrigh informed me that I would be soon traveling to Niger and Nigeria (countries in West Africa) and work with our collaborators there. I got all my vaccinations done in a week's time! Once it was sure that I was to make the trip, I came up with all kinds of stories and examples to explain to my wife Swapna (who was then in India) how safe it was to travel and work in those parts of the world.
I left Purdue on September 13, 2006, spent a total of 18 days in Nigeria and 6 days in Niger and returned to Purdue on October 9th. During this trip, I worked with our Bean/Cowpea CRSP collaborators Dr. Mohammad Ishiyaku at the Institute of Agricultural Research (IAR), Ahmedu Bello University, Samaru-Zaria, Nigeria and Dr. Ibrahim Baoua at the Institut National de Recherche Agronomique du Niger (INRAN), Maradi, Niger. In both Niger and Nigeria, we have light traps installed for the purpose of collecting Maruca adults. I visited both light trap sites and was able to collect samples for my research.
This was my first trip to the Hausa land (Hausa is the regional language in these areas of Niger and Nigeria). My trip included Kano and Zaria in northern Nigeria and Maradi in southern Niger. During my stay, I was able to survey the wild alternative hosts of Maruca vitrata (cowpea pod borer) and collect insect specimens of Maruca for genotyping studies at Purdue. I worked with two teams, one in Nigeria and one in Niger, both of which included a botanist, a driver and a field technician. In parts of Nigeria, communication was not a problem since English was widely used (except for the rural areas where my team helped me with the Hausa translations). The situation was different in Maradi, Niger, where French was the only language used other than Hausa and I had to depend on the members of the team for translations. I traveled approximately 1800 miles by road including a round trip from Nigeria to Niger. We also traveled on motorbikes doing field surveys in Nigeria. Unlike some of the stories I heard and read, the Customs people at both borders were quite friendly and, as long as all the paperwork was correct, there seemed to be no problems traveling between the two countries.
Things that surprised me the most were first, the meager conditions under which the farmers were growing their crops, especially in Niger where the soils looked very poor in terms of fertility and water-holding capacity. Secondly, I found during our surveys an increase in the number of insecticide applications on cowpea, which is primarily grown by poor farmers. Finally, the absence of mosquitoes in the hotels, all of which indicated that use of insecticides has become rampant, even in the urban areas. I also learnt that during the past few years, incidents of death due to food poisoning (due to storage insecticide usage) and cases of fatality and illness related to pesticide mishandling among pest management personnel and the farm workers had increased. In some cases, even if the farm workers are sick they don't correlate it to something related to pesticide poisoning. From what I learned during my interactions with the farmers, I believe that the farmers badly need to be trained to handle such pesticides. One piece of advice I have for anyone planning to travel to West Africa during the holy month of Ramadan (usually during September and October) is to either be prepared to fast during the day time (since food is only served before sunrise or after sunset) or carry enough cereal bars sufficient for the whole trip.
More pictures related to cowpea in West Africa, including some of my trip pictures can be viewed on the NGICA (Network for the Genetic Improvement of Cowpea for Africa) website. If you are interested in knowing more about the life and culture of the people, you can visit http://picasaweb.google.com/ngicans where all my trip pictures are posted. I would like to take this opportunity to thank my major professors for this wonderful learning experience. For comments and/or questions, please contact me at vmargam@purdue.edu.