Research
Landscape Pattern Influence on Insect Distribution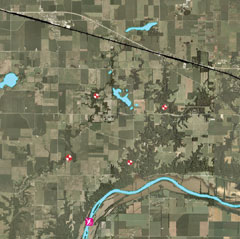 Different species of insects respond to different aspects of the environment and at different spatial scales. We are interested in determining how large scale land use patterns can be used to increase beneficial native species that provide ecosystem services such as pollination, control of pests, and waste removal and nutrient cycling, while at the same time limiting pest species. One particular pest species, the sugar maple borer, has been extirpated from a huge area of its former range by forest fragmentation. We are studying how this happened and what it can tell us about the spatial population dynamics of wood-borers in general. We have ongoing projects in this area looking at the changes in wood-borer assemblages from forestry operations in the one hundred year Hardwood Ecosystem Experiment, and in the biocontrol of soybean pests from predator populations sustained by remnant tall-grass prairie.
Longhorned Beetle Phylogeny and Invasion
This research involves building a molecular phylogeny of the longhorned beetles, with a current focus by Kapil Raje on species belonging to the tribe Acanthocinini, using partial sequences of the nuclear and mitochondrial genes. He is specifically interested in looking at suites of ecological traits of some of these beetles that could explain their predisposition towards potentially becoming destructive invasive exotics.
In a related project we have prioritized potential invasion threats and are developing molecular barcode tools to identify these species. This will allow us to identify new threats regardless of the life stage of the detected insect. This work is ongoing, and we hope to expand this project to develop molecular identification tools for many species that could threaten North American economics and ecosystems in the future.
Connectivity and Landscape Genetics
Recent advances in three-dimensional surface metrics have the potential to greatly improve the way we measure functional connectivity of landscapes. We are coupling these advances with landscape genetics to compare gene flow and new measurements predicting movement. Hossam Eldien M. Abdel Moniem's research involves using these techniques to understand how land use patterns in Indiana have influenced the occurrence of Typocerus v. velutinus, a beetle that provides two ecosystem services, deadwood decomposition and pollination. This species may have been a major pollinator of the American chestnut when this tree dominated forests of the eastern United States.
Aquatic Bioindicators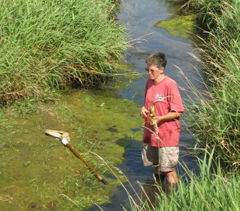 Midwest agricultural run-off is a significant contributor to the Gulf of Mexico hypoxic zone. Constructed two stage ditches, which are designed based on natural channel processes, are currently being installed to improve water quality from sub-surface drainage. The focus of Julie Speelman's research is to compare macroinvertebrate and plant community structures in two stage ditches to conventional ditches to compare the biotic response to these designs. This work will also create a baseline dataset for macroinvertebrate ditch communities in Indiana. This information will allow us to develop an indicator system that may also be used to monitor the biotic health of agricultural drainage ditches.