The format of the on-line issue has been updated in an effort to improve the quality and service of the newsletter and we hope you will take the time to give us some feedback. Please send your comments, suggestions, or new ideas for stories to plloyd@purdue.edu.
Jeff Holland and his graduate students are contributors to the Hoosier Ecosystem Experiment (HEE), a century-long study to determine the effects of different management techniques on the plants and animals of the forests.
DEPARTMENT NEWS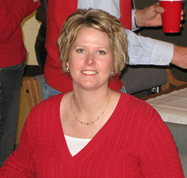 Amanda Pendleton
Amanda Pendleton is the Students Service Secretary. She has been with Purdue since 2002 and came to the department in August of 2005. She is recognized for her diligence in making her position efficient and functional, and for continuously finding ways to make the process run smoothly.  Amanda has a reputation for staying on the leading edge of technology and information in student services. Her knowledge and sincere effort to be helpful has earned the respect of her peers, who often request her assistance. Her unique mixture of sociability, empathy, responsibility and dependability make her the perfect department representative for students.                          
The award was presented to Amanda at the annual Entomology Awards and Recognition Reception.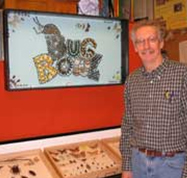 Tom Turpin
Tom Turpin is the 2007 recipient of the Frederick L. Hovde Award of Excellence in Educational Service to Rural People of Indiana.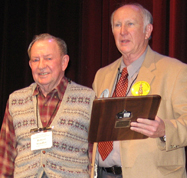 Purdue Pest Management Conference Chair Gary Bennett (right) recognized Robert Windler (left), founder of Windler Pest Control, for attending his 50th Purdue show. (Photo: Chuck Bowen)
WEST LAFAYETTE, Ind. - Researchers, pest management professionals, manufacturers and other industry professionals traveled from throughout the country to attend the annual Purdue Pest Management Conference this week.
Purdue Pest Management Conference Chair Gary Bennett moderated the conference's opening session and honored Robert Windler, founder of Windler Pest Control, for attending his 50th Purdue show. "He's one of the first persons I met when I came to Indiana," Bennett said of Windler. "He's a great guy, and we really appreciate his support over the years."
The Eighteenth Annual Service Recognition Program, hosted by the Provost's office, was held in January. Congratulations to the following entomology employees who were honored for their years of service:
25 Years - Eileen Luke, Director, Center for Environmental and Regulatory Information Systems (CERIS)
20 Years - Tim Gibb, Director, Insect Diagnostic Lab
20 Years - John Obermeyer, Integrated Pest Management Supervisor
Paul Marquardt (MS '07) and his wife, Amber, are new parents to a son, Owen Kelly Marquardt. Owen was born January 8, 2008.
Hongmei Li (PhD '07) and Wayne Byarlay welcomed a daughter, Mia Li Byarlay, on February 4, 2008.
Shujuan Li (PhD '07) and Al Fournier (PhD '05) were married October 20, 2007. After a honeymoon in Sedona, they moved into their new home in Maricopa, Arizona.
Postdoc Lu Sun (PhD '03) took a new position with the National Institutes of Health/National Center for Biotechnology Information (NIH/NCBI) in Maryland where he will work with taxonomists of other fields in the NCBI to curate taxonomic information in the sequences submitted to the Genbank and help construct and maintain their databases. He looks forward to collaborating with Virginia Ferris and Pat McCafferty while in Maryland.
Robert 'Bob' O'Neil, Purdue Entomology Professor
Charlie Hromada (MS '54)
Jan Douglas Hacker (BS '69)
Bradley Foster (BS '83)
FROM THE HEAD BUG by Steve Yaninek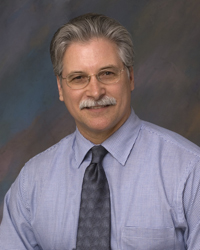 Steve Yaninek
Bob O'Neil passed away February 6th at home with his family following nearly a year long battle with bladder cancer. He is survived by his wife Liz, and his children Jennifer, Nathaniel, Jonathan, and Elspeth. He was a professor of entomology specializing in biological control. Bob came to Purdue as an assistant professor in 1984 and developed an internationally recognized research, teaching and outreach program in biological control.
Arwin Provonsha and Tom Turpin attended a reception to celebrate the opening of the exhibit Footprints: Balancing Nature's Diversity, at the Indiana State Museum on the evening of February 29. This exhibit, presented by Central Indiana Land Trust, traces the Hoosier states prehistoric past, beginning with the Ice Age, and demonstrates how human and environmental changes have impacted the ecological diversity of the world in which we live; by understanding our impact on the past, it is hoped that we will become better stewards of our environmental future. Provonsha contributed his expertise and assistance in preparation of the insect displays for the exhibit which runs March 1 through Aug. 3 at the Indiana State Museum. For more information please visit: www.indianamuseum.org.
For the first time the department participated in the Purdue Gifted Education Resource Institute's (GERI) Super Saturday Talent Development Program for students in grades Pre-K to 12. Shauna Stapleton served as the student coordinator/instructor for this event which took place every Saturday morning for six weeks. The program exposes gifted students to challenging new material and encourages critical thinking skills. Students were engaged in a variety of discussions including the cultural significance, identification, classification, internal anatomy and physiology of insects and other arthropods and the role of both beneficial insects and pests in the environment. The role of pheromones was also highlighted.
Tom Turpin was on hand to present his program at this year's Science Olympiad, a national interscholastic competition for elementary, middle, and high school students. Teams of students use their knowledge and skills to interpret and solve problems of varying complexity that cover a wide range of topics in science and engineering. Participants took a break from their competitive pursuits to learn a little bit about the history of insects and the beneficial role they play in our ecosystem. Several brave volunteers had an opportunity to get up close and personal with some of the department's six (and eight!) legged ambassadors. In addition, Turpin presented an All about Bugs program to residents of a local retirement community who have in the past been affiliated with Purdue University and have a profound belief in the value of continued scholarship. This program focused on the history of insects through the use of poetry and literature.
ENTOMOLOGY STUDENTS
The following students have been chosen for the Entomology Outstanding Student Awards. These students will be sent forward as nominees for the College of Agriculture Outstanding Student Awards.
Kevin Norman
Outstanding
Freshman

Amy Lockwood
Outstanding
Sophomore

Mike Skvarla
Outstanding
Junior

Shauna Stapleton
Outstanding
Senior
Venu Margam was selected to receive Bilsland Fellowship funding for the 2008-2009 academic year. The fellowship, a University program in honor of Winifred Beatrice Bilsland, provides support to outstanding PhD candidates in their final year of doctoral degree completion. Margam works with Barry Pittendrigh and Larry Murdock in the area of molecular entomology.
A team of nine students and one faculty member from the Department of Entomology traveled to Columbus, Ohio on November 15th to compete in the Ohio Valley Entomological Association (OVEA) 2007 Twentieth Annual Forum the next day. Thirty-eight students from seven different universities took part in the competition. Purdue gave 7 presentations and came home with three award winners. 

Jody Green
(BS '98, MS '04)
Outstanding Service to the Department

Thelma Heidel
Outstanding Student
Masters Program

Shujuan Li
Outstanding Student
PhD Program
Brittany Kittle, CODO, from Indianapolis, Indiana
Christina Short, CODO, from Gary, Indiana
Hossam Abdel Moniem, PhD with Jeff Holland, from Egypt
Matt VanWeelden, (BS '07), MS with Grzegorz Buczkowski, from West Lafayette, Indiana
Roshand Arnold, MS
Jeff Webb, PhD
Ashley Walter, MS
Paul Marquardt, MS
Hongmei Li, PhD
Jung Koo Kang, MS
Callout for 'Bug Tales'
A collection of Purdue Entomology stories is being compiled for possible publication for the department's Centennial Celebration in 2012. Purdue Entomology alumni and all current and former students, faculty and staff are invited to assist us with this project. Many of you have your own 'piece of yarn' to add to familiar tails of  the notorious suit of armor, annual Ag Fish Fry, Thomas Say cookouts/dinners, bats in Entomology Hall, or field experiments gone awry. We also invite you to share other interesting stories of personal experiences, photos, or memorabilia that will reveal and enhance our history as a department. Your support is appreciated as planning gets underway to make the Centennial Celebration an unforgettable event.
Submit to: Paula Layden, Entomology Dept, 901 W. State St., West Lafayette, IN 47907-2089 or entomology@purdue.edu
---
Harry B. Moore, Jr. (MS '55) is Professor Emeritus, Department of Entomology, North Carolina State University (1960 to 1988). During his tenure in Urban Entomology, Harry received the Outstanding Teacher Award (1966-67) and was president of Pi Chi Omega (1970). He received the Outstanding Achievement Award at the 1994 National Conference on Urban Entomology. Harry was a grad student under John Osmun just as John was getting his PhD at the University of Illinois.
Editor's Note: In May of 1956, Dean Harry Reed announced at a department staff meeting that John Osmun had been hired as the new department head. Not only had no one bothered to tell John, no one ever talked to him about the possibility "nor had there been anything that even resembled an interview."  At the time, John was finishing up his PhD at the University of Illinois. He had to jump a few hurdles to complete his degree by July 1st when J. J. Davis would retire and he would become the new department head.
---
Michael D. Miesch, Jr. (MS '59) retired from National Chemsearch in 2000, after a 36 year career with the company. He was the head of the pesticide and agronomy section responsible for formulation and development of insecticides, and other agents. An expert in making stable emulsifiable products, Michael has formulated and registered hundreds of products over the years. He also reported the first case of Baygon resistant houseflies in the nation in a poultry house in Keller, Texas where he was running some tests. Michael has received visits in Texas from Don Schuder (BS '48, MS '49, PhD '57), Leland Chandler (MS '51), PhD '55), and John Osmun. Clayton Wright (BS '50), Bill Brehm (BS '50), Vernon Walter (BS '50), Lee Truman, Ralph Killough (MS '58, Phd '61) and Bill Bowers (MS '59, PhD '62) were all good friends. Dick Wright (BS '57) was his lab partner in Dr. Osmun's 515 pesticide formulation course where he did his first pesticide formulation. 
For a fascinating account of Dr. Miesch's education and career, click here
---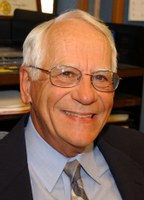 Bruce Eldridge
Bruce Eldridge (PhD '65), Professor Emeritus at UC Davis in the Department of Entomology received the Harry Hoogstraal Medal for Outstanding Achievement in Medical Entomology. The award was presented in November 2007 at the meeting of the American Society for Tropical Medicine and Hygiene.
---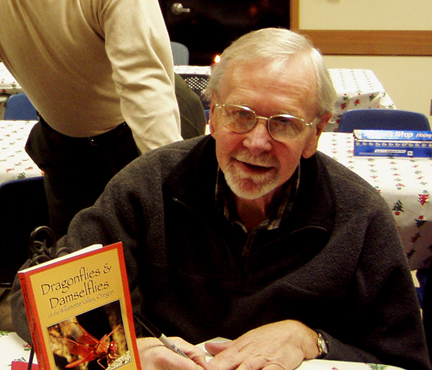 Cary Kerst
Cary Kerst (BS '67) earned his MS in Entomology at Oregon State University. He retired in 2002 after being employed by the City of Eugene, Oregon for twenty years. He managed and supervised various programs related to water quality, and chaired and served on numerous state committees related to water quality issues including metals toxicity, mercury reduction, stormwater, biomonitoring, and industrial wastewater. Cary co-authored a book, The Dragonflies and Damselflies of the Willamette Valley. He also teaches workshops and leads dragonfly walks around Oregon for both children and adults, an interest developed at Purdue while working in the lab of Dr. B. E. Montgomery rearing Odonata. During a study of aquatic insects at a Nature Conservancy site near Eugene, Oregon, he discovered a non-described species of winter stonefly. The species, Capnia kersti, was described by Dr. Riley Nelson of Brigham Young University in 2004.  In 2006, he was honored for outstanding contributions to the West Eugene Wetlands Program. Cary has great recollections of Professors Chandler, Dobson, Fischang, and Dr. Osman and his cigars. "I tried to smoke a cigar with a friend in class one day, and Dr. Dobson promptly kicked us out of class." Cary recently wrote Memories of Monty, about Purdue Entomology's B. E. Montgomery. The article was recently published in the Argia (Volume 19, Issue 4), a newsletter for the Dragonfly Society of the Americas.
---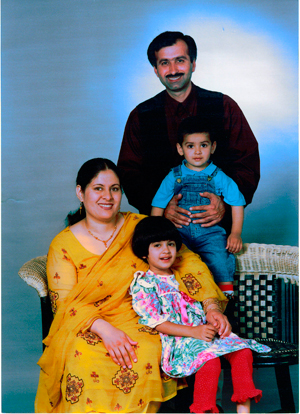 Imtiaz Ali Khan and family
Imtiaz Ali Khan (MS '94) received a PhD from the University of Bonn, Germany in 2003, and is currently doing postdoctoral research in Beijing, China at the Chinese Academy of Agricultural Sciences. She remembers Chris Oseto (a dynamic department head), Tom Turpin (a great entomologist), John MacDonald (best entomology teacher), department secretary, Mrs. Sue (a very caring lady), Jorge Frana (MS '90, PhD '93) (a great friend), Dr. Berry (a brilliant student), and Kathy Heinsohn (PhD '98) (a great lady).