Activities
Bug-N-Brew
Bug-N-Brew is a department wide social event with friends and family included. Graduate students, faculty, and staff get together on the first Friday of every month at a local bar or restaurant. It is a good time for everyone to interact on a personal level outside of the walls of Smith and Whistler Halls. We all eat dinner while sharing jokes and stories until our appetites for both food and drink are met. This event really encourages interaction between everyone and there is always a good time had by all. Restaurants visited: Lafayette Brewing Company, Spurlock's, Cajun Connection, The Other Pub, Hunter's Pub Down Under, Buffalo Wild Wings, Parthenon.
Camping
For the past several summers, EGO has organized a camping & collecting trip to the Feldun-Purdue Agriculture Center in southern Indiana. With its rolling hills, wooded trails, and old rock quarries, this location has been a great place for hiking and insect collecting, and the campfires and night collecting trips are a favorite part of the weekend. Professors, grad students, friends, and family have all taken part in this social event.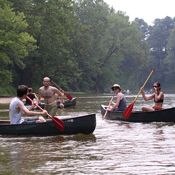 Canoeing
Each year around the end of June, we all take a float down Sugar Creek, which runs through Turkey Run State Park. The trip is typically 15 miles and covers parts of the creek that are known to have fossils and Indian artifacts along the way, as well as intersecting a few historical covered bridges. This is a nice relaxing canoe trip that takes most of the day. Many faculty and staff also join in the fun. Most of us end up sun burnt and tired, but it is always a good excuse to get out and enjoy the sites of Indiana.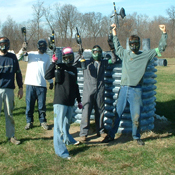 Paintballing
EGO organizes a departmental paintball trip every year that always proves to be a lot of fun. This social event is geared toward everyone in the department. In 2005 we headed to the Paintball Barn in Attica, Indiana. It's the one opportunity you get to shoot at grad students or professors without getting in trouble!
Halloween Party
Winter Gala (80's Night)
Volleyball
Rock Climbing