Entomology graduate to become state chemist
By Marty Benson
DNR NEWS
October 18, 2006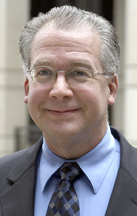 Robert Waltz, who has served as state entomologist and director of the DNR Division of Entomology and Plant Pathology since 1988, has been appointed state chemist by Gov. Mitch Daniels.

In his new position, Waltz will manage the Office of the Indiana State Chemist and Seed Commissioner, which is located at Purdue University. The office administers state laws covering animal feeds, fertilizers, pesticides and seeds. The agency is charged with ensuring food safety, user safety, proper labeling and protecting the environment. He will retain the title of state entomologist.

"Waltz is a great scientist and a seasoned administrator with leadership and regulatory experience," said Randy Woodson, Purdue's Glenn W. Sample dean of agriculture.

Purdue Agriculture operates the chemist and seed commissioner office in a pairing that benefits Hoosiers. "This office provides science-based regulation combined with a strong educational component that aims to protect and serve Indiana citizens," Woodson said.

The dean said maintaining the office at the university gives the state agency access to international-quality resources and expertise. "Faculty often consult with the state regulators on current issues, giving them the latest in scientific knowledge regarding those areas in which they have oversight," Woodson said.

Waltz serves on several state and national panels in various capacities. He is vice-chair of the Indiana Pesticide Review Board, board member of the Gypsy Moth Slow the Spread Foundation and a member of the national emerald ash borer science advisory panel and the National Plant Board. He also is a former chairman of the Exotic Species List Committee for the Entomological Society of America and past president of the Indiana Academy of Science.

"I have been privileged to work as state entomologist for the past 18 years in the DNR and to have enjoyed the high degree of professionalism, and the thoughtfully considered science of the DNR professionals, and clients with whom we have worked," Waltz said. "I look forward to working as a member of the Purdue University community and continuing many relationships I have established through the years within a new venue."

Waltz has a bachelor's degree in natural resources and environmental sciences and master's and doctoral degrees in entomology, all from Purdue. He is a native of Richmond.

Waltz replaces Rodney Noel, who has served as interim state chemist and seed commissioner since June 2005, when Alan Hanks retired from the post.