Nematodes worming free of common soybean resistance genes
Ag Communications
By Steve Leer
November 14, 2007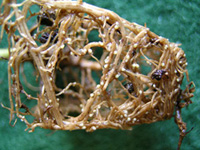 White SCN female on the soybean root
WEST LAFAYETTE, Ind. - After almost three decades of shielding soybean plants from a deadly natural foe, the leading source of resistance against soybean cyst nematode is showing chinks in its armor, said a Purdue University nematologist.
The PI 88788 gene is found in about 97 percent of soybean varieties with soybean cyst nematode (SCN) resistance. The yield-robbing, wormlike nematode feeds on nutrients within a soybean plant's roots. The pest is linked to increased incidence of soybean sudden death syndrome.
SCN-related yield losses can reach 50 percent in heavily infested fields.
"Since the PI 88788 source of resistance has been around about 30 years you would expect there to be some changes in that resistance over time," said Jamal Faghihi, Purdue Extension nematologist. "We have seen that change occurring. The soybean varieties with PI 88788 resistance are not working as well as they used to."
What that means for farmers is greater soybean cyst nematode problems down the road, Faghihi said.
Resistance failure in PI 88788 became noticeable in 2005 and has gradually gotten worse, Faghihi said.
"Two years ago I made a trip to northern Indiana and noticed a lot of cysts on the resistant soybean varieties," Faghihi said. "We were not sure whether the resistant varieties did not work as well as they used to or if the resistance itself was breaking down. But it appears that the cyst nematode populations are changing under that source of resistance."
The problem is more pronounced in southern states and less obvious in Canadian soybean fields, Faghihi said.
"Fellow Purdue nematologist Virginia Ferris and I have a collaborative research program with colleagues from Illinois, Tennessee and Ontario, Canada," he said. "We are studying the nematodes and different sources of resistance in different soybean growing regions. The research project started in 2005, and we've been collecting soil samples and accumulating data ever since.
"The preliminary data indicates that almost all of the nematode populations in Tennessee break down the PI 88788 resistance. In Canada there's much less resistance breakdown. And in Indiana and Illinois we're somewhere between the two."
The North Central Soybean Research Program is providing financial support for the research program.
There are few new resistance genes on the horizon to replace PI 88788, Faghihi said. Farmers can switch to soybean varieties that contain Peking and CystX resistance genes, however. Those sources of resistance continue to provide strong protection from SCN, Faghihi said.
CystX is a patented technology owned by Purdue Research Foundation. It offers broad-based resistance to soybean cyst nematode by preventing the pest from reproducing on the soybean plant's roots.
Soybean farmers need to be vigilant in controlling the nematodes, Faghihi said. Those who have forgotten about the pest could soon be in for a rude reintroduction, he said.
"We expect greater problems next year," Faghihi said. "The only way to know for sure if soybean cyst nematode is present in a field is to test the soil. Growers won't see the obvious symptoms. The insect is not flying at them, and they aren't going to step on it.
"We aren't receiving nearly as many soil tests as we used to. We went from testing 3,000 to 4,000 samples a year several years ago to about 400 or 500 samples a year. That's telling me farmers are not paying attention to soybean cyst nematode. This problem is not going to go away unless we manage it properly."
The nematology laboratory at Purdue's Department of Entomology provides soil and variety testing and related soybean cyst nematode diagnosis services for a nominal fee. For information on collecting and submitting soil samples, contact Faghihi at (765) 494-5901, jamal@purdue.edu , or log onto http://www.entm.purdue.edu/nematology/services.html.
Soybean cyst nematode feeding weakens soybean plants, making them vulnerable to other plant diseases. Soybean plants infested with nematodes often appear yellow and stunted with fibrous root systems and produce smaller pods and beans.
Writer: Steve Leer, (765) 494-8415, sleer@purdue.edu
Source: Jamal Faghihi, (765) 494-5901, jamal@purdue.edu
Ag Communications: (765) 494-2722;
Beth Forbes, forbes@purdue.edu
Agriculture News Page