Entomology Graduate Students Win at Riverfest
Journal & Courier
By DAN SHAW
July 8, 2007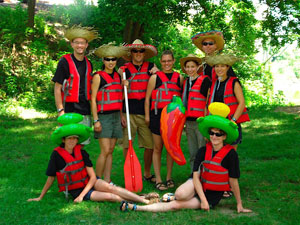 Before the race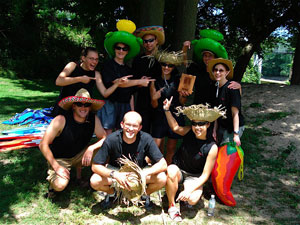 After the race
Voyageur canoes have been common sites at the Feast of the Hunter's Moon but not at the Wabash Riverfest until now.
Saturday was the first time the canoes were used at the annual event, in which teams race along a 300-yard stretch of the Wabash River. Gene Hatke, chairman of Riverfest, said he and other organizers decided to use the canoes this year because it only requires nine paddlers to fill them.
In contrast, the dragon boats -- popular in previous years -- have places for 20. The need to find so many people had made it difficult to assemble teams, he said.
"With crews of nine, it's a lot easier to get people to commit," he said.
Thelma Heidel, a Purdue University graduate student studying entomology, said she and others in the entomology department formed a team because they wanted to spend the weekend in a different way than they were accustomed to.
Few of them had ever paddled in a canoe race before, she said. They hoped to overcome that inexperience by practicing Friday.
"It's good exercise," she said. "And hopefully we will win and not get dunked in the water."
Hatke estimated there were likely fewer people at Saturday's race than in earlier years. He said the diminished attendance was likely a result of the event organizers' not being able to secure the use of the voyageur canoes until recently.
"We couldn't get an early start on recruiting people," he said.
Different sponsors formed the teams, which challenged each other to races. Once in the boats, the paddlers ran in two heats against each other, starting about the distance of three football fields away from the pedestrian bridge and turning around after they had reached a point near it.
For the third year in a row, the team sponsored by West Lafayette beat the one sponsored by Lafayette.
Hatke said the organizers of Riverfest see the event as a way to remind the public of the beauty of the Wabash River, as well as its historic and cultural importance.
Sri Erukulla of West Lafayette brought his children to the event Saturday to let them watch the boats. Their interest in aquatic sports had been piqued recently, he said.
"A couple of days ago, we went to Monticello and rode Jet Skis," he said. "And then we went to the Indiana dunes."