John V. Osmun Endowed Professorship to be Established at Purdue
By Brad Harbison
PCT Online
February 2, 2007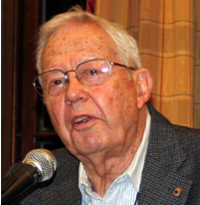 John Osmun
WEST LAFAYETTE, Ind. - In a career that spanned 60-plus years, Dr. John Osmun raised the industry's level of professionalism as a pioneering advocate of education/training. Now, the former Purdue entomology professor's legacy has been further cemented with the establishment of the John V. Osmun Endowed Professorship.
The Purdue University Endowed Chair Committee, a volunteer group chaired by Rose Pest Solutions President Judy Dold, announced in January that it secured funding to establish the endowed professorship. The group - which also includes Steve Yaninek, department head, Purdue Entomology; Eric Putman, director of development, Purdue Agriculture; consultant Austin Frishman; former Univar Vice President Norm Ehmann; PCT Publisher Dan Moreland; Insect Limited's David Mueller; and John Owens of S.C. Johnson & Sons - worked the past three-plus years to raise the necessary funds. Pest control companies, distributors and others involved in the pest control industry all contributed, including Terminix, whose sizable contribution in early January pushed the fund past the required $1 million mark.
A named professorship is one of the highest honors a university can bestow on a member (or past member) of its faculty. It is a position permanently supported with the revenue from an endowment fund specifically set up for that purpose. Osmun, who came to Purdue in 1948, established the first four-year program devoted to urban and industrial entomology and helped build the Department of Entomology to one of the best in the country. He retired from Purdue in 1987 but remains active.
"John Osmun is a revered industry icon," Dold said. "The endowed professorship is the culmination of an effort to honor someone who has given so much to all of us - really so much to the entire industry. We wanted to do something that is a going to live on long after we are here."
Added Mueller, "Dr. John Osmun means so many different things to so many people. I know he has been like a father to me. We couldn't be happier to have made this happen."
One of the real drivers of this project was Ehmann, a longtime friend and colleague of Osmun, who raised more than $250,000 from West Coast companies. "With the endowed professorship we are recognizing the person who really established professionalism in the (pest control) industry with the Purdue conference. I know he has inspired me every year."
In addition to the John V. Osmun Endowed Professorship, Purdue University's Entomology Department also is home to the O. Wayne Rollins/Orkin Chair in Urban Entomology. The fact that Purdue Entomology has two endowed positions is impressive, considering the department is relatively small compared to other university departments, Mueller said. "The endowed professorship will allow Purdue to go out and find good leaders, good professors and increase Purdue's support in this area."
What's more, the John V. Osmun Endowed Professorship will have industry-wide benefits. The Purdue University Endowed Chair Committee's proposal to Purdue for the endowed professorship stipulated that the position will perform research that is timely and is immediately applicable to the pest control industry, said Dold, adding that "the endowed professorship is an opportunity to honor John Osmun, while at the same time move the industry forward with some real information we all can use that will impact the way we do business."
Purdue's Yaninek agreed, adding, "John Osmun's interactions with the pest management industry were innovative and trend-setting, so it is appropriate that this new professorship will support faculty working on cutting-edge research that addresses industry priorities."