PCT On The Road: Purdue Pest Management Conference Coverage
By Brad Harbison
PCT Online
January 9, 2007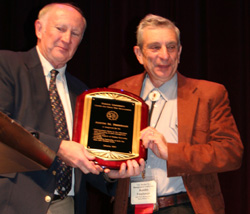 Purdue's Gary Bennett (left) presents a plaque to Austin Frishman. This year's conference was dedicated to Frishman, who made his final appearance at the Purdue Pest Management Conference. (Photo: Brad Harbison)
WEST LAFAYETTE, Ind. - A quick look at topics for this year's Purdue Pest Management Conference demonstrates how pest control has evolved into a technically involved profession requiring continuing training. Thus, it is appropriate that this year's conference, being held this week at Purdue University, has been dedicated to one of the industry's foremost proponents of education - Dr. Austin Frishman.
Frishman, president of AMF Pest Management Consulting, Boca Raton, Fla., gave his final presentation at the Purdue conference on Monday titled "Maximizing Your Own Luck to Avoid Trouble." As part of Tuesday's opening session, the 71st Annual Purdue Pest Management was dedicated to Frishman "in appreciation for his many contributions to Purdue and the pest management industry."
Purdue Pest Management Conference Chair Gary Bennett thanked Frishman for his contributions to the conference and also shared with attendees some personal information about Frishman. Bennett noted that Frishman is retiring from "cold weather" speaking engagements in order to spend more time in Florida with his wife Barbara, children and grandchildren.
In accepting the plaque, Frishman humbly stated that he was fortunate to enter the pest management profession at a time when it was seeking to become better educated. "You are headed in the right direction as an industry – continue on that path," Frishman said.
Other highlights of the Purdue conference included:
A review of the latest innovative products by Steritech's Dean Stanbridge. In addition to talking about the latest pest control products, Stanbridge reviewed many office/field technologies such as hand-held devices, software, digital cameras, etc. Stanbridge is a big proponent of offices becoming paperless and encouraged attendees to explore paperless technology.
Virginia Tech researcher Dini Miller's presentation "German Cockroach Control in 2007 – What is New?" Miller reviewed the issue of bait aversion and detailed how the industry has responded to this challenge.
Dan Collins' presentation "Tramp Ants and Their Management" specifically focused on odorous house ants (OHA), a particularly troublesome pest in the Midwest. Collins, owner of Collins Pest Management, Evansville, Ind., said OHAs are difficult to control because: 1) they are present in large numbers; 2) they have multiple nesting sites with multiple queens, and; 3) they are highly mobile. Collins noted that the inspection is even more critical when dealing with OHAs. He says it usually takes him 2 to 3 hours to inspect an account for OHAs. Collins outlined four critical components of OHA inspections for pest professionals to follow.
-Identification of pest ant species present.
-The source, extent and severity of the ant infestation.
-Conditions conducive or potentially conducive for ant development.
-Safest most effective pest management practices.
Terminix's Stoy Hedges gave a presentation titled "Carpenter Ants: Management Considerations." Hedges reviewed two strategies that are popular among pest management professionals.
1) Search and destroy
-find interior colonies
-drill and apply dust or aerosol
-make the appropriate perimeter treatments
2) Leave no stone unturned
-drill and dust all wall voids
-dust electric outlets
-dust under attic insulation into soffits
-residual treatment in crawlspace
-perimeter treatment
-find and directly treat outdoor colonies
University of Kentucky researcher Dr. Mike Potter's "A Bed Bug State of Mind" presentation was a comprehensive look at these troublesome pests. In addition to thoroughly reviewing the history, biology and behavior of bed bugs, Potter gave several treatment tips. For example, Potter recommend the use of steam cleaners, noting their effectiveness in removing bed bug eggs, which have a sticky substance that make them difficult to vacuum.
In addition to these presentations, this year's conference features an exhibit floor, in which manufacturers and service providers are on hand to show off their innovations and offerings.
The Purdue Pest Management Conference continues through Friday.