Purdue Reception Recognizes Establishment of John Osmun Endowed Professorship
PCT Online
By Dan Moreland and Brad Harbison
May 21, 2007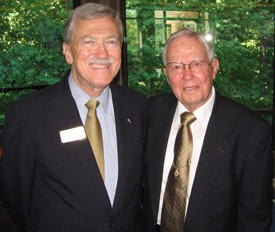 (Left to right) Purdue President Martin Jischke and Dr. John Osmun. "This honor by your friends and colleagues speaks very strongly about their respect and love for you," Jischke said in announcing the John Osmun Professorship in Entomology. "It is a great honor indeed." (Photo: Dan Moreland)
WEST LAFAYETTE, Ind. — After more than three years of fund raising and countless meetings, Purdue University has honored Dr. John Osmun, an iconic figure in the pest management industry, with an Endowed Professorship in Entomology. At a reception held at President Martin Jischke's home on May 14th, more than 100 university colleagues, industry representatives and distinguished alumni gathered to honor a man who has had a profound impact on both Purdue University and the pest management industry.
"In a career that spanned 60-plus years, John Osmun has raised the industry's level of professionalism as a pioneering advocate of education and training," Jischke said. "The endowed professorship we are celebrating today is unique in many ways. This chair has been accomplished through a broad collaboration of 52 donors who joined together to honor a colleague, a mentor and friend. This broad support speaks very well of Dr. Osmun's contributions to the discipline of urban entomology."
Steve Yaninek, department head, Purdue Entomology, said the endowed chair "reflects the strength, character and commitment of our partnership with industry. Much of what you see in the department today exists because of what John put in place in the 1950s and 60s."
Eric Putman, director of development, Purdue Agriculture, said endowed professorships typically are funded by a single individual or family, but the John V. Osmun Endowed Professorship is unique in that it was funded by 52 different individuals or groups, making it "very special."
Jischke singled out Terminix International in particular for praise, pointing out that a generous contribution from the company allowed the campaign to reach its financial goal in time to announce the position at the 71st Purdue Pest Management Conference. "The company's gift in January made it possible to share this good news with many of our friends in industry who were on campus to attend the conference," he said.
Jischke also pointed out the endowed professorship will allow the university to "perform research that is timely and is immediately applicable to the pest control industry," a key selling point in securing industry funding for the position. "The endowed professorship is an opportunity to honor John Osmun, while at the same time moving the industry forward with some real information that will impact the pest control industry."
Members of the Purdue University Endowed Chair Committee that solicited funds from the industry included Judy Dold, Rose Pest Solutions, Chicago, Ill. (chair); David Mueller, Insects Limited, Indianapolis, Ind.; John Owens, S.C. Johnson & Sons, Racine, Wis.; Dr. Austin Frishman, AMF Pest Management Consulting, Boca Raton, Fla.; Norm Ehmann, Univar, Inc. (retired), Salinas, Calif.; Steve Yaninek, department head, Purdue Entomology, West Lafayette, Ind.; Dan Moreland, PCT Media Group, Cleveland, Ohio; and Eric Putman, director of development, Purdue Agriculture, West Lafayette, Ind.
In thanking the committee for its work, as well as all those who made financial contributions to the fund-raising effort, Jischke said, "Your support of this will have a great and long impact on this science (of entomology), this university and our students, and on this industry. You have truly touched tomorrow with what you have accomplished today."
A named professorship is one of the highest honors a university can bestow on a member — or past member — of its faculty. It is an academic position permanently supported with the revenue from an endowment fund specifically set up for that purpose. Osmun, who came to Purdue in 1948, established the first four-year program devoted to urban and industrial entomology and helped build the Department of Entomology into one of the finest in the country. He retired from Purdue in 1987 but remains active in university affairs.
"John Osmun is a revered industry icon," Dold said. "The endowed professorship is the culmination of an effort to honor someone who has given so much to all of us — really so much to the entire industry. We wanted to do something that is going to live on long after we are here."
In comments following President Jischke's speech, Osmun said he views both his life and his career as "a great adventure. In general, it's been a wonderful ride," a ride that wouldn't have been possible without the support of his family and friends, many of whom were in attendance at the reception. In addition to chronicling his 60-year career, Osmun acknowledged several industry colleagues and recognized numerous family members in the audience, taking care to thank two of the most important people in his life, his first wife Dottie, who passed away after 55 years of marriage and "did a lot for the department of entomology," according to Osmun, and his current wife of six years, Dortha, who also has embraced the department of entomology. "This is a great university," Osmun said. "I can't think of a finer place to have a career."
In a particularly memorable moment, Osmun brought laughter from the standing-room-only crowd — an audience clearly brimming with affection for a man who helped shape the modern-day pest management industry — when he said being awarded a professorship in his name was a "surprising honor at this stage of my life, and frankly I'm glad to be here to accept it," a sentiment repeated in a letter he sent earlier in the month to members of the Endowed Chair Committee. "I am greatly honored and appreciative that the professorship is in my name. In fact, I'm quite overwhelmed by the whole event. Recognition of what one does in a lifetime is frequently acknowledged only after a person is gone. I'm glad to still be around to cherish the moment," he wrote.
"What is important is the fact that this endowment is the result of a group effort principally by members of the urban pest management industry and a number of its friends," he added. "I see it as all of you, who are either directly or indirectly involved in urban pest management, giving recognition to Purdue's Entomology Department for its longtime interest and support to the field of urban entomology. That's wonderful!"
Among the industry representatives in attendance at the reception were Roland and Winona Rhodes, Rhodes Chemical Co., Kansas City, Kan.; Carl Hinderer, Southern Mill Creek Products, Cleveland, Ohio; and Kim Kelley-Tunis, McCloud Services, Hoffman Estates Ill. "I first met John when I attended my first Purdue Pest Control Conference in 1957," Rhodes said, "and I've been attending ever since. We've become good friends over the years. He's certainly deserving of this honor."
"The (John V. Osmun) Endowed Professorship will allow Purdue to go out and find good leaders, good professors, and increase Purdue's support in this area," observed Dave Mueller, a member of the Endowed Chair Committee and a former student of the longtime educator. "Dr. John Osmun means so many different things to so many people. I know he has been like a father to me," he said. "We couldn't be happier to have made this happen."
In closing his remarks while presenting Dr. Osmun with a hand-crafted rocking chair, President Jischke said, "Dr. Osmun, speaking for all of Purdue University, congratulations on all you have accomplished through your long, illustrious career. This honor by your friends and colleagues speaks very strongly about their respect and love for you. It is a great honor indeed."