Purdue alum in entomology to be honored with John V. Osmun award
By Ashley Bechman
Purdue News Service
October 17, 2008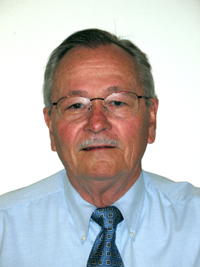 John Foster (Photo courtesy of University of Nebraska-Lincoln)
WEST LAFAYETTE, Ind. - John Foster will be given the John V. Osmun Alumni Professional Achievement Award for Entomology at 3:30 p.m. Oct. 24 in Phendler Hall.
The Osmun award was named for John V. Osmun, who served as the department head in Entomology at Purdue University from 1956-1972. This award is given to an alumnus of Purdue's Entomology Department who has shown excellence in the field of entomology.
Foster received his Ph.D. in entomology from Purdue in 1971. Upon graduation, Foster worked for the United States Department of Agriculture-Agriculture Research Services Insect and Weed Control Research Unit, where he remained until 1990 when he become the head of the entomology department at the University of Nebraska.
Foster, currently at Nebraska, teaches courses, serves as a mentor to over 60 students, and is active in international activities.