Entomology professor Chris Oseto was one of the 49 professors inducted into the Book of Great Teachers
By Brian Wallheimer
Journal & Courier
August 29, 2008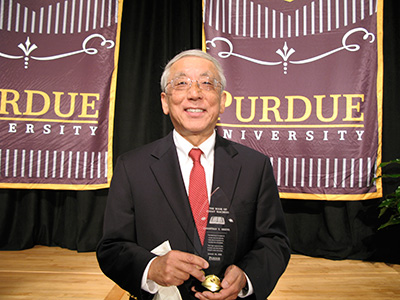 Purdue University Entomology Professor Chris Oseto inducted into the Book of Great Teachers
Most, if not all, of the professors who walked across the stage at the Purdue Memorial Union on Thursday had won awards before.
But these awards were special.
"They were chosen by their students -- which is the highest acclaim you can achieve as a professor -- and their peers," Provost Randy Woodson said. "They care deeply about their students and take great joy and pride in the process of teaching."
Purdue placed 49 professors' names in the Book of Great Teachers, an honor that has been bestowed upon 267 other faculty members. The ceremony takes place only once every five years.
"I feel very honored," Janice Kelly, a professor in psychological sciences, said after receiving her award. "I love to teach, and I love students. I think teaching is probably one of the best parts of being a professor."
Randy Roberts, a professor of history who was already in the book and was once Indiana professor of the year, said the importance of caring professors can't be overstated.
"We're here to tell them they've made a difference," he said. "They have made a difference to hundreds of people, to thousands of people."
Winners of the award must have taught at Purdue for 10 or more years. They are nominated by their students and peers.
The book is actually a wall display in the west foyer of the Purdue Memorial Union.
Eric Barnard, Purdue Student Government president, offered his thanks to the professors as a representative of the students.
"Without your efforts, we would not only miss our academic goals, we would miss a true educational experience," Barnard said.
Bernard Tao, professor of agricultural and biological engineering, said the real reward is being able to connect with students.
"I didn't do it for this. I didn't do it for an award," Tao said after receiving his award. "I did it because I love the students. That's why everyone here does it."