Oriental beetle finds new home in northwest Indiana
Ag Communications
By Jennifer Stewart Cummins
October 16, 2007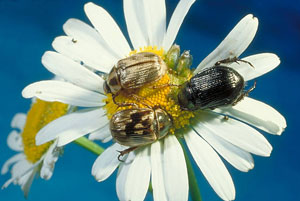 The adult Oriental beetle, recently found in Tippecanoe County, comes in three color morphs and feeds on flower petals. (Ohio State University photo/Dave Shetlar)
WEST LAFAYETTE, Ind. - Indiana could be under attack by another invasive species very soon, said a Purdue University expert.
Entomologist Doug Richmond said the U.S. Department of Agriculture confirmed an oriental beetle found in Tippecanoe County is the first in the state.
"One of our graduate students saw a beetle he didn't recognize, so he brought it into the lab and identified it as oriental beetle," Richmond said.
The oriental beetle is an invasive species native to Japan that arrived in the United States in the 1920s. The larvae feed on roots of turf grasses, perennial plants, weeds, nursery stock and potted plants. Adults feed on the petals of flowers, including daisies, phlox and petunias.
Devastating infestations have already occurred in much of the northeastern United States, and satellite oriental beetle populations have been identified in Tennessee and Virginia.
On its own, the beetle will only spread a few miles annually, but it is spread faster by the movement of sod and nursery stock. The insect is difficult to identify at certain times of the year, Richmond said.
"We are unable to survey for the larval form of oriental beetle," he said. "However, as the adults will be out feeding next summer, we will be out setting traps and trying to gauge whether the Tippecanoe County find was an isolated one or whether we have a larger infestation."
Adult beetles emerge and feed on flowers from May to August. At that time, the public can watch for shredded flower petals or other signs of insect feeding. During the larval stage, signs of an infestation will be that of a typical grub - wilted turf and animals digging at the ground.
"If someone sees damage and they see it's coming from a beetle they don't recognize, they should send it in to the Purdue Plant and Pest Diagnostic Laboratory (PPDL)," Richmond said. "That way, we can not only identify the insect, but we can keep good records of what species are located where."
PPDL has a virtual lab, at http://www.ppdl.purdue.edu/PPDL/, that can answer questions about what PPDL does and can help with preliminary identification of unrecognized species.
More information about the oriental beetle can be found on the Indiana Cooperative Agricultural Pest Web site at http://extension.entm.purdue.edu/CAPS/. Richmond also is available for questions at (765) 494-0399, drichmond@purdue.edu.
Writer: Jennifer Stewart Cummins, (765) 494-6682, jsstewar@purdue.edu
Source: Doug Richmond, (765) 494-0399, drichmond@purdue.edu
Ag Communications: (765) 494-2722;
Beth Forbes, forbes@purdue.edu
Agriculture News Page