Mueller Brothers Receive UNEP and EPA Awards
September 28, 2007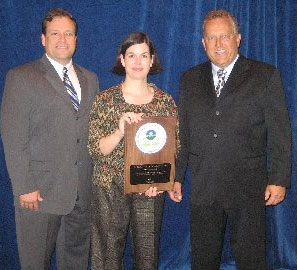 David and John Mueller, Fumigation Service & Supply, Inc of Westfield, IN were presented the "Best of the Best" by Ms Drusilla Hufford, EPA Director, Stratospheric Protection Division.
David Mueller, BS '75, and his brother John Mueller were recently awarded the 'Best-of-the-Best Stratospheric Ozone Protection Award for Leadership' and the United Nations Environmental Programme Innovator Award for 'Innovation in Methyl Bromide Alternatives' at the 20th Montreal Protocol Awards ceremonies. The Montreal Protocol is an international treaty signed by 191 countries that focuses on finding alternatives to products that cause damage to the stratospheric ozone layer.

EPA Administrator Stephen L. Johnson stated:"By embracing cooperation over confrontation, EPA and our vital partners like Fumigation Service & Supply are continuing to create a better tomorrow by protecting the Earth's atmosphere today. We at EPA join the global community in celebrating the anniversary of the Montreal Protocol – a shining example of how human ingenuity, leadership, and determination can create a healthier, better world."

The Montreal Protocol has often been referred to as the most successful international environmental agreement. During the past 20 years, the atmospheric concentrations of harmful ozone depleting substances, like chlorines and bromines, have declined.