To Mexico they can go
By DAN SHAW
Journal & Courier
February 4, 2007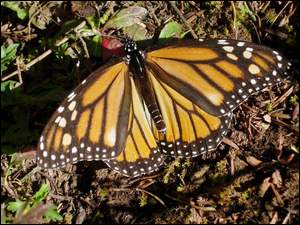 The Purdue University Department of Entomology plans to take students to Mexico to visit butterfly preserves after Christmas.
Every winter, millions of monarch butterflies find a retreat high in the mountains in the Mexican state of Michoacan.
Now Purdue University is offering students a chance to follow them. Steve Yaninek, head of the Purdue University Department of Entomology, says they will arrange to take graduates and undergraduates to Mexico for 10 days after Christmas.
On the trip, they will visit butterfly preserves near the small town of Angangueo, as well as take a glimpse of modern Mexican culture in Mexico City.
Alana Jacobson, a graduate student in entomology, said she took part in a pilot version of the program last month. She said the sight of the butterflies' waking up in the morning left an indelible impression on her.
"We went to the top of mountain, and they are all over the trees and weighing down the branches," she said. "As they warm up, they fly out of the trees and down into the meadows. And you are surrounded by butterflies. You can hear the sound of their wings."
Yaninek said he purposely planned the trips to begin after Christmas so students could spend the holiday with their families. Those who register will likely leave Indiana around Dec. 28 and fly in to Mexico City.
They will spend about three days there learning about the culture and may also take an excursion to visit the nearby pyramid at Teotihuacan.
After the big city, the next destination will be the small town of Angangueo. There they will learn about the economic interests that threaten the butterfly preserves.
The residents of Angangueo had supported themselves at one time by mining silver. But that resource has run dry, forcing many of them to turn to agriculture for a living.
In recent years, a new source of income has arisen from the tourists who come to the area to see the monarch butterflies.
But there is reason to fear that boon won't last forever. The reason: The same fir trees that draw the butterflies also attract loggers.
The nature preserves are protected by the Mexican government, but the natives own the land and decide how it is used. If they are to keep the butterflies, they must find a way to save the trees, he said.
"We will visit local conservation teams that have the responsibility for monitoring these preserves," he said. "They are looking for alternatives to traditional timber cutting and land clearing."
Yaninek thinks the trips will be particularly enticing to students in conservation biology and entomology. At the same time, those studying hotel management and foreign languages may also benefit.
But the trips are open to any Purdue graduate or undergraduate, he said. He hopes at least 12 students will want to go and will take as many as 20, he said. The trip will cost about $1,500, he said.