Purdue Emeritus Faculty passed away, David L. Matthew Jr., 86
Journal & Courier
December 12, 2006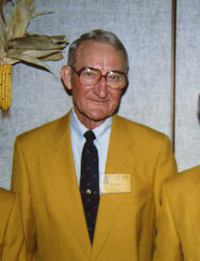 David L. Matthew Jr.
David L. Matthew Jr., 86, of Montrose, N.Y., a founder of Lafayette Urban Ministry, died Dec. 7, 2006, in New York State Veterans Home, in Montrose.
Born March 3, 1920, in Concordia, Kan., he was the son of the late David Leonard and Daisy Blanche Humfeld Matthew. He had been a basketball player for Concordia High School. He attended Kansas Wesleyan University in Salina and graduated from Kansas State University with a master's degree in entomology.
He married Vendeta D. Manges on Oct. 12, 1941, in Concordia, and she died Feb. 19, 1997. They founded the Lafayette Urban Ministry.
Mr. Matthew worked as an extension entomologist and was a professor of entomology at Purdue for 30 years.
He served as captain in the Army Air Force during World War II, training pilots. After the war, he served in the reserves. He was a lieutenant colonel when he left the reserves.
Mr. Matthew was a member of Covenant Presbyterian Church of West Lafayette, where he and his and wife taught Sunday school. For the past 10 years he was a member of Lafayette Church of the Brethren. He also was a member of Phi Kappa Delta, Kiwanis and the Masonic Lodge. He was an avid rock collector.
Surviving are a son, David Matthew III (wife: Gail) of Irvington, N.Y.; a daughter, Ann Loretta Matthew of Fairbanks, Alaska; a sister, Margaret Shivers of Concordia; and a brother, Dr. William Louis Matthew (wife Tina) of Olathe, Kan.
Visitation 9 a.m. to 9 p.m. (CST) Thursday at Chaput-Buoy Funeral Home, 325 W. 6th St., Concordia, Kan. Services 10 a.m. (CST) Friday, Dec. 15, at First United Methodist Church, Concordia, the Rev. Sandra K. Moore officiating. Interment Pleasant Hill Cemetery, Concordia, with military graveside honors by VFW Post 588 and American Legion Post 76. Surviving are grandchildren, Elizabeth Ann Pollan (husband: John), Fairbanks, Melissa Gayle Matthew, Beaverton, Ore.; great-grandchildren, Sydney Pollan and Kristen Pollan, both of Fairbanks, Alaska; 2 sisters-in-law, Virginia Johnson, Milwaukee, Wis., and Jan Matthew, Concordia. A brother, Richard Matthew, preceded in death. He was full of life, wit, spirit, love and demonstrated a deep faith by his service to others. He was committed to helping the less fortunate. He loved his family and sacrificed so their education goals could be met. He was always there for his family. When he walked into a room the room would light up. In lieu of flowers, memorials to Lafayette Urban Ministry.