Insectaganza 2007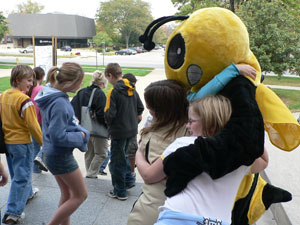 Betty Bee at Insectaganza welcoming Greater Lafayette area 5th graders.
The Department of Entomology held their annual Science on Six Legs: An Insectaganza of Education event on Tuesday, October 9, 2007. Joined by 40 teachers and approximately 85 other chaperones and adults, the event was attended by 956 fifth graders from 15 schools in the Greater Lafayette area. The schools represented were as follows:
To view a few photos of Insectaganza please click here.

Tippecanoe School Corporation
Battleground Elementary
Wea Ridge Elementary
Mintonye Elementary
Cole Elementary
Klondike Elementary

Lafayette School Corporation

Oakland Elementary
Vinton Elementary
Miller Elementary
Glen Acres Elementary

West Lafayette School Corporation

Parochial Schools

Faith Christian
St. Lawrence
Lafayette Christian
St. James
St. Boniface


Science on Six Legs: An Insectaganza of Education is comprised of a full day of insect activities designed to engage these students in a variety of ways. The four components of the program are Quiz Bowl, Insect Dissection, Insect Theater, and Insect Biology.

Quiz Bowl: Each participating school selects four students and an alternate to send to Quiz Bowl. The team represents their school in this event hosted by Arwin Provonsha and Tim Gibb in Lilly 1105. This year the schools received a list of 101 questions drawn from reference material chosen by the Insectaganza committee. The selection for 2007 was the third edition of F. Tom Turpin's text, Insect Appreciation.

Insect Dissection: This section was led under the direction of Jonathan Neal's ENTM 105 students and entomology graduate and undergraduate students. The rooms on the second floor of Stewart are outfitted classroom style and department volunteers pair up to lead pairs of fifth graders through the dissection process. The intention is that the fifth graders will use this process as a means of learning about the morphology of the grasshopper. In addition, this activity offers a unique opportunity to university level students to experience first hand the challenges and rewards associated with classroom management and the education of young students.

Insect Theater: Tom Turpin collaborated with Purdue Convocations to launch this year's Insect Theater. Songs and dances designed to communicate both the benefits and threats associated with insects were used. One of the key concepts touched upon was the threat that invasive insects represent.

Insect Biology: Matt Ginzel used a lecture type format, supported by live insects and hands-on participation from students in the audience to present Insect Biology. The range of topics included insect characteristics and life cycle, an Is This An Insect? game, a discussion of insect senses and how they can be compared to those of humans, insect pheromones, and a demonstration using termites and the blue ink of a BIC pen.