Bruce Cummings, Entomology BS '57 and MS '64, "I survived."
Danielle Gingerich
LaPorte Herald Argus
April 14, 2007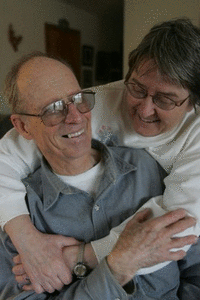 Photo: By Wendy Thoms
Louise Cummings hugs her husband, Bruce, a bone-marrow transplant surivor, at the couple's home in La Porte April 5.
LA PORTE - Four years after being diagnosed with cancer, Bruce Cummings shows no signs of the disease that nearly took his life.

Swaying slowly back and forth in a rocking chair on his porch on a recent afternoon, the 72-year-old nonchalantly reflected on the transplant that saved his life.

"I survived," he said simply, a cool breeze ruffling the tassels on his moccasins.

Bruce will be among thousands of bone-marrow transplant (BMT) survivors from across the country to attend a first-of-its-kind BMT Information Network symposium April 14 in Oak Brook, Ill. "Celebrating a Second Chance at Life" is the first-ever informational gathering of survivors and caregivers to address post-transplant medical and psychological needs of people like Cummings.

Bruce will attend with his wife, Louise, and both said they are looking forward to finding out more about their future needs.

Four years ago, the Cummings were unsure what the future would hold.

When Bruce visited his doctor for minor surgery in 2003, he was asked to submit a blood test, from which doctors discovered he had multiple myeloma - a cancer of the plasma cells or immune system cells located in bone marrow that produces antibodies.

When he was diagnosed, Bruce said there was only one thing to do.

"You just face the facts and then you can go forward," he said.

Bruce spent the next year enduring six chemotherapy sessions and, when he neared remission, the bone-marrow transplant process. In 2004, two days after Christmas, he began a regimen of medications intended to increase the number of stem cells in his bone marrow and then encourage those stem cells to migrate from his bones to his blood. The stem cells were later taken out of his blood and frozen.
"It was a drag," Bruce said. "But I was feeling very positive about it."

After a massive round of chemotherapy, the frozen stem cells were placed back into Bruce's body. He has been in full remission ever since.

Now Bruce, who retired from the Indiana Department of Natural Resources, spends his time at his home near LaLumiere School doing what he enjoys: studying insects and collecting stamps.

His healthy outlook made all the difference, Louise said.

"Somebody who's positive and lively has a different response to treatments," she said. "He had a positive attitude almost all the way through the whole thing."

Married for 44 years, the two serve as each other's support system. Through Bruce's battle with cancer, Louise cared for him.

Her husband remains the same person after his illness, Louise said, except for one small personality change.

"In some ways he's happier," she said. "He's got energy again like he did 20 years ago."

Enough for several more years, said Bruce. Several family members on both sides, he said, have lived to be 80 or 90.

"I'm going to survive until my genetic potential," he said.