Indiana crop growers have one more spring insect to look for
Ag Communications
By Jennifer Stewart
June 13, 2007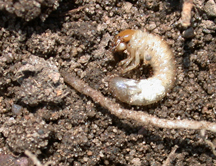 The Asiatic garden beetle larva is a creamy white color and seashell shaped. (Purdue University photo)

WEST LAFAYETTE, Ind. - Indiana has become home to a new invasive insect, the Asiatic garden beetle, and it was recently found for the first time feeding on field crops.
The Asiatic garden beetle is a relative of the Japanese beetle. As its name implies, it is an invasive species. It first arrived in the United States in the 1920s and has made its way westward. The grub lives underground and feeds on roots, while the adult feeds on plant foliage. The beetle can feed on a wide range of plant materials, including perennial plants, flowers, vegetables and field crops.
The Asiatic garden beetle was confirmed May 31 by a Purdue University expert to be feeding on first-year irrigated corn, previously soybeans.
"This year we received a call from a crop consultant in Elkhart County that was seeing a lot of grub damage in sandy soil of irrigated first-year corn," said Christian Krupke, Purdue Extension field crops entomologist. "When we got there and looked at it, right away you could tell they weren't the usual type of grub, but they were still scarab beetles of some kind."
Krupke brought the larvae back to Purdue to look at them under the microscope and verified they were Asiatic garden beetles. Since then, Krupke has received more reports from other fields in the area.
"The fact that the field had previously been soybeans means the adult female was attracted to soybeans and laid her eggs there," Krupke said. "This year we will look for the adult beetle in soybeans during late July and early August, and we anticipate finding them."
Last year, Purdue researchers found adult Asiatic garden beetle in funnel traps in Noble, Porter and St. Joseph counties.
"We knew the adults were here and we were worried about it because it's a pest of so many different ornamentals and a pest of turf," Krupke said.
"It is obvious that they have acquired a taste for corn, too, so we may have to manage and scout for them in a way that is similar to what we do with the Japanese beetle."
The Asiatic garden beetle doesn't appear to migrate and expand its range rapidly from year to year, unlike the Japanese beetle, which spread rapidly and covered the United States in a short amount of time.
"Nobody knows how these beetles migrate from place to place, but people speculate that they are transported via nursery stock or infested sod, but we really don't know," Krupke said. "How it spreads may depend on how much of their host we are moving around from place to place.
"We are going to keep looking for it where it's established and in adjacent counties. We know the Asiatic garden beetle likes sandy soils, and if this is a limiting factor, that could be some good news for growers in other areas of the state."
There is not a lot farmers can do to keep the pests out of fields because they generally fly in at night and lay eggs underground.
"Really, the best course of action is to monitor fields for beetle larvae in the spring," Krupke said. "If you have larvae in the field, first identify what it is."
Field signs include uneven emergence, missing plants in a row and plants that are visibly suffering and lagging behind others.
"When you observe the signs, that's when you want to start digging around," Krupke said. "You would see roots that are chewed or pruned off, actual feeding on the roots and the larvae.
"Where we were in Elkhart County, there was fairly heavy pressure and it was very easy to find larvae. The larvae were within 2 inches of the surface every time and close to the plants."
The Asiatic garden beetle looks similar to many other scarab larvae.
Once damage is found, finding the insect is key, Krupke said. It is important to dig up the plant because cutworm and wireworm will look similar and white grub identical. The Asiatic garden beetle as larva is a creamy white color and seashell shaped.
Like many invasive pests, the Asiatic garden beetle is not a pest in Asia, because of the limiting factors there such as diseases and predators.
For more information about the invasive pest, visit the Purdue Plant and Pest Diagnostic Laboratory Web site at http://www.ppdl.purdue.edu/ppdl/.
Writer: Julie Douglas, (765) 496-1050, douglajk@purdue.edu
Source: Christian Krupke, (765) 494-4912, ckrupke@purdue.edu
Ag Communications: (765) 494-2722;
Beth Forbes, forbes@purdue.edu
Agriculture News Page