Indiana and the Great Lakes states are being bugged again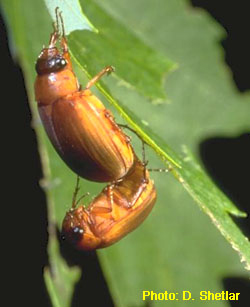 Asiatic Garden Beetle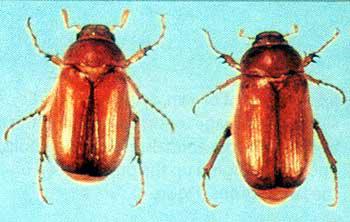 European Chafer
Ag Communications
By Jennifer Stewart
June 4, 2007
WEST LAFAYETTE, Ind. - The Asiatic garden beetle and European chafer are the newest invasive insects making their mark on Indiana's landscape.
Both insects were introduced into the eastern United States in the early 20th century and since that time have traveled westward along the Great Lakes corridor and into northern Indiana.
While the European chafer feeds as a grub, destroying turfgrass lawns and a variety of other plants, the Asiatic garden beetle feeds in both the grub and adult stages and prefers to dine on crops, ornamental plants, flowers, trees and perennials, as well as turfgrass.
"A recent confirmation by Purdue University entomologist Christian Krupke of Asiatic garden beetles damaging field corn in Elkhart County shows the potential threat this beetle poses to a variety of cropping systems," said Doug Richmond, Purdue entomologist.
"The European chafer will prune the roots off of turfgrass to the point where you can pick it up like a rug," said Tim Gibb, Purdue University entomologist.
Before lawns get to that point, there are symptoms lawn managers can look for, another Purdue expert said.
"Some signs of a severe infestation include wilting turf, lack of recovery with irrigation, large, dead areas and heavy skunk or raccoon activity," Richmond said. "With the Asiatic garden beetle, plants injured by the adults will show signs of shredded, ragged and tattered leaves. These beetles will feed right through the veins on the leaves of some trees and shrubs."
The European chafer and Asiatic garden beetle are just two of more than 70 invasive species of insects, pathogens and plants throughout Indiana, said Christopher Pierce of Purdue Entomology and the Indiana Cooperative Agricultural Pest Survey (CAPS).
"In 2006 alone, we found seven new invasive species in the state of Indiana," Pierce said. "The problem is that the new exotic species out-compete the native species because they usually have no natural predators here. This causes environmental and economic harm, and creates problems for human health and natural resources."
It is because of the potential for damage and high concentration of invasive species that Purdue has teamed up with Indiana Gov. Mitch Daniels and The Nature Conservancy to declare June as Invasive Species Awareness Month.
"We are faced with exotic species and we are going to continue to be faced with exotic species knocking on our door. There's no end in sight," Gibb said. "What we can do is continue to generate awareness so that the public will know how to recognize these species and how to avoid facilitating their spread."
For those homeowners, gardeners and lawn care managers who do find suspicious-looking insect activity, Richmond said it's a good idea to investigate and contact the Purdue Plant and Pest Diagnostic Laboratory (PPDL). To contact the PPDL, call (765) 494-7071 or log onto http://www.ppdl.purdue.edu/PPDL/ . Samples also may be submitted to the lab at 915 W. State St., West Lafayette.
Another option is to report suspicious activity to the Indiana Department of Natural Resources at (866) NO EXOTIC (663-9684).
"If you see something strange, go ahead and call," Richmond said. "Reporting suspicious activity could be your opportunity to help slow or stop an invasive species."
More information about Indiana's "Most Unwanted" invasive plant pests is available on the CAPS Web site at http://www.entm.purdue.edu/CAPS/.
Writer: Jennifer Stewart, (765) 494-6682, jsstewar@purdue.edu
Sources: Doug Richmond, (765) 494- 0399, drichmond@purdue.edu
Tim Gibb, (765) 494-4570, gibbs@purdue.edu
Chris Pierce, (765) 494-9522, cpierce@purdue.edu
Ag Communications: (765) 494-2722;
Beth Forbes, forbes@purdue.edu
Agriculture News Page