Purple traps to be placed around state to detect emerald ash borer
Purdue News
By Jennifer Cummins
May 5, 2008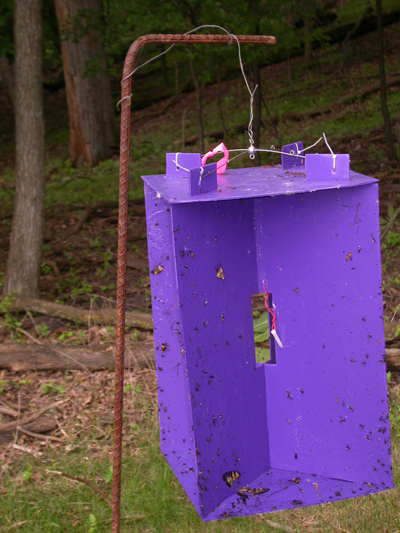 Starting this month, emerald ash borer survey employees will be hanging purple panel traps in trees throughout the state. The traps, baited with manuka oil to attract nearby emerald ash borers, will continue to hang until survey employees begin removing them in September. (Purdue University photo)
WEST LAFAYETTE, Ind. - Bright purple objects resembling box kites will be used to trap emerald ash borers in ash trees throughout the state in preparation for the pest's first emergence in early to mid-May.
The new traps will be baited with manuka oil and glue to detect emerald ash borers (EAB). The scent of manuka oil, harvested from native tea trees in New Zealand, will attract adult beetles.
"These traps won't attract new EAB infestations. They simply help find infestations that are already there," said Jodie Ellis, Purdue University entomologist. "Since the traps are new this year, they're going to look unfamiliar to many people. We just ask that they're left alone so they can serve their purpose effectively."
Traps will be placed on a 1.5-mile grid system in approximately 7,200 survey points throughout most of Indiana, excluding the southwestern-most counties. This means traps will be placed in trees every 1.5 miles in all directions, except in areas where ash trees are not present, such as in agricultural fields, or where infestations already have been confirmed.
"In previously quarantined counties where we have already confirmed infestations, we will only be placing a few traps for research purposes," said Phil Marshall, Indiana state entomologist. "We will be concentrating our efforts in areas that have not had EAB finds to determine whether or not there is, in fact, EAB activity."
Traps will be placed at least 12-15 feet off the ground in the branches of selected trees. Not all of the trees housing traps will be ash, however.
"Although EAB only infests ash trees, in some circumstances we may need to place traps in nearby trees that are not ash trees," Marshall said. "For example, if we have several ash trees that are too difficult to hang traps in, we will hang the trap in a nearby tree that may not be ash. That way, if the surrounding ash is infested, we will still find EAB adults that were drawn to the traps by the scent of the manuka oil."
The Indiana Department of Natural Resources and U.S. Department of Agriculture-Animal Plant Health Inspection Service will be placing traps in trees on both public and private land.
"We are working with landowners within our survey points to obtain their permission to place traps in their trees," Marshall said. "Some of these trees may be located in yards, but most of them are in more remote locations, like trees at the edge of farmland, etcetera."
Emerald ash borer survey employees will be hanging traps in trees through at least June, but may continue through the July. The traps will be removed in the fall, likely in September.
More information about emerald ash borer is available online at http://www.entm.purdue.edu/EAB  or by calling (866) NO EXOTIC (663-9684).
Writer: Jennifer Cummins, (765) 494-6682, cumminsjs@purdue.edu
Sources: Jodie Ellis, (765) 494-0822, ellisj@purdue.edu
Phil Marshall, (812) 595-2740, pmarshall@dnr.IN.gov
Ag Communications: (765) 494-2722;
Beth Forbes, forbes@purdue.edu
Agriculture News Page