Ash quarantine to encompass entire state of Indiana
Ag Communications
By Jennifer Stewart
November 29, 2006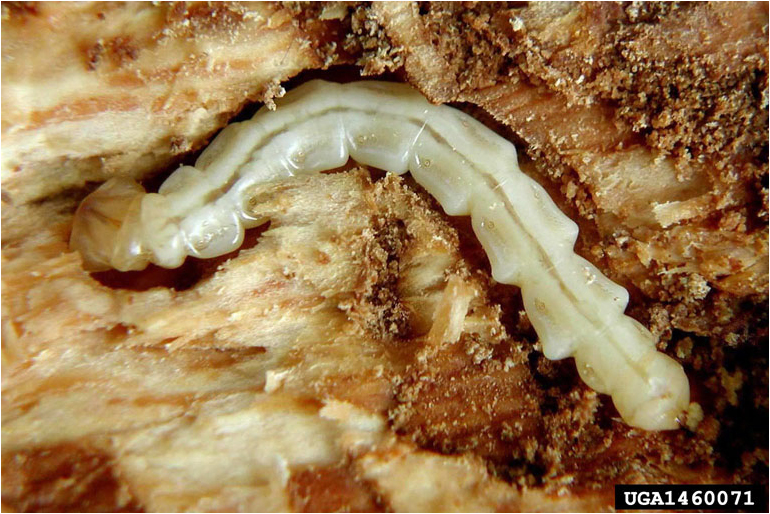 EAB larvae caught in the act of feeding on ash cambial tissue.
WEST LAFAYETTE, Ind. - Areas of Indiana where the presence of emerald ash borer have not yet been confirmed must now comply with a statewide quarantine to help slow the spread of the invasive beetle, said Purdue University experts.
As of Dec. 1, the U.S. Department of Agriculture has placed the entire state of Indiana under quarantine for emerald ash borer (EAB), a devastating insect pest that kills ash trees. This means that while ash products may be brought into Indiana from other non-quarantined parts of the country, most ash products cannot leave without written permission from the USDA. This includes ash nursery stock, ash logs or untreated ash lumber with the bark attached, any type of firewood except pine, and any composted or uncomposted wood or bark chips that are 1 inch or larger.
"EAB is destroying a very economically and environmentally important resource," said Purdue entomologist Jodie Ellis. "The new statewide quarantine is an excellent move to help slow the spread of the problem and help us to get a grip on it."
With the new quarantine, ash products may still move around within the state with some limitations. In addition, each time a new emerald ash borer infestation is confirmed, the county of the find is quarantined and a secondary quarantine is issued for the township.
"We have three levels of protection," Ellis said. "At the state level, the quarantine is permanent and applies to all citizens whether or not their county or township has EAB. If EAB is found in a township, that township is quarantined, in addition to the entire county being quarantined."
Those caught violating federal quarantines will be fined, and their names and penalty will become public knowledge, said Purdue entomologist Cliff Sadof.
"There will be substantial fines for those caught, but our hope is that people care enough about our urban and rural forests to follow quarantine regulations voluntarily," Ellis said.
Other states also undergoing new quarantine regulations include Illinois, Ohio and Michigan's Lower Peninsula.
This announcement comes on the heels of several new finds within the four states. In Indiana alone, 12 counties have had confirmed infestations since 2004. Many of those infestations were first detected by the state's EAB Detection Tree Survey. The survey consists of officials using strategic ash trees that are fatally wounded to attract nearby emerald ash borers, thus confirming their presence.
Recent emerald ash borer finds have been made in Allen and DeKalb counties, as well as a third township in Steuben County and a third township in Adams County.
Ellis said that because the emerald ash borer poses a serious risk to the state's ash resources and all of North America, the Indiana Department of Natural Resources, USDA's Animal and Plant Health Inspection Service and the Purdue Cooperative Extension Service will work closely with green industry associations and the public to provide information on quarantines and what actions should be taken to slow the insect's spread and impact.
For more information about emerald ash borer and current quarantines, visit the Purdue Entomology EAB Web site or the Indiana Department of Natural Resources EAB Web site.
Writer: Jennifer Stewart, (765) 494-6682, jsstewar@purdue.edu
Sources: Jodie Ellis, (765) 494-0822, ellisj@purdue.edu
Cliff Sadof, (765) 494-5983, csadof@purdue.edu