Detection trees help officials locate areas of invasive infestation
By Jennifer Stewart
Ag Communications
July 30, 2007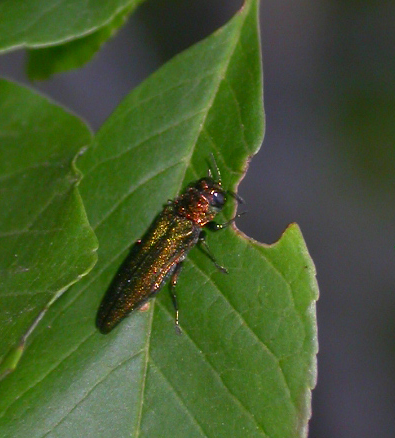 Adult EAB feeds
WEST LAFAYETTE, Ind. - As part of the continuing efforts to detect and slow the spread of emerald ash borer in Indiana and surrounding states, officials are now surveying ash trees throughout the state to locate infestations.
Detection trees are being set up in nearly all Indiana counties by the Indiana Department of Natural Resources and the U.S. Department of Agriculture's Animal Plant Health Inspection Service.
The selected trees will be tagged with bright yellow cards to indicate their purpose and then girdled - a process of wounding the tree by removing bands of bark to attract nearby emerald ash borers, or EAB. Selecting and setting up the detection trees will continue throughout the summer.
"Although detection trees will be set throughout the state, they will be concentrated at areas of higher risk for the introduction of EAB, such as those near campgrounds, mills, nursery areas and so forth" said Jodie Ellis, a Purdue University entomologist.
Beginning this fall and throughout the winter, surveyors will remove detection trees and strip them of their bark to check for any signs of emerald ash borer activity.
"Some people have mistakenly thought that the detection trees are chosen because they are already infested with EAB, but this is not the case," Ellis said. "The detection trees simply serve as monitors to see if EAB happens to be in the area, and they are a means for us to locate infested areas more quickly."
Surveyors will tag specified trees that lie within the right-of-way and will not use ash trees on private property unless they have the owner's permission.
Emerald ash borer was first detected in the United States in 2002 near Detroit. Since then, the insect has destroyed millions of ash trees throughout Michigan, Indiana, Illinois and Ohio.
Questions concerning the detection tree program should be directed to Ellis at (765) 494-0822, ellisj@purdue.edu, or by contacting Susan Frappier with USDA-APHIS at (765) 497-2446.
More information about emerald ash borer and its whereabouts is available online at http://www.entm.purdue.edu/EAB. The site also is available in Spanish at http://www.entm.purdue.edu/EAB/espanol.
Writer: Jennifer Stewart, (765) 494-6682, jsstewar@purdue.edu
Source: Jodie Ellis, (765) 494-0822, ellisj@purdue.edu
Ag Communications: (765) 494-2722;
Beth Forbes, forbes@purdue.edu
Agriculture News Page