Menace on the loose: Emerald ash borer flies again in Midwest
Ag Communications
By Jennifer Stewart
April 25, 2007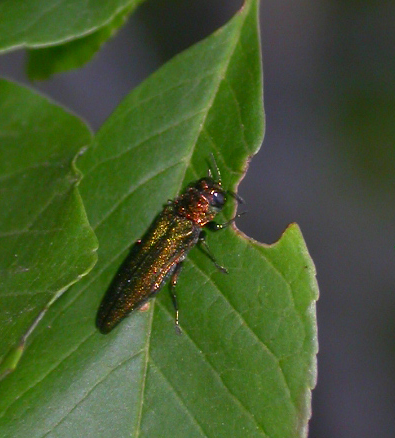 EAB feeding
WEST LAFAYETTE, Ind. - Millions of ash trees are dead and, after a six-month hiatus, the perpetrator is about to be back on the loose. Each May the bright metallic green adult emerald ash borer, an invasive beetle that originated in Asia, begins flying again, thus increasing the likelihood of finding new infestations.
On its own, emerald ash borer (EAB) will spread only about a half mile annually. However, many infestations come as a direct result of moving firewood, log and nursery stock.
"EAB is an exotic species that has largely been spread through the movement of firewood," said Jodie Ellis, Purdue University Extension emerald ash borer specialist. "In order to protect the environment and our natural resources, some concessions need to be made. The time to freely move firewood over long distances is over."
The state of Indiana is under a federal quarantine, which means that none of the following may leave the state: ash nursery stock, ash logs or untreated ash lumber with the bark attached, any type of firewood except pine, and any composted or uncomposted wood or bark chips that are 1 inch or larger.
In addition to the statewide quarantine, the townships in which emerald ash borers are found have been placed under quarantine regulations, along with their respective counties.
"People often view quarantines as a form of punishment, but that's not the purpose of them at all," Ellis said. "The quarantines are in place to keep EAB from being moved to new areas. If we can't keep the insect under control, all of our ash resources will be lost."
Aside from following all quarantine regulations and refraining from firewood movement, the general public can help slow the beetle's spread by monitoring area ash trees for emerald ash borer activity.
"Emerald ash borer has many times been detected by citizens who knew what to look for," Ellis said. "It is a difficult insect to detect, even with our scouts and our trap tree programs. We need millions of eyes out looking for the signs of this pest so citizens have the opportunity to make a real difference."
Infested trees show signs of dying leaves, beginning on the upper one-third of the tree and progressing downward. Other signs include vertical splits in the bark, D-shaped exit holes measuring approximately one-eighth of an inch wide, S-shaped feeding channels under the bark, heavy woodpecker activity on the tree's trunk and branches, water sprouts growing from the tree trunk, and the presence of wormlike larvae up to 1 inch long under the bark of the tree.
If found, these symptoms should be reported to local Purdue Cooperative Extension educators by calling 1-800-EXT-INFO or to the Indiana Department of Natural Resources by calling its toll-free invasive species hotline at 1-866-NO EXOTIC.
More information for both citizens and professionals, including a list of replacement trees, identification of both ash trees and emerald ash borer, biology and life cycles of the insect, quarantine information and more, is available on Purdue's "Emerald Ash Borer in Indiana" Web site at http://www.entm.purdue.edu/EAB.
Writer: Jennifer Stewart, (765) 494-6682, jsstewar@purdue.edu
Source: Jodie Ellis, (765) 494-0822, ellisj@purdue.edu
Ag Communications: (765) 494-2722;
Beth Forbes, forbes@purdue.edu
Agriculture News Page