72nd Annual Purdue Pest Management Conference
PCT Online
by Chuck Bowen
January 8, 2008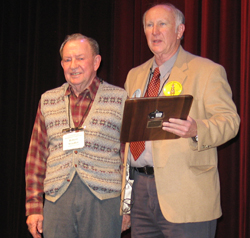 Purdue Pest Management Conference Chair Gary Bennett (right) recognized Robert Windler (left), founder of Windler Pest Control, for attending his 50th Purdue show. (Photo: Chuck Bowen)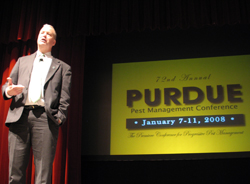 Jay Bruesch, technical director for Plunkett's Pest Control, Fridley, Minn., spoke on the topic of green pest management. (Photo: Chuck Bowen)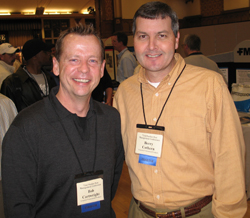 Syngenta's Bob Cartwright and Berry Cothern in front of their display booth. Syngenta was one of the many manufacturers with products on display at the Purdue conference. (Photo: Dan Moreland)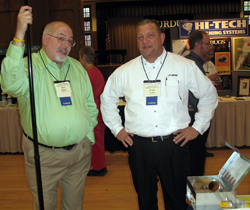 J.T. Eaton's Bart Baker and Craig Velte in front of the J.T. Eaton booth. (Photo: Dan Moreland)
WEST LAFAYETTE, Ind. - Researchers, pest management professionals, manufacturers and other industry professionals traveled from throughout the country to attend the annual Purdue Pest Management Conference this week.
Purdue Pest Management Conference Chair Gary Bennett moderated the conference's opening session and honored Robert Windler, founder of Windler Pest Control, for attending his 50th Purdue show. "He's one of the first persons I met when I came to Indiana," Bennett said of Windler. "He's a great guy, and we really appreciate his support over the years."
Windler and his brother, Jack, founded their pest management business Jan. 2, 1959. Jack Windler left the company a few years later, leaving the operations to Robert and his wife, Rosemary.
The company covered large areas of Indiana and Illinois, performing fumigations, termite control and lawn services. Windler also had its own brand of rodent control chemicals. The couple ran the business until 1988, when they sold a majority of it to Fowler Pest Control.
Bennett presented Windler with a black and gold Tiffany lamp with the Purdue griffin symbol.
Also at the opening ceremony, Jay Bruesch, technical director for Plunkett's Pest Control, Fridley, Minn., spoke on the topic of green pest management.
He said the most important part of a successful "green" pest program is communicating to customers that PCOs have been doing green pest management for decades: They protect the environment, practice Integrated Pest Management and don't just spray chemicals haphazardly in homes.
"Believe it or not, our clients don't know this," he said. "We have to tell our clients we're green. We've been there for 25 years; they just don't know it."

He said green pest management isn't about not using pesticides. A green pest management program should focus on inspection, consultation, the use of least-toxic materials and the use of materials outside the home. Bruesch stressed the importance of branding your company as green and promoting your dedication to the environment. Customers, he said, won't just realize you do these things.
"Green has more to do with our clients' emotions than it does with science," Bruesch said. "We want to feel warm and fuzzy about every aspect of our lives. It's up to us to put that warm feeling into our clients' heads."