The format of the on-line issue has been updated in an effort to improve the quality and service of the newsletter and we hope you will take the time to give us some feedback. Please send your comments, suggestions, or new ideas for stories to plloyd@purdue.edu.
In a tiny, unassuming office in an out-of-the-way corner of Smith Hall on the campus of Purdue University, entomologist Dr. Grzegorz Buczkowski does what generations of young scientists have done before him painstakingly document and interpret hundreds of lab tests on cock roaches, ants and other insects, attempting to better understand the biology, behavior and control of household pests. Although only 35 years old, he's come a long way from his days as a youth growing up in Brzeg, Poland, a small town in the southwestern part of the country, thousands of miles and a world away from the Purdue University campus.
DEPARTMENT NEWS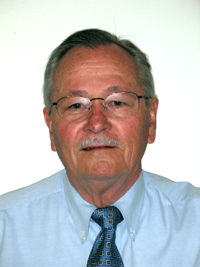 John E. Foster
Dr. John Foster (PhD '71) has been selected to receive the 2008 John V. Osmun Alumni Professional Achievement Award in Entomology. Dr. Foster is a professor of entomology at the University of Nebraska. He works on plant resistance to insects in maize with an emphasis on the European corn borer and the Western corn rootworm. His studies involve efficacy testing of transgenes and identification of new native genes. During his career, Dr. Foster has published over 150 refereed journal articles and research bulletins, 4 book chapters and 30 extension bulletins and other publications dealing with insect and plant genetics, crop protection and sustainable agriculture. He has released 9 germplasm lines, 8 cultivars, published on 9 crops, and completed 24 PhD students as major professor. The Osmun Award ceremony this year will be on Friday, October 24th.
John's web site at the University of Nebraska: http://entomology.unl.edu/faculty/foster.shtml
Chris Oseto: Inducted into the Book of Great Teachers
Chris Oseto was inducted into the Purdue University's Book of Great Teachers at a ceremony in August. "The book bears the names of 267 faculty members, past and present, who have devoted their lives to excellence in teaching and scholarship. They were chosen by their students and their peers as Purdue's finest educators." Tom Turpin and Al York are the other Entomology faculty members listed in the book. The Book of Great Teachers is a wall display located in the west foyer of the Purdue Memorial Union.
FROM THE HEAD BUG by Steve Yaninek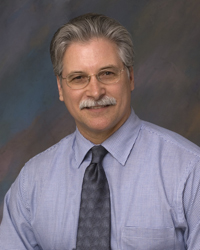 Steve Yaninek
I'm taking a break from department history in this issue to brief you on some recent changes and exciting developments at Purdue. Summer is the time of year when entomologists often give undivided attention to their particular interests and passions in the discipline outside of teaching. On campus the undergraduates are gone, the grad students and their advisors buckle down on interesting and novel research, while extension staff have their hands full developing appropriate solutions to meet the needs of their stakeholders. Outreach continues unabated. Even the teaching staff has a chance to work on projects that get little attention during the school year. As Ralph Waldo Emerson once said "Do what we can, summer will have its flies" – a sentiment most entomologists understand and embrace.
In June, members of the department coordinated with other departments in the College of Agriculture's annual 4-H Science workshops. High school students from across Indiana visited the Purdue campus to take part in intensive workshops related to their specific interests in science and agriculture. The 4-H Entomology Workshop activities included a visit to the Bee Farm and a presentation on honey bees by Greg Hunt, followed by presentations on 'Insects in Poetry, Literature, and Music and Insect Communication' by Tom Turpin. The following day, Jeff Holland took the students to the field to participate in 'Estimating Insect Diversity,' and Tim Gibb led a collection trip and provided tips on pinning insects. The workshop culminated with a dissection tutorial led by Kapil Raje, followed by 'Insects: Soft and Crunchy,' a presentation by Alan York, and an overview of the Emerald Ash Borer and the threat it represents to ash trees in North America contributed by Melissa Shepson.

ENTOMOLOGY STUDENTS
Emily Shebish received one of the D. Woods Thomas Memorial Scholarships in International Studies grants to support her research in Costa Rica. The award for graduate students in the College of Agriculture supports research or studying in a developing country. The intent is to help increase the capacity of young American scientists to contribute to international agriculture development.
New Undergrads:
Sydney Barnes, CODO, from Fort Wayne, Indiana
Alexander Bic, Freshman, from Irvine, California
Derek Calhoun, Freshman, from Parker City, Indiana
Shawn Cobban, Freshman, from Saint John, Indiana
John Diller, Freshman, from Goshen, Indiana
Zachary Eisenhauer, Freshman, from Berwick, Pennsylvania
Stephanie Hathaway, Freshman, from Noblesville, Indiana
Matthew Keen, Freshman, from Delphi, Indiana
Gareth Powell, Freshman, from Shelbyville, Indiana
Rebecca Rose, Freshman, from Logansport, Indiana
Nicole Van Der Laan, Transfer, from Valparaiso, Indiana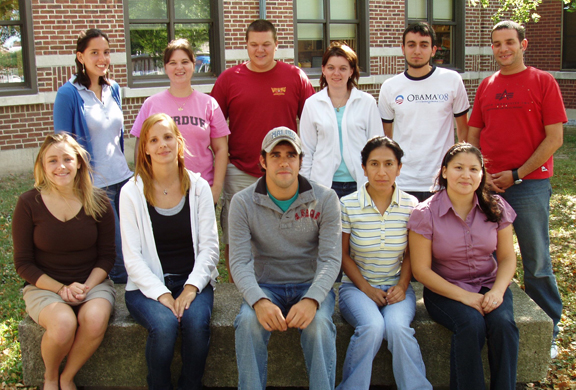 New Graduate Students

Tabby Carroll, MS with Gary Bennett, from Linton, Indiana
Terri Hoctor (BS '08), MS with Tim Gibb and Doug Richmond, from Greenwood, Indiana
Megan Critser, MS with Ralph Williams, from Rensselaer, Indiana
Clayton Nolting, MS with Ralph Williams, from Hope, Indiana
John Shorter, MS with Greg Hunt, from Ypsilanti, Michigan
Julia Prado, PhD with Cliff Sadof, from Ecuador
Marcus McDonough (MS '07), PhD with Gary Bennett, from Lafayette, Indiana
Catherine Silva, PhD PULSe with Cate Hill, from New Orleans, Louisiana
Kristi Zurawski, PhD with Ralph Williams, from Lansing, Michigan

Nicole Holmes, BS
Gregory McGraw, BS
Matthew Paschen, BS
Brandon Smith, BS
Rajat Aggarwal, PhD
Jody Green, PhD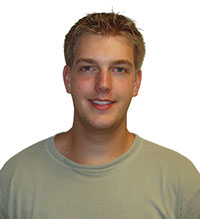 Kevin Norman

As a member of the Purdue Varsity Glee Club, I had the opportunity to travel internationally to South Africa from May 26th to June 4th. We travel on an international tour every three years, with past trips to China, Europe, and Australia. South Africa however was a real treat compared to these places. We had three performances scheduled. The first was at the City Hall in Cape Town. After the performance, the rest of our time was spent on the Waterfront visiting the local eateries and souvenir shops. While we were there we visited Cape Point, the southern-most tip of the continent, as well as visit Robben Island, which was a prison camp in the days of the Apartheid. This is where the famous Nelson Mandela and many other political prisoners were held. It was a very humbling experience.
A collection of Purdue Entomology stories is being compiled for possible publication for the department's Centennial Celebration in 2012. Purdue Entomology alumni and all current and former students, faculty and staff are invited to assist us with this project. Many of you have your own 'piece of yarn' to add to familiar tales of  the notorious suit of armor, annual Ag Fish Fry, Thomas Say cookouts/dinners, bats in Entomology Hall, or field experiments gone awry. We also invite you to share other interesting stories of personal experiences, photos, or memorabilia that will reveal and enhance our history as a department. Your support is appreciated as planning gets underway to make the Centennial Celebration an unforgettable event.
Submit to: Paula Layden, Entomology Dept, 901 W. State St., West Lafayette, IN 47907-2089 or entomology@purdue.edu
---
Correction: In the Spring 2008 issue, Vinnedge (Vin) M. Lawrence (PhD '68) was incorrectly printed as Lawrence (Vin) Vinnedge.
---
Bing Huei Chen (PhD '87) is the Director General of the Taiwan Agricultural Research Institute (local equivalent to USDA ARS). He did his research with John Foster on Hessian fly biotype development.
Taiwan Agricultural Research Institute
---
Mike Scharf ( BS '91, MS '93,  PhD '97), an entomologist at the University of Florida's Institute of Food and Agricultural Sciences, was featured in PCT Magazine for his contribution in the development of a genetic pesticide.
Visit Mike's website



---
Marc C. Minno (BS '78) is a Supervising Regulatory Scientist for St. Johns River Water Management District (SJRWMD), Palatka, Florida. He is the author/co-author of 5 books on butterflies and numerous scientific and popular articles. Marc has 2 children and 2 grandchildren.
SJRWMD
---
I. Billy Annan (MS'87) is the Global Product Development Manager for insecticides at DuPont in Newark, Delaware. He remembers Marlin Bergman, Larry Bledsoe, Tom Turpin, Rich Edwards and his colleagues in the corn research lab, Susan Balfe, Sven Strnad, Mike Bush, and Kurt Seevers. Billy's many accomplishments include a PhD from Cornell University, a research fellowship at the ICIPE in Kenya and several technical/journal publications. He and his wife, Paulina, have been married for 22 years and have 3 sons.
DuPont Crop Protection



---
Yeon Jae Bae (PhD '91) accepted a position as professor in the College of Life Sciences & Biotechnology, Lab of Animal Systematics and Ecology, at Korea University in Seoul, South Korea.
Korea University
---
Kristi Jukovich (BS '08) is a research assistant and intern at the Field Museum of Natural History in Chicago, working in the Department of Zoology, Division of Insects. Kristi sorts samples and identifies spiders from the topics and is learning to take images of spider spinnerets and pores with a scanning electron microscope.
Field Museum of Natural History
October
24
John V. Osmun Award Presentation
24-26
Purdue Homecoming Weekend
December
18
Outstanding Service Award Presentation