OUTREACH UPDATE by Tom Turpin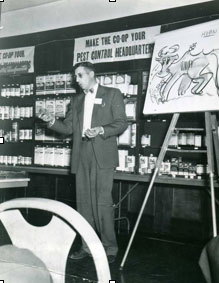 Chalk Talks: Glen Lehker drew cartoons to illustrate entomology presentations.
In modern times, the science of entomology has had a problem in the general public having negative feelings about insects. The reasons for such an attitude are unclear. It may be due to the pest status of some insects, the "them versus us" mentality. It might be due to the alien appearance of insects, so different from us as to be frightening. Regardless of the basis for the attitude the result is that historically, outside of finding out how to kill insects, people have not expressed much interest in learning about entomology. To combat this, some entomologists have developed methods designed to entice the public into learning more about insects.
The second department head of entomology at Purdue, J. J. Davis came to Purdue in 1920 and quickly developed two activities with youth designed to foster interest in insects. The first was associated with Davis' introduction of Chinese mantids to the West Lafayette area. Following the release of the mantids, J. J. Davis took groups of school children from around the state on field trips to collect mantid egg masses. The children took the egg masses home and placed them in nearby fields. The program not only served to establish the Chinese mantid but provided an opportunity for children to learn about insects. J. J. Davis also organized an insect collection contest for youth. This insect-collecting activity became the basis for the insect project associated with 4-H programs.
In 1937 J. J. Davis compiled and selected material for "The Entomologists' Jokebook." The book was subtitled "Humorous writings and comments – wittingly and unwittingly written – of an otherwise highly important science." The book reflects the attitude of J. J. Davis that taking pleasure in our profession or making learning about insects enjoyable is an acceptable goal for entomologists.
Glen Lehker, hired in 1936 as the first extension entomologist at Purdue, drew cartoons to illustrate his talks. Lehker would use chalk to draw cartoons on paper flip-charts as he presented material. These chalk talks, as the illustrated presentations became known, were popular with audiences and very effective in creating interest about insects.
By the early 1970s extension entomologist Don Schuder had teamed with extension plant pathologist Don Scott to develop the "Symptom Circus" which created interest in an extension presentation on insects and diseases of plants. Both presenters dressed in top hat and tails and carried a whip to appear as circus ringmasters. Slides illustrating plant problems were shown and then the "ring masters" would discuss whether an insect or pathogen caused the symptom. The presentation became very popular. Schuder and Scott presented the program across Indiana and at several locations outside the state.
In 1978 Tom Turpin created The "Bug Scout" cartoon, which was drawn by Natalie Brown. The cartoon featured an entomologist in pith helmet and short pants sporting a collecting net. The cartoon ran for several years as a regular feature in Prairie Farmer magazine and was used to teach readers about pest management concepts.
Bug Bowl, now a regular feature of Purdue's "Spring Fest," began in 1990 as a special activity associated with an entomology class. The primary goal of Bug Bowl is to attract community visitors to campus to have fun and learn about insects. Bug Bowl features cockroach racing at "Roachill Downs" racetrack, a cricket-spitting contest, insects as food, an insect petting zoo, crafts for children, and an insect art contest for community school students. Since 1992 Roachill Downs and cockroach racing has been a daily feature of the Indiana State Fair.
Insectaganza is presented by the department as a day long college experience for local school 5th grade classes. Each fall over 1000 students come to the Purdue campus to participate in grasshopper dissection laboratories, a quiz bowl contest, and lecture presentations.