March 2006
To keep you updated, the Department is publishing a summer and winter electronic newsletter. The spring and fall printed issues will continue to be posted on our website: www.entm.purdue.edu/entomology/news/alumni.html
TABLE OF CONTENTS
Feature Article: Pioneers & Progress - Women faculty forge pathways in agriculture
Department News
From the Head Bug: Entomology, Evolution and Intelligent Design
Outreach Update
Development Update
Entomology Students
Alumni News
Calendar
Pioneers & Progress - Women faculty forge pathways in agriculture. The first woman appointed to the Purdue Agriculture faculty, Ferris helped pave the way for women in agricultural research. [Story]
Virginia Ferris used a microscope when she began her career as a scientist. While the microscope remains an old friend, she now conducts research using technology made possible by genomics. A world-renowned nematologist, Ferris was among researchers who used molecular markers to identify genes that provide resistance to the soybean cyst nematode. (Photo by Tom Campbell)
2005 Outstanding Service Award Winner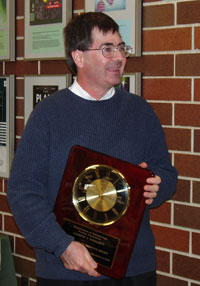 Joe Hegarty receives the 2005 Outstanding Service Award at the Annual Entomology Awards & Recognition Program.
The Outstanding Service Award is designed to honor performance, contributions, accomplishments, and to recognize continued outstanding service in the department. Joe is a Systems Analyst in the CERIS (Center for Environmental and Regulatory Information Systems) group and serves as Project Leader for Export CERtification ProjecT (EXCERPT). The operational success of EXCERPT has been contributed in large part to Joe's outstanding technical expertise, creativity, competence, dedication, and programming excellence. Following the award presentations, the department enjoyed a reception for Joe and celebrated the holidays with food, games, and a visit from St. Nick [More Photos].
Sharvelle Award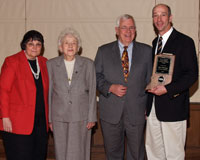 John Obermeyer (far right) receives the 2005 Sharvelle Award
The Eric G. Sharvelle Distinguished Extension Specialist Award recognizes a Purdue University Extension specialist who has demonstrated a high degree of proficiency and professionalism in the conduct of Extension programs over an extended period of time. The award was presented to John by Sybil, Gladys and Derek Sharvelle [Story].
Distinguished Ag Alumni Award Winner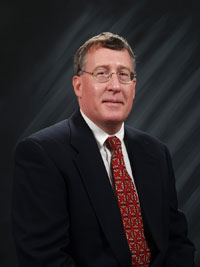 Mike Culy (BS '79, MS '82, PhD '87)
Mike Culy was selected for recognition as one of nine alumni winners in 2006. The award ceremony was held on March 3, 2006. Read more about Mike's award in our upcoming Spring 2006 issue.
2006 John V. Osmun Award Nominations
Nominations are being accepted until April 1, 2006. Please go to our website http://www.entm.purdue.edu/osmunaward/default.html for a nomination form.
Borlaug Fellows Workshop in Costa Rica
In January, a workshop was held for the Norman E. Borlaug International Agricultural Science and Technology Fellows Program for Central America at the Tropical Agriculture Research and Higher Education Center (CATIE), Turrialba, Costa Rica. The purpose of the meeting was to review program objectives, overview presentations by fellows, and a session on Mentor-Fellow Future Collaboration. Evelyn Canjura was a Borlaug Fellow in Dr. Linda Mason's laboratory where she studied insect movement and fumigation techniques associated with stored food products. The workshop ended with a Program Awards Ceremony and Dinner at El Turrialtico Mountain Lodge.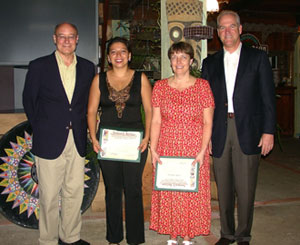 (l-r) Pedro Ferretira, Director General CATIE, Evelyn Canjura, Borlaug Fellow (Purdue, Summer 2005), Linda Mason, Borlaug Fellow Mentor, Mark Langdale, U.S. Ambassador to Costa Rica.
Reception in Honor of Dr. John V. Osmun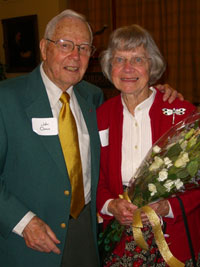 John and Dortha Osmun
A reception was held for Dr. John V. Osmun during the 2006 Purdue Pest Management Conference. Dr. Osmun was recognized for his contributions to the Purdue Entomology Department and advancement of professionalism in pest management. [More Photos]
Departing Staff
Chad Craighill resigned from the department IT Manager position to pursue a new career opportunity in Wisconsin. We wish Chad and his family the very best.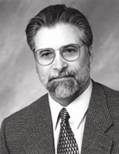 Steve Yaninek
Entomology, Evolution and Intelligent Design
Evolution and Intelligent Design (ID) hit the popular press recently when the Dover Area School Board in Pennsylvania proposed including ID as a scientific alternative explanation to evolution. The school board was sued by parents who basically objected to having religion introduced as part of the science curriculum. This past December Judge John E. Jones III of the U.S. District Court in Harrisburg, PA ruled that ID is nothing more than creationism in disguise and therefore unconstitutional to teach in public school science classrooms. [Full Story]
Boiler Bug Barn - An Unexpected Adventure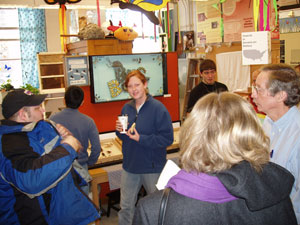 Tom Turpin (far right) welcomes visitors to the Boiler Bug Barn during a recent open house.
The Bug Bowl, Purdue University's wildly popular, one-weekend-in-spring tribute to all things creepy and crawly, now has a year-round home. The Boiler Bug Barn officially opened its doors...[Full Story & More]
The Campaign for Purdue continues to benefit the Department of Entomology with new contributions in the areas of discovery, learning and engagement. We celebrate the new endowed scholarships, faculty support and educational programming that have been established during the campaign.
The Department of Entomology hosted a special reception for John and Dortha Osmun at the Purdue Pest Control Conference on Wednesday evening, January 11. We reported on our ongoing effort to establish the John V. Osmun Endowed Professorship and took the opportunity to thank the many donors who have contributed so generously to honor our teacher, colleague and friend. Statements of appreciation from Claudia Heinsohn, Judy Dold, Tom Turpin and Austin Frishman gave the reception a delightful blend of humor and heartfelt sentiment.
We are pleased to renew our relationship with Terminix as the lead sponsor for the 2006 Bug Bowl and appreciate their support of this innovative outreach program. Please plan to join us on Saturday, April 8 and Sunday, April 9 for one of the largest insect events of its kind.
For more information on this, or other opportunities, please contact Eric Putman, Director of Development, at 800-718-0094 or eputman@purdue.edu
Thomas Say Society
The Thomas Say Society and the Entomology Graduate Organization (EGO) collected several dozen toys and monetary donations from the department for the Lafayette Urban Ministry's Jubilee Christmas. In addition, grad students Carolyn Foley and Philip Morton braved the chill of a Lafayette December day to ring bells for the Salvation Army's Kettle Campaign. They "rang up" $258.01 for their efforts. Good job ento folks and kudos to the undergraduate and graduate student organizations!
2005 ESA Meeting - Ft. Lauderdale, Florida
| | |
| --- | --- |
| | |
| Matt Tarver (BS '02, MS '05), Steve Yaninek, Mike Scharf (BS'91, MS '93, PhD '97) | (l-r) Kate Girsch (MS Program), Greg Roubos (MS '05), Al Fournier (PhD '05) |
Congratulations to Matt Tarver who received the Larry Larson Graduate Student Award for Leadership in Applied Entomology (sponsored by Dow AgroSciences). Casey Butler, an MS student with Bob O'Neil, won first place for his oral presentation. Shujuan Li, a PhD student working with Chris Oseto and Virginia Ferris, was runner up for her poster presentation. Students had the opportunity to visit with alumni during an informal mixer hosted by the department.
Purdue Winners at the 2005 Ohio Valley Entomology Association Meeting:
| | | |
| --- | --- | --- |
| Walter Baldauf | 2 nd Place | BS student working with Doug Richmond |
| Nick Geraci | 2 nd Place | MS student working with Cate Hill |
| Omprakash Mittapalli | 2 nd Place | PhD student working with Rich Shukle |
The department had a total of 11 students who presented at the OVEA meeting. Jody Green will be president of OVEA next year.
Special Service Award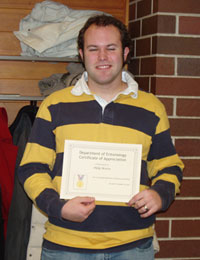 Philip Morton received a special certificate of appreciation from the Entomology staff for his generous service to the department. Philip is an MS candidate working with Brandi Schemerhorn.
Midwestern Association of Graduate School Distinguished Thesis Award
Matt Tarver (BS '02, MS '05) was selected as Purdue's representative for the Midwestern Association of Graduate School Distinguished Thesis Award. Congratulations to Matt and his department mentors Barry Pittendrigh and Larry Murdock .
Outstanding Student Awards
The following students have been chosen for the Entomology Outstanding Student Awards. These students will be sent forward as nominees for the College of Agriculture Outstanding Student Awards:
Mike Skvarla
Outstanding Freshman

Shauna Stapleton
Outstanding Sophomore

Kyane Reidenbach
Outstanding Junior

Tyler Janovitz
Outstanding Senior
New Undergraduate Students - Spring 2006
Nicole Holmes, a Sophomore CODO from Science comes from Monticello, Indiana
Bradley Fry, a Freshman from Howe, Indiana
John Shukle, a Freshman from West Lafayette, Indiana
Gregory McGraw, a Junior CODO from Liberal Arts comes from Tulsa, Oklahoma
Jim Harmon (BS '85) Although Jim and his wife, Gail, recently sold their business, Urban Entomology Associates, to Orkin, they will remain actively involved in its growth and management. [Full Story]
Bahagiawati 'Wati' Amirhusin (MS '92, PhD '00) "Thank you for keeping me updated with the news of our Entomology Department. I love to hear everything about Purdue and its community, my second home."
Bryan Schmeiser (BS '98) "I just received an invitation to the John Osmun reception on January 11. Unfortunately I will not be able to attend as I currently live in New York City. I really wish I could make it as Dr. Osmun really helped feed my interest in entomology when I was very young. I lived across Newman Road, in West Lafayette, from Dr. Osmun (my parents still live there), and he must have seen me out collecting one day when I was probably 8, 9, or 10 years old. I remember him giving me a much nicer butterfly net than the one I was using, and I'll never forget how excited I was about it! To this day, when I hear Dr. Osmun's name mentioned in these newsletters, I always get a smile on my face remembering that day, when a much older adult shared with me the same passion for bugs. What a great ambassador for Purdue Entomology. That aside, I wanted to pass along my current info about me. Interestingly, despite my story above, I never worked in the entomology field. I currently work as a natural gas and electricity commodities trader for the investment bank Goldman Sachs in New York City. I have lived here for almost a year, and I like what I do very much. Previously, I traded electricity for Williams Energy in Tulsa, OK. I want to thank (if this is possible in a newsletter) Bob O'Neil and John MacDonald for their support and reference letters to help me get into the MBA program at Purdue right after completing my entomology degree. Without their help, I may not be where I am today. My hobbies include mountain biking, snowboarding, and of course collecting, with papilionids and saturniids being my areas of interest."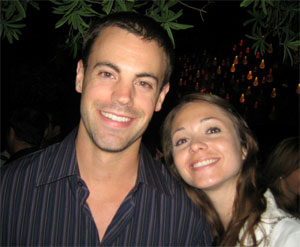 Bryan and girlfriend, Tara
Mark Shelton (MS '80) "I worked on my MS in Entomology from 1978-80 with Rich Edwards as my advisor, and Tom Turpin and Merrill Ross (Botany) filling out the committee. I couldn't have asked for better mentors than these guys. I also benefited from the friendship and wisdom of Al York, Eldon Ortman (Dept. head), Dick Shade, John Osmun, Gary Bennett, John MacDonald, and my fellow grad students, many of whom have gone on to distinguished careers. Larry Bledsoe (MS '81) was my friend, sometime roommate, and guide through the maze of field crop entomology research. I owe Larry a lot for all his advice and friendship.
Another special person I met at Purdue was Kathy Klump. She was working on corn rootworm management with Tom Turpin and Paul Ludwig (Dow Chemical) when we were introduced by Brad Stiles (PhD '80). Brad and I played handball together and when he was unavailable one week, he suggested that Kathy and I play racquetball instead. To this day, I don't know if Brad was playing match-maker, but it worked out well, since we've been happily married since 1980 and have 3 great teenagers to show for it.
After Purdue, Kathy and I went to Oregon State University where I worked as a research assistant in entomology while she obtained her MBA. Next stop was Cal Poly State University in San Luis Obispo where I was offered an assistant professorship teaching apiculture and IPM in the Crop Science department. I worked on my Ph.D. through Utah State, completing the degree in 1989. I was fortunate to receive 2 Monsanto-sponsored faculty awards for teaching and scholarship. After 14 years as a professor, I became department head in 1996 and associate dean for research, graduate studies, and farm operations the next year. I've been fortunate to live in New Zealand for 4 months and travel to Costa Rica, Guam, and Japan. I have fond memories of people and experiences in entomology at Purdue, and have sent students to pursue degrees there, Ray Cloyd (MS '95, PhD '99), University of Illinois extension entomologist and Travis Hill (MS '95, PhD '98), California consultant."
| | | |
| --- | --- | --- |
| | | |
| Mark and Kathy | Mark's Children in Kuai | Mark with Water Buffalo at EARTH University Livestock Unit |