July 2005
TABLE OF CONTENTS
Feature Article:
Occupied Territory
Department News
From the Head Bug:
Forest Entomology
Outreach Update
Development Update
Entomology Students
Alumni News
Calendar

To anyone concerned with environmental and economic issues, the subject of invasive species is always of concern. Indiana has become a destination for numerous invasive species that negatively impact our State's ecology and economy. Indiana's proximity to large centers of commerce such as Detroit and Chicago as well as our own high traffic areas throughout the State places us at risk for invasion from everything from minor nuisance pests to real monsters such as emerald ash borers. Kay Hagen of Purdue's Agricultural Communication Service, who also works with Dr. Cliff Sadof and Jodie Ellis as the emerald ash borer communications officer, has written a fascinating article in the Spring 2005 Purdue Agricultures Magazine that provides an update on the status of invasive species in Indiana. [Full Story]

Osmun Award Winner
Michael L. McManus (BS '59, MS '62, PhD '66) is the recipient of the 2005 John V. Osmun Alumni Professional Achievement Award in Entomology. Dr. McManus is Project Leader at the Northeastern Research Station for Insect Pathology and Microbial Control in Hamden, Connecticut. He has served his entire career with the USDA Forest Service, where, as a researcher, Research Leader, and Project Leader he has had an enormous impact on forest pest research, particularly as an expert on the gypsy moth. The award will be presented on Friday, October 14, 2005. More information will be distributed for this event later.
Insect News
Arwin Provonsha collected a couple of beetle larvae in the family Phengodidae one evening in June while looking for fireflies. The larvae, which can reach a length of 3 inches, are predaceous on millipedes and other litter arthropods and bioluminesce across much of their body in the dark. The adult females are wingless and resemble the larvae. Phengodids are not uncommon, but are rarely seen because of their noctural behavior.
New Staff
Angie Sigo is the new department secretary and receptionist in the Main Office. Angie and her husband, Chuck, moved from Ft. Wayne, Indiana to the Lafayette area in April.
Amanda Pendleton, our new secretary for Student Services, came from the Health Sciences department and has been at Purdue for four years. Amanda and her husband, Brian, have two children and live in Williamsport, Indiana.
Departing Staff
Jenny Franklin took a new position in the University Honors Program, directed by Chris Oseto. Jenny was with the Entomology Department for eight years as the secretary for Student Services.
International Travel - Monarchs in Mexico
Monarch butterflies migrate from the Midwest each fall to spend the winter in Mexico on the Oyamel fir trees found on mountain tops 100 miles west of Mexico City. This winter, Steve Yaninek accompanied department heads and chairs from the Midwest to a regional meeting at the International Maize and Wheat Improvement Center (CYMMIT) just north of Mexico City. After the meeting, he visited Sierra Chincua and El Rosario - 2 of the 6 reserve sites that make up the Monarch butterfly winter sanctuary in Mexico.
Steve learned that Monarchs are the only known species to complete a long distance migration cycle with individuals from different generations of the same population. Monarchs are 4 to 7 generations removed by the time they make it back to the mountaintops in Mexico each fall. By comparison, caribou, wildebeest, salmon, and gray whales migrate with individuals that return each year to the same starting point.
The overwintering Monarch population was at record low levels this past year as measured by the total area occupied in all known overwintering sites. A combination of factors including the unusually severe winter storm mortality of 2003-04 probably accounts for some of the decline. By far, the most worrisome trend is the mounting habitat destruction in and around the overwintering sites due to local logging pressures.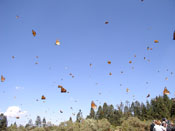 Monarch Migration [More Photos]
Nevertheless, it was still awe inspiring to witness this miracle of migration and experience the millions of Monarchs that surrounded me in the nature reserves. Monarchs roost overnight in dense clusters of individuals so massive they completely cover the needles and branches of the trees. They look like pleated curtains or sheets composed of Monarch butterfly wings spread over the treetops.
We got to one site late in the afternoon just as the Monarchs were returning from their daily foray down the mountainside. The next day we reached another site early enough to watch as the morning sun came around and triggered the daily cascade of Monarchs that sweeps down the mountainside in search of water and nectar. What a site and what a memory!
For more information about Monarch butterflies and the important conservation efforts to protect the imperiled overwintering sites in Mexico check out the following website: www.monarchwatch.org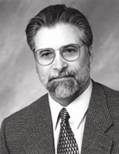 Steve Yaninek
Forest Entomology
When was the last time you looked up at a tree in the forest and thought of Purdue Entomology? It has been some time since the Department had a forest entomologist on staff. Our last forest entomologist was Ron Giese who left Purdue in 1975 to head a department of forestry in Wisconsin. Since that time, our interests and expertise in forest insects and tree pest management shifted to urban habitats, the nursery industry, and homeowners. Cliff Sadof joined the department in 1990 to develop an applied research and extension program for ornamentals and the nursery industry as a follow-up to Don Schuder's program. Cliff has always had an interest in tree pests of urban environments and currently supervises the Indiana exotic forest pests education program coordinated by Jodie Ellis. Jeff Holland was hired in 2004 to develop a new basic research program in the area of functional biodiversity and spatial ecology. Jeff is exploring the use of wood-boring beetles in forest ecosystems to address basic questions about landscape ecology. However, neither Jeff or Cliff's programs fill the gap in traditional forest entomology left by Ron Giese. This has become an increasingly important concern in recent years because of the emerging importance of the hardwood production industry in Indiana and the Midwest in recent years.
Hardwood forests and the wood products industry provide approximately $1.4 billion in wages for 47,000 workers in Indiana alone. According to the 2005 BioCrossroads strategic plan (PDF), improving the health and value of the 4.5 million acres of Indiana forest resources is critical to Indiana agriculture. Protecting this resource from insect pests is becoming an increasingly difficult task. Hardwood forests are susceptible to a long list of defoliating, boring and sucking insect pests that can reduce the quantity and quality of timber yield. Currently much of the black cherry in Indiana does not grow to veneer quality due to widespread infestations of cherry bark beetles that stain the wood and reduce its value by 90%. Native defoliating insects like the linden looper currently attacking oaks in southern Indiana typically kill 10-20% of the hardwoods they infest during outbreak cycles that occur every 15-20 years. Defoliation also slows growth and increases susceptibility to native borers that can kill even more trees. In addition to indigenous insect pests, the litany of invasive species moving into the Midwest, (e.g., gypsy moth, asian longhorned beetle and emerald ash borer) represent a new and growing threat to Indiana's hardwood forests. Increased international trade undoubtedly will increase the risk of additional invasive forest insect pests.
The Department of Forestry and Natural Resources (FNR) and the US Forest Service at Purdue University have been leaders in addressing the R&D priorities of the hardwood production industry in the Midwest. Research within the Hardwood Tree Improvement and Regeneration Center (HTIRC) in FNR offers tremendous capacity for improving the quality of trees for production. Faculty members in this center work on improving the genetic potential of trees to produce high-quality wood with a minimum of pest management inputs. A critical component missing from the program has been a forest entomologist at Purdue with whom they can collaborate – someone to lead protection efforts, synergize existing research, extension and education programs, and position Purdue as an international leader in the area of hardwood tree improvement and regeneration. This was the case we made to the University Administration, and it was on this basis that a new forest entomology position was awarded to the Department this summer.
Our search committee chaired by Cliff Sadof developed a job description for a forest entomologist with expertise in herbivore-plant interactions that could integrate our urban and forest tree pest management team with the resistance breeding efforts of the HTIRC. This individual would bring an organismal perspective to the team, by providing a habitat-to-gene approach when investigating mechanisms of insect-plant interactions. An ideal candidate would be classically trained in forest entomology and have more than just a casual appreciation of modern molecular biology. Approaches to herbivore-plant interactions would likely be based on designing hardwood production systems that, among other production objectives, reduce their susceptibility to insect pests. This would be achieved by integrating management studies of insect-plant interactions in the context of the forest habitat dynamics with studies of biochemically mediated host-plant interactions, including innovative roles for transgenics. This individual would also be able contribute to our curriculum by teaching a core course on forest entomology.
We recently announced the position (see web link below) and plan to interview candidates this fall. If all goes according to schedule, we hope to have our new faculty member in place by this time next summer. We expect this new hire will help us see the insects in the forest on the trees of the future.
Forest Entomology Position Description:
http://www.entm.purdue.edu/employment/forest

Science Workshop
The second annual Entomology Science Workshop was held June 8th-10th. High school students from across the state had the opportunity to come to campus and learn about insects from Purdue faculty, staff and students. Topics covered in the workshop included: insect collecting, insect structure and function, insect forensics, fireflies, insects in the landscape, social insects (e.g. honey bees), invasive species, and careers in entomology.
Science Workshop participants learn about social insects
Emerald Ash Borer Awareness Week
To boost public awareness, Governor Mitch Daniels in conjunction with governors from Michigan and Ohio proclaimed May 22nd through 28th as Emerald Ash Borer Awareness Week. In Indiana, the week began with a media event at Pokagon State Park featuring Kyle Hupfer, director of the Indiana Department of Natural Resources, Dr. Bob Waltz, Indiana's state entomologist, and representatives from USDA APHIS, USDA Forest Service, various agencies of the IDNR, and educators from Purdue University. The campaign continued with radio ads and mailings about emerald ash borer, which were sent to all public libraries, private and public campgrounds, and city governments throughout the state. To wrap the week up, public informational events were held at Potato Creek and Chain O' Lakes State Parks. An "Emerald Ash Borer Party" was given at Pokagon State Park, featuring appearances by Eddie the EAB-sniffing Bloodhound (handler Dawn Bale) and Eric the Emerald Ash Borer, played by Eric Summerfield of the IDNR, Division of Forestry. Eric the EAB was a great hit with both adults and kids, who apparently were not afraid of him. The week was a great success.
Green Menace: "Eric the Emerald Ash Borer" (Eric Summerfield, Indiana DNR) menaces ash trees but fortunately seems to like kids as much as they like him.
Entomology Events at the Indiana State Fair
Wednesday, August 17th, is Purdue Day at the State Fair. The Cricket Spitting Contest (one day only) will also be on Purdue Day and the Cockroach Races will be held throughout the week. [Time and Locations]
The Campaign for Purdue continues to benefit the Department of Entomology with new contributions in the areas of discovery, learning and engagement. We celebrate the new endowed scholarships, faculty support and educational programming that have been made possible since the start of the campaign.
Earlier this summer one of our alumni made us aware of a planned gift for the Department. This donor, who has asked for anonymity, generously made entomology the beneficiary of a living trust. The gift is likely to exceed $350,000 and is designated for research upon the benefactor's passing. We are most grateful for this generous contribution and wanted to take the opportunity to say a public 'thank-you!' to the private donor. Your gift is appreciated!
There are still opportunities to honor Dr. John Osmun with a gift to the John V. Osmun Endowed Chair campaign. We are roughly halfway to our goal to honor our teacher, colleague and friend.
For a limited time matching gifts remain available if you are interested in endowing a new scholarship for the department. Under the Bindley Scholarship Challenge, all new endowed scholarships in Agriculture will be matched with a second Bindley Scholarship to the same area. For more information on the matching gifts, or other opportunities, please contact Eric Putman, Director of Development, at 800-718-0094 or eputman@purdue.edu.

The Entomology Graduate Organization (EGO) was started in February 2002 to improve the level of graduate involvement in Department affairs and to increase social interaction among students. The organization facilitates communication among graduate students and between graduate students, faculty, and the Department Head. EGO also organizes social and academic events in the department, such as picnics and departmental seminars. [More about EGO]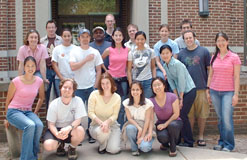 Entomology Graduate Organization (EGO)

On the first Friday of each month, EGO organizes an informal social gathering for the department. The monthly "Bug n Brew" takes place in various local establishments. [More Photos]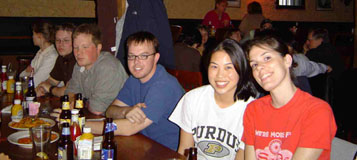 "Bug n Brew"
Sunday, June 26, 2005 was a hot day (96 degrees) on Sugar Creek for the willing participants of the Department of Entomology. There were 31 people that hauled themselves, and loved ones, out of bed for a 15 mile canoe trip that traveled through both Shades and Turkey Run State Park. They stopped for snacks and lunch along the way, skipped stones, and frolicked in the water. Overall it was a fun-filled day with great company and good times.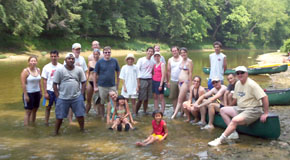 Canoe Trip on Sugar Creek
On the weekend of May 20-22, 2005 a small group of entomology folks made their way down to the Feldun-Purdue Agriculture Center near Bedford to spend a few days and nights collecting insects. The pond, creek, limestone quarry, woods, and especially night time collections produced some great finds. Campfire gatherings for snacks and meals were lengthy, full of variety (thanks to Shujuan and Wan-Tien), enjoyable, and entertaining. [More Photos]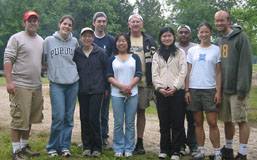 Insect Collecting & Camping Trip
Awards
Venu Margam received the Russell O. Blosser Environmental Grant. The grant provides $1,500 towards research relating to the world environment.
Shulin Yang was awarded a $14,000 Ross Fellowship for Fall 2005.
Roshand Arnold received a Fall 2005 Knox Fellowship for $14,000.
New Undergraduate Students
Sarah Dildine, Lafayette, IN
Jonathan Larson, Tipton, IN
Sheila Parker, Highland, IN
Brandon Runyon, Newburg, IN
Michael Skvarla, Irwin, PA
Shyam Veera Sanikar, Ann Arbor, MI
Amber Vinchesi, Pepperell, MA
Joseph Wenzel, Jr., Cherry, IL
New Graduate Student
| | | | |
| --- | --- | --- | --- |
| Roshand Arnold | MS | Forensics | Ralph Williams |
| Victoria Caceres | MS | Turfgrass | Doug Richmond |
| Victoria Fickle | MS | Forensics | Ralph Williams |
| Marissa Fusco | MS | Forensics | Ralph Williams |
| Thelma Heidel | MS | Biological Control | Bob O'Neil |
| Jung Koo Kang | PhD | Field Crops | Christian Krupke |
| Paul Marquardt | MS | Field Crops | Christian Krupke |
| Ashleigh Morton | MS | Entomology Education | Tom Turpin |
| Ashley Walter | MS | Ornamentals | Cliff Sadof |
| Lijie Sun | PhD | Genetics | Barry Pittendrigh |
| Shulin Yang | PhD | Biodiversity | Jeff Holland |
| Chaoyang Zhao | PhD | Genetics | Jeff Stuart |
Summer Graduates
Megan Corso, BS
Soledad Rodas, MS
Wan-Tien Tsai, MS
Michael Meyer, PhD
Kris Wyckhuys, PhD

Alberto Fereres (MS '88) was promoted in November 2004 to a full professor position at the Spanish Council for Scientific Research (CSIC). He currently works at the Center of Environmental Sciences at CSIC, Madrid. His work in the past 20 years has focused in the field of insect-virus-plant interactions, insect feeding behaviour and plant virus epidemiology. He has been involved in a number of national and international projects related to insects (mainly aphids) as vectors of plant viruses, insect ecology and behaviour, and cultural control of insect-transmitted virus diseases. He has organized several international symposia on these topics (e.g. ICE in Brazil and Australia). He has published over 75 peer-reviewed papers (45 included in the SCI), twelve book chapters and edited a multi-author special issue in Virus Research on Plant Virus Epidemiology published by Elsevier Press. He is an elected Member of the International Plant Virus Epidemiology Committee. He visited Purdue University for the last time in 1997 when he was under sabbatical leave at the University of Illinois. He lives in Madrid, Spain, is married and has two children, Salomon and Jacob.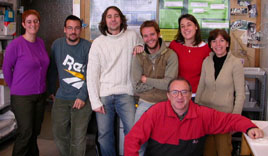 Alberto with Grad Students: (l-r) Elisa Garzo,
Ignacio Morales, Miguel Nebreda, Jose Maria Aguado,
Aranzazu Moreno ( Spain), Beatriz Diaz ( Argentina)
and Alberto (kneeling).
Ramona Painter Hayne (BS '76) After graduating from Wisconsin, I went to work for Mobay (Bayer Crop Science) as a Technical Service Rep, later moving into Field Development. I worked in Ohio researching the diverse crops and enjoying wonderful relationships with Ag dealers, farmers, greenhouse growers, turf specialists, orchardists and so many others besides OSU/OARDC professors for nearly thirteen years. At that time, when my third daughter was born, I decided to 'retire' and stay home to play with the girls. During my career in Agriculture I was fortunate to be elected to several Boards and hold several positions on committees in the North Central Branch of ESA and the many organizations of which I belonged. I was a member of ESA for 27 years. Agriculture and entomology are a part of me and have been for as long as I can remember. Four years ago we moved to Iowa to get out of the big city ( Columbus, OH). Besides managing the needs of a husband, a dog, and 3 teenagers, I volunteer locally sharing my 'bugs' or gardening knowledge. From the time the girls started school, I have taken my collection, insect books and equipment into the schools or other interested groups. Lately, my efforts include: pest identification at the local Farmers Market, talking about entomologist and insects to groups from preschoolers to Master Gardeners, and speaking on pesticide development with the high school Ag class. I have been substitute teaching at the middle and high school to stay involved with the happenings at the school. My expertise in gardening has landed me a position on the Fairfield Beautification Commission. While doing college visits with my oldest daughter a couple of years ago, I enjoyed seeing a couple of my favorite extension entomologists in my stop at Smith Hall. I missed not being in the old Entomology Hall. What great character that building had!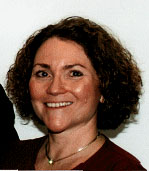 Ramona "Moni" Hayne
Jeffrey Froehle (BS '64) Upon graduation, Jeffrey entered the Air Force as an Officer of Special Investigations, Special Agent for almost 5 years. After leaving the Air Force, he worked in management and sales for an industrial laundry company. While there, he completed a second BA in Business with a major in accounting at the University of Cincinnati. In 1972, Jeffrey began work with a national CPA firm and in 1974, assumed a controller position with an optical manufacturing company. He then formed his own CPA firm in 1977 and has remained in that field since. His wife deceased in 2002 and he has two children and one grandchild.
Adam Silagyi (MS '01) After graduating from Purdue, I continued my studies in the new Doctor of Plant Medicine (DPM) Program offered at the University of Florida (http://www.dpm.ifas.ufl.edu/). I was the first to graduate from this interdisciplinary program in the fall of 2003. During my studies at UF I did internships in Costa Rica and Bolivia, then upon graduation I worked for a French NGO in Tajikistan, Central Asia managing the agricultural and rural development programs. I returned last year and as of January 2005 I have been the State Survey Coordinator with the Cooperative Agricultural Pest Survey (CAPS) Program in Florida. I work through the Florida Department of Agriculture and Consumer Services – Division of Plant Industry in Gainesville, Florida and work closely with the USDA-APHIS-PPQ. I am new to regulatory agriculture but the challenges are keeping me busy and learning everyday. In the photos: Looking at Fusarium wilt of banana on my internship at CATIE ( Tropical Agricultural Center for Research and Education) in Turrialba, Cost Rica. I worked with organic banana, coffee and cacao producers surveying for the severity and distribution of Fusarium wilt within their organic fields. I worked with a Bolivian Farmer on a humanitarian internship called the Coca-Cola World Citizenship Program at the University of Florida. [Full Story].
| | |
| --- | --- |
| | |
| | |
| | |
| | Adam with his wife, Melina |
| | |
| --- | --- |
| August 6 | Summer Commencement |
| August 10-21 | Indiana State Fair |
| August 17 | Purdue Day at the Indiana State Fair |
| August 22 | Fall Classes Begin |
| October 12-15 | Osmun Award/Homecoming |