July 2004
TABLE OF CONTENTS
Feature Article:
Research Works – Growing a better soybean
Department News
From the Head Bug
Summer Musings (Random Ramblings?)
Outreach Update
Development Update
Entomology Students
Alumni News
Calendar
Research Works – Growing a better soybean
Jamal Faghihi and Virginia Ferris are members of the research team that developed soybeans with complete, broad-based resistance to the soybean cyst nematode. [Full Story]
Osmun Award Winner
Dr. David B. Hogg (MS '73) is the recipient of the 2004 John V. Osmun Alumni Professional Achievement Award in Entomology. Dr. Hogg, is the Executive Associate Dean of the College of Agricultural and Life Sciences at the University of Wisconsin-Madison. A Lafayette native, Dr. Hogg was actively recruited into the department by Dr. Osmun. The award will be presented on Friday, October 15, 2004. More information will be distributed for this event.
Congratulations
Pete Dunn has accepted the position of Associate Vice Provost for Research and Director of University Research Administration effective April 1, 2004. A member of Purdue faculty in Entomology since 1977, Pete is well known in the university research administration community. Pete previously served as Assistant Vice President for Research, and currently serves as a member of the Board of Directors of the Council on Governmental Relations. In addition to the new appointment, Pete will continue to teach, supervise a graduate student and serves as the Graduate Committee Chair.
Barry Pittendrigh, Greg Hunt, Gary Bennett, and Mike Scharf, professors and staff, contributed three of the nine School of Agriculture highlights. Highlights for the annual report include:
Microarray analysis of the genetic basis of resistance to DDT in fruit fly reveals many genes are involved in this trait (Pittendrigh et al.).
Embryonic stem cells from Zebrafish, implications for the study of human development, toxicology and drug discovery (Collodi et al.).
Economic reality of a potential bioterrorist attack on US agriculture: The food and mouth disease case-study (Paarlberg et al.).
Development of an Agricultural Innovation and Commercialization Center: Self-assessment tools for feasibility and business planning in new agricultural enterprises (Boehlje et al.).
Slow digestible starch (yes, I can eat the whole bag of potato chips!) (Hamaker et al.).
Sequencing and mapping of the honeybee genome, implications for agriculture and human behavior research (Hunt et al.).
Transport and distribution of the plant hormone auxin and its role in plant height (Johal and Murphy).
Role of fat cells in animal health: implications to the pork industry (Spurlock et al.).
Gene expression in termites and termite differentiation: implications for pest control (Bennett, Scharf and Pittendrigh, others).
Tim Gibb, Insect diagnostician and turf specialist, represents the Entomology Department as a member of the Purdue Turf Science Program Team. On May 11th, Tim's team was presented with the 2004 Purdue Agriculture Team Award in recognition of its education, outreach and research impact on the state's turf industry. [Full story]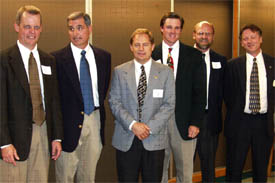 L-R Zac Reicher, Richard Latin, Tim Gibb,
Cale Begelow, Ron Turco, Fred Whitford
Chris Oseto has been appointed as director of the recently established University Honors Program. Chris already functions as a mentor for honor students at Purdue and as an adviser for the Golden Key International Honour Society, an organization for Purdue honor students. [Full Story]
In addition, Chris received the School of Agriculture's Outstanding Teacher Award at the School of Agriculture Spring Awards Reception.
Ralph Williams, Gary Bennett, Cate Hill and John MacDonald help Indiana public health officials combat mosquito-borne diseases like West Nile virus. [Full Story]
CERIS staff member, Conni Vianco, received an A/P rank advancement.
Barry Pittendrigh and Greg Hunt each received a promotion to the rank of Associate Professor. Bob O'Neil was promoted to the rank of Professor.
| | | |
| --- | --- | --- |
| | | |
| Barry Pittendrigh | Greg Hunt | Bob O'Neil |
Summer Musings (Random Ramblings?)
Spring semester is history and the undergraduates are gone. Summer is in full swing. In fact the days are already getting shorter. It's a good time to reflect on what we've done and where we're going as a department. Yes, the year is half gone, but we got a lot done since January. Bob O'Neil, Barry Pittendrigh, and Greg Hunt were promoted in academic rank, and Connie Vianco was promoted in professional rank. We welcomed a new outreach coordinator (Mike Mullis), a new pest survey coordinator (Chris Pierce), a new administrative assistant (Paula Lloyd), a new post doc (Nicholas Desneux), a new secretary (Kelli Knoth), a new business office assistant (Cheryl Bluett), a new director of the Industrial Affiliates Program (Grzegorz Buczkowski), several new graduate students, and a passel of new undergraduates.
Bug Bowl attracted 40,000 visitors on a weekend in April. High school and middle school students interested in entomology participated in a "Day in the Department" recruitment event, and a special 2-day workshop in entomology for 4-Hers. Two of the three open faculty positions were filled. Doug Richmond accepted the Turfgrass Pest Management position and started in June. Jeff Holland accepted the Biodiversity/Geospatial Biology position and will begin in August. We recognized Charlie Hromada (MS '54) for his contributions to renovate old Entomology Hall (renamed Pfendler Hall) by naming the restored foyer in Charlie and wife Frankie's honor.
Entomology provided three of the nine major research highlights from the School of Agriculture this past year. Bob O'Neil and Jeff Stuart received major research grants from USDA for work on soybean aphid and Hessian fly, respectively. Cliff Sadof's timely invasive species outreach program for Indiana received significant new state and federal support to help address the emerging emerald ash borer threat in the midwest. Cate Hill had 2 major projects approved by the National Institute of Health – one to sequence the tick genome and the other to create a database on tick vectors. The forensic science course series developed by Ralph Williams and Dave Tate (Health Sciences) continues to be very popular with the students, and we're beginning to see a benefit in our student recruitment. We taught our usual courses during the spring semester, and offered new maymester courses in Costa Rica and Cuba – both successful by all accounts.
Our campaign to endow a chair in urban entomology made significant progress. Expect a major roll out of the campaign this fall. We reviewed and revised our strategic plan. We added metrics to help us measure our progress in achieving our goals. The revised plan will be posted on our homepage when we roll out our new website this summer. We started planning a new insectary and quarantine facility to accommodate our interests in biological control, vector biology, and other species. The state budget is set for next year. We made it through another year in pretty good fiscal shape considering the budgetary pain some of our colleagues around the country are experiencing. On the student front we project a total of 35 undergraduates (17 new) and 32 graduate students (8 new) in the fall.
The pace hardly changes as we move through summer. This week I distributed comp statements in the department, visited industry partners (and an alum) in Michigan, accepted another graduate student for the fall, submitted two award nominations and one new grant proposal, answered more than 200 emails, and still found two days left in the week. The big news this week is that Vic Lechtenberg, the Dean of Agriculture, will become Vice President of Engagement at Purdue University on July 1st. Vic was Dean for 10 of his 30 plus years in Agriculture at Purdue. Randy Woodson will serve as interim dean while a national search is made to find a replacement. We wish Vic the very best in his future position. Change is inevitable and can be hard to accept, but overall the positives generally outweigh the negatives.
We have no time to relax this summer. We'll continue our negotiations to fill our Field Crops faculty position. I have a request pending for a new faculty position focused on monitoring, early detection, and rapid diagnosis of exotic and emerging pest problems. Our third mid-summer butterfly count and firefly walk is coming up later this month. As always, Entomology will have a conspicuous presence at the Indiana State Fair. The campaign to endow the chair in urban entomology will be at full throttle throughout the remainder of the year. I'm off to Brisbane, Australia in August with a number of faculty and staff to attend the International Congress of Entomology. Entomology downunder mate!
We're looking forward to the fall semester and all the energy and excitement that students bring back to campus every year. The John V. Osmun Alumni Professional Achievement Award in Entomology goes to Dave Hogg (BS '71, MS '74) this year. Dave is the Executive Associate Dean of the College of Agricultural and Life Sciences at the University of Wisconsin-Madison. Dave will be honored the same weekend that Purdue faces off against Wisconsin on the gridiron. It'll be a tough weekend for Dave to be an alumnus and a fan. The Department will host the 2005 ESA NCB meeting at Purdue next March, and we're already making plans for this event. I apologize for anyone or anything I forgot to include in this article, but it is summer after all. Bring on the fall!
Steve Yaninek
NEW EMPLOYEES IN THE DEPARTMENT
Douglas S. Richmond, Ph.D. started on June 1st in the Turfgrass Pest Management position as Assistant Professor. He received his Ph.D. in Entomology from The Ohio State University in 1999 and served as a post doctoral researcher at the Ohio Agricultural Research and Development Center from 1999 to 2004. Doug's research program combines elements of basic and applied research aimed at identifying and describing interactions between plant defenses, phytophagous insect, and the natural enemies of phytophagous insects. He is also interested in how such multi-trophic interactions influence the composition of plant communities. Doug studies these interactions in turfgrass systems in order to develop sound, biologically based, and sustainable pest management strategies for turfgrass and to provide turfgrass managers with alternative management programs.
Jeffrey D. Holland, Ph.D. has accepted the position of Assistant Professor in Insect Biodiversity and Geospatial Science effective August 16th. Jeff did his undergraduate degree in Environmental Science at Carleton University, Ottawa, Canada. His honors project looked at the effects of wooded elements in agricultural areas on insect density and diversity. During his graduate work with Lenore Fahrig and Naomi Cappuccino at Carleton University he studied the effects of ice storm disturbance on saproxylic beetles. He also used data from this earlier study to examine landscape and life history traits that affect the amount of habitat necessary to prevent local extinction of beetle populations. Part of this work on extinction thresholds led to his interest in spatial scale considerations, and ultimately to the development (along with Dan Bert of Carleton) of software that looks at the effect of spatial scale on species-environment relationships. Jeff received his Ph.D. from Carleton University in 2003. Over the past year he has been a post-doctoral researcher at the University of Windsor, and has been working on the Great Lakes Environmental Indicators project.
Grzegorz Buczkowski is a research scientist and Director of the Industrial Affiliates Program for the Urban Center. Grzegorz started June 1st and works with Gary Bennett.
Kelli Knoth is the Main Office secretary for the department. Kelli started her new position April 28th.
Cheryl Bluett joined the Business Office on May 1st. Cheryl holds the position of Business Assistant.
Emerald ash borer in Indiana
Emerald ash borer, an exotic species of beetle that destroys ash trees, has finally made its way into northeastern Indiana, and officials are taking steps to contain it. On April 21, the beetle was confirmed at a campground resort in Jamestown Township in Steuben County. It is believed that the insect was moved to the campground in infested firewood, most likely from Michigan. IDNR issued a quarantine for Jamestown Township forbidding transportation of ash trees and most ash tree products out of the township. This includes nursery stock, logs or untreated lumber with the bark attached, and any composted or un-composted ash chips or bark chips that are one inch or larger. In addition to the quarantine, IDNR is in the process of surveying the region for further signs of infestation. In May, over 1,000 ash trees were removed from the site in an effort to completely eradicate the beetle.
On May 21, emerald ash borer was detected on a farm in Clay Township in LaGrange County, near Shipshewana. The site is near a sawmill that received ash logs from Michigan before Michigan quarantines were in place. Clay Township is now under quarantine and removal of ash trees in the area will begin this fall. During the summer months, IDNR is conducting extensive surveys in surrounding areas for signs of further infestations of the beetle.
Emerald ash borer was first detected in Michigan in July 2002 and in Ohio in February 2003. However, it is likely that the beetles were introduced into North America from Asia five or ten years ago. Emerald ash borer is responsible for the death of nearly 7 million trees in the Detroit, MI/ Windsor, ON area. If not contained, the USDA Forest Service estimates that emerald ash borer could cause a loss of between 0.5% - 2% of total leaf area in North America, and a value loss of between $20-60 billion.
For further information on emerald ash borer in Indiana, please visit Purdue Entomology Extension's website: http://www.entm.purdue.edu/emerald_ash_borer/index.htm
APRIL - The School of Agriculture's 14th Annual Spring Fest attracted more than 40,000 visitors with Bug Bowl cockroach races and cricket spitting contests being highlights of the event. [See Photos]
JUNE - In collaboration with 4-H and Youth Development, the department conducted the first annual Entomology Science Workshop for Youth. Students traveled to West Lafayette to learn about insects, interact with youth from across the state, and get acquainted with Purdue University and faculty in the Entomology Department. The workshop included sessions on insect structure and function, insect collecting, cicadas, insect control, social insects, and insect forensics.
JULY - Eli Lilly and Company and the Entomology Department will sponsor the third annual Tippecanoe County Butterfly Count. Volunteers will take a census of all the butterflies sighted within the Eli Lilly Company Wildlife Habitat Area located across from the Lafayette facility. [Map and Directions]
Identification training starts at 1:00 p.m. with the actual count beginning around 2:00 p.m. The count will wrap up at 5:00 p.m. with a picnic at 6:00 p.m. A firefly presentation and walk begins at 8:00 p.m. Results of the count will be submitted to the North American Butterfly Association for its annual report that provides information on the geographical distribution and habitat changes of different species of butterflies.
AUGUST - Visitors to the Indiana State Fair will have the opportunity to visit the School of Agriculture booth and watch the cockroach races in Our Land Pavilion. They can also participate in the cricket spitting contest in front of the Marsh Grandstand. Be sure to come see us if you are there on Purdue Day!
See our new Forensic Science website!
http://www.entm.purdue.edu/forensic/
Purdue extensions' gypsy moth website
http://www.entm.purdue.edu/g_moth/
Indiana DNR's Division of Entomology and Plant Pathology website
http://www.in.gov/dnr/entomolo/
The Development Council held its spring meeting at Purdue on May 28th. Participants included David Mueller, Marlin Bergman, Rich Edwards, Tom Turpin, Bob Abrams, Steve Yaninek, Mike Culy, Joe Ruhl, Eric Putman, Mike Mullis, and Bobby Corrigan.
The board expressed their gratitude to David Mueller for his service as chairman of the board and for support of the department. Mike Culy was elected as the new chairman for 2004-2005.
The fall meeting will be held prior to Homecoming weekend at Purdue on Friday, October 15th.
Luke Jacobus is the new President of the EGO (Entomology Graduate Organization). During the spring semester, the EGO continued a popular series of professional development workshops for entomology students. Dr. Yaninek and Dr. Dunn started the "Survival Skills" workshops in Fall 2002, responding to ideas generated by the graduate students. Since fall of 2003, student coordinator, Al Fournier, has worked with Dr. Yaninek and department faculty to facilitate the series. The idea of the workshops is to provide students with information and skills to promote academic and professional success. Topics covered were preparing to teach, grant writing skills, job hunting, scientific writing, and preparing posters for competitive research presentations. Many entomology faculty members have offered their time and expertise to make these workshops interesting and valuable for students.
The Purdue Linnaean Games team returned to competition at the 2004 North Central Branch of the Entomological Society of America meeting in Kansas City. Although they did not win this years competition, they view their experience as a stepping-stone to future games. Team members are Lori Sulek, Kate Girsch, Justin Vitullo, Marcus McDonough and Matt Tarver.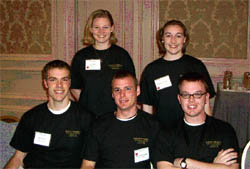 Top L-R Lori Sulek and Kate Girsch
Bottom L-R Justin Vitullo, Marcus McDonough and Matt Tarver
Zamorano students, Carlos Chango, Junior Borjas and Paul Cisneros are working with Bob O'Neil as research scholars for the summer. Carlos and Junior are from Tegucigalpa-Honduras, and Paul is from Quito, Ecuador.
Awards
Jami Guenther received honors at the 2004 Graduate Student Teaching Celebration.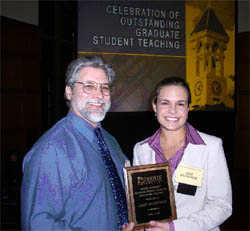 Jami receives congratulations from
Dept. Head, Steve Yaninek
Jeffory Head, MARC/AIM intern from Florida A & M University, was featured in one of FAMU's publications for receiving the Dean's Award. Jeffory is working with Bob O'Neil this summer.
Michael Meyer, grad student, was selected to receive a 2004 PRF Summer Research Grant.
Tyler Janovitz will continue his current research in molecular biology with a summer research internship received from Howard Hughes Medical Institute near Washington, D.C. He will work with David Sanders in the Department of Biology.
New Graduate Students
| | | | |
| --- | --- | --- | --- |
| Bradley Barnd | MS | Honey Bee Genetics | Greg Hunt |
| Thiago Benatti | MS | Insect Genetics | Jeff Stuart |
| Nicholas Geraci | MS | Vector Biology | Cate Hill |
| Venu Margam | PhD | Genetics | Barry Pittendrigh |
| Marcus McDonough | MS | Urban Pest Management | Gary Bennett |
| Philip Morton | MS | Host Plant Resistance | Brandi Schemerhorn |
| Barbara Sanchez-Neri | MS | Genetics | Barry Pittendrigh |
| Adam Tyler | MS | Teaching License | Chris Oseto |
New Undergraduate Students
Ruth Allhands
Jay Bailey
Robert Bruner
Tabatha Carroll
Wai-Han Chan
Brad Fry
Kristi Jukovich
Emily Kraus
Autumn Nance
Amanda North
Jessica Platt
Meredith Powell
Kyanne Reidenbach
Kyle Schnepp
Alexandria Truelsen
Matt Van Weelden
Ryan Yutzy
New Post Doc
Nicolas Desneux, started as a new post doc on May 1st. Nicolas comes from Montlhery, France and is working with Bob O'Neil on the ecology and management of the soybean aphid, Aphis glycines Matsumura.
May Graduates
Marcus McDonough, BS
Lyndsay Knoblock, BS
Eric Rebek, PhD
Kim Rebek, MS
Lori Sulek, MS
August Graduates
Jody Aleong, MS
Megan Lanning, BS
Joao Pedra, PhD
Feature Essay
Reflections: International student Joao Pedra shares Purdue experiences

Every year since I have come to Purdue from Brazil I keep dreaming about my graduation date. Now that I should graduate in August 2004 with a Ph.D. in Entomology I wonder whether I am really prepared to face the real world. My name is Joao (Joe) Pedra and I landed in the Insect Molecular Biology laboratory at Purdue University in the Fall 2000. The laboratory that I chose to work in was just getting started and the professor that I decided to work for was under the tenure-track system. Adding to these odds, I was switching fields from a Master's in Plant Molecular Biology and a B.S. in Biology to a Ph.D. in Entomology. I was completely insecure, studying and working in a foreign land, speaking English as a second language and facing all hassles and pitfalls that a foreign student goes through in a different culture.
Reading the first paragraph of this essay you may ask, so why come to the USA? Government officials and the industry have neglected research in Brazil and opportunities for junior researchers are scarce. Concurrently, decisions to fund projects are not always made for most qualified researchers. Contrarily, funds are shared for scientists that belong to the right circle of people. Considering the facts against me, I jumped into my Ph.D. program, worked very hard over the years and learned how to deal with my frustrations. Over my tenure at Purdue I have taken classes, served on committees, became a good departmental citizen and had uncountable outings with my friends to Where Else and Harry's. I also got bald, gave talks, discussed International Politics (I found my wife in one of those discussions) and worked out at the University Gym (popularly known as Co-Rec).
During graduate school, I managed my research using functional genomics and proteomics to study pesticide resistance in a model organism, Drosophila melanogaster. Additionally, our group was fortunate enough to be the first in analyzing the expressed genome of the insect that transmits typhus, the body louse (Pediculus humanus humanus) and the agriculturally important insect for African and Latin American nations, cowpea weevil (Callosobrucus maculatus). I have met very talented people in my journey and I would like to point out some colleagues that definitely marked my life. Dr. Larry Murdock was my mentor and I am very grateful to him for spending time teaching me the nitty-gritty of science. My major professor, Dr. Barry Pittendrigh, has given me all opportunities and has funded my research. I have to acknowledge Steve Yaninek and the department of Entomology for providing my scholarship that made it possible for me to attend Purdue. I would also like to express my gratitude to Mandy Brandt and Susan Balfe for helping out with my experiments.
My three greatest regrets from my life at Purdue are not taking medical entomology, not being a Teaching Assistant (T.A.) and not having passed through laboratory rotations. Medical Entomology lectures would have definitely helped me in my new area of research and would save me from late evening study sessions where I tried to catch-up on this subject. Teaching assistantships are also very important. They allow you to develop soft and interpersonal skills and encourage effective communication outside the realm of your expertise. This is particularly true for International students that have English as a second or third language. I would like to see all Entomology graduate students teaching for a semester or two, preferably during their first year of graduate school. Another disappointment was not going through laboratory rotations in my graduate school years. Rotations are important for intellectual and personal maturity but unfortunately are not very common for graduate students in Entomology departments across the country. The fact of passing through different research laboratories and departments during my undergraduate and graduate years in Brazil taught me to discern what kind of laboratory I want to go even though this additional training should eventually delay your graduation for another semester or two.
Early 2004, I made the decision to move to the Department of Internal Medicine at Yale School of Medicine as a Post-Doctoral Fellow after six months of exhausting job hunting activity. I was clearly excited about the possibility of working with Lyme disease and West Nile Virus and declined a similar offer in the U.S. National Institute of Allergy and Infectious Diseases to work with Plasmodium falciparum and the African malaria mosquito (Anopheles gambiae) interaction.
Once again, the fact that I will be leaving Purdue gives me butterflies. With my departure to the East Coast I will find myself working in a very competitive and stressful environment. I plan to start a family on postdoctoral wages and I will be changing fields again. I am not sure with which states Connecticut shares a border and I do not know anyone in New Haven except for my job interview peers. This makes me wonder whether life is a spiral where every time you step forward and feel comfortable adverse situations will bring you back to the beginning.
I want to thank the Entomology Department for believing in me. Purdue will be my Alma mater and I will never forget my four years in the Greater Lafayette area. The rest I will let you know next time I will write to this newsletter.
- Joao H.F. Pedra -
Charlie Hromada (MS '54) was honored for his contribution to the renovation and restoration of Pfendler Hall. Dr. Hromada's $500,000 contribution brought the foyer and historic classroom back to life! The celebration included the unveiling of a plaque to dedicate the new Hromada Grand Foyer in honor of Charlie and his wife, Frankie. [See photos]
The Copesan Technical Committee (CTC) visited the department in June to discuss industry concerns and explore new developments underway at Purdue University. Kim Kelley-Tunis (Purdue-Forestry and Natural Resources), McCloud Services, Indianapolis, IN, Eric Smith (MS '70), Dodson Brothers Exterminating Co., Lynchburg, VA, and Gene White (MS '96), Rose Exterminator, Troy, MI are members of the committee.
Michael Bush (MS '88) has worked as an Extension Educator at Washington State University for over six years now. His extension responsibilities are focused on tree fruit IPM in apples, cherries, pears and soft fruits along the Yakima Valley. The Yakima Valley has over 100,000 acres of tree fruits so there are lots of tree fruit pests to contend with. Whenever Michael needs some shade there is always a tree to be found….much more satisfying, he notes, than those hot, stifling corn fields he worked in while at Purdue.
Over the past year, Michael purchased a new home with a hobby orchard, got married to Cheryl, and was granted tenure with Washington State University. "It looks like I have finally settled down!" Michael invites any of you who pass through the central part of the beautiful state of Washington, to contact them. E-mail works best bushm@wsu.edu
Michael R. Bush, Ph.D.
Extension Educator, Tree Fruit IPM
128 N. 2nd Street, Room 233
Yakima, WA 98901-2631
Visit Michael's Yakima County Extension web site:
http://treefruit.yakima.wsu.edu
Dave McNeal

(MS '73) visited CERIS April 15-16 to review developments on National Pest Information Systems. Dave was National Survey Coordinator for USDA Plant Protection and Quarantine from 1991 to 1999 and is currently State Plant Health Director for USDA in Idaho.
In July 2002, Jim Harmon (BS '85), broke out and opened up his own urban pest management firm, Urban Entomology Associates, in San Dimas, California. His company has grown quickly in the last two years and recently incorporated to include his wife, Gail, as the CEO. Jim will be moving his company to a much larger facility next month to accommodate the rapid growth. In addition to growing and managing his pest business, Jim also has become a frequent contributing author to Pest Control magazine on vehicles and fleet management. Jim was recently named to the Editorial Advisory Board for Pest Control Magazine. Jim also keeps up his writing and photography as a paid hobby for various consumer oriented truck magazines. Jim's latest project is a new-old work truck for his company a restored 1947 Chevy Panel Truck that, when completed, will see daily use as a service vehicle in his fleet. Jim has also become active in his local Kiwanis chapter and donates time to provide pest service to many local charities and boys homes in the San Dimas area.
Frederick W. (Rick) Kutz (PhD '72) retired from the U.S. Environmental Protection Agency in July 2002 after over 33 years of Federal service. He now has a part-time consulting practice in entomology and ecology. Several months prior to his retirement, he received the EPA Silver Medal for Superior Service from then Administrator Christie Todd Whitman. In addition to his consulting work, he has been appointed as the chairperson of the Governor's Pesticide Advisory Committee for the State of Maryland. He serves on the Board of Directors of the Assateague Coastal Trust, an advocacy group for the Delmarva Coastal Bays, and on the Scientific and Technical Advisory committee of the MD Coastal Bays Program, an organization formed under the Federal Clean Water Act to preserve and protect fragile coastal ecosystems. At the annual GIS Conference held at Towson University in March 2004, Rick received a Lifetime Achievement Award for his contributions to geographic information sciences in the State of Maryland.
On a personal note, in February 2004, Arlene and Rick celebrated their 41st wedding anniversary. Their two children, Mark, Heather and their families, live close to them in Columbia, MD. In March 2003, Arlene and Rick became the grandparents of twin boys.
August 15-21 XXII International Congress of Entomology in Brisbane, Austalia
August 18 Indiana State Fair Purdue Day
October 14-16 Development Council
October 15 Osmun Award
October 16 Homecoming
__________________________________________________________________________
Comments and contributions to the electronic newsletter may be sent to newsletter@purdue.edu
To subscribe to this newsletter, send email to: entm.ean-request@purdue.edu
Message body (not subject) should include: subscribe
To stop receiving this newsletter, send email to: entm.ean-request@purdue.edu
Message body (not subject) should include: unsubscribe