January 2004
The Department of Entomology at Purdue University would like to keep you updated on news and events that occur in between newsletter printings in the spring and fall. To do this, the Department is providing an electronic newsletter. This electronic newsletter will not replace the printed version but will supplement it during the summer and winter. Entomology @ Purdue will be emailed semi-annually.
TABLE OF CONTENTS
Feature Article:
New Partnership Aims to Protect Hoosier Kids from Pests and Pesticides
Department News
From the Head Bug
Staff Recognition
Outreach Update
Development Update
Entomology Students
Alumni News
Calendar
New Partnership Aims to Protect Hoosier Kids from Pests and Pesticides
Dr. Tim Gibb recently received an EPA Environmental Education grant to promote the use of Integrated Pest Management (IPM) in childcare facilities throughout Indiana. IPM emphasizes non-chemical pest control strategies, combined with low-risk pesticides and application methods to reduce pests and the potential for pesticide exposure. This project is an extension of the successful IPM in Schools program, which fostered voluntary adoption of new pest management policies by nearly 90% of Indiana school corporations, the highest voluntary adoption rate nationwide. The grant will extend the funding for the IPM Technical Resource Center, founded in 2000 to provide schools and childcare facilities with resources and technical assistance for adopting IPM.
Indiana has over 5,000 licensed or registered childcare facilities that provide care and education to over 100,000 children, most of them under 6 years old. Protecting very small children from pests and pesticide exposure is especially important. Children may be more vulnerable because their bodies are in a developing state, and because common behaviors such as crawling and hand-to-mouth activities can increase their risk of pesticide exposure.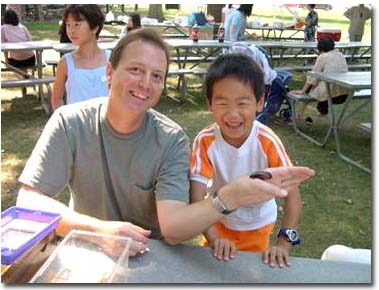 Al Fournier is sharing his knowledge of insects with children
Indiana is one of the first states to provide pest management guidelines specifically for childcare facilities based on the principles of Integrated Pest Management, or IPM. The Indiana Pesticide Review Board has developed a model pest management policy, based on IPM, which they recommend for immediate adoption by all Indiana childcare settings (centers, ministries and homes). The policy, passed unanimously last February, applies to all building and grounds used by childcare facilities. The policy recommends that childcare providers:
Avoid the routine use of pesticides and base pest control decisions on regular inspections.
Use non-chemical methods to control pest problems when possible.
Ensure that only certified pesticide applicators or registered technicians apply pesticides when they are needed.
Ensure that pesticides are not applied when children are present at the facility.
Ensure that children do not return to pesticide-treated areas within 2 hours of application or as specified on the pesticide label, whichever time is greater.
Provide at least 2 days advance notice of pesticide application to parents and staff except in emergencies where pests pose an immediate threat to human health.
Designate a contact person to answer questions from parents and staff about pesticide use.
The purpose of the EPA grant is to create awareness of the new guidelines and to promote IPM adoption among Indiana childcare providers. To accomplish this we have formed a coalition among state agencies and associations responsible for licensing and educating child care providers. The coalition includes:
The IPM Technical Resource Center
Purdue Cooperative Extension Service, Department of Child Development and Family Studies
The Indiana Department of Environmental Management
The Indiana Family and Social Services Administration
The Headstart Program
The 5-Star Program
The Indiana Association for the Education of Young Children
Improving Kids Environments, an Indianapolis-based nonprofit organization
Integrated Pest Management will be added to the current curriculum of workshops and trainings for childcare providers statewide. In addition, the coalition will design an IPM brochure, with information about the new model policy, for distribution among Indiana childcare providers. The Purdue School IPM website is also being expanded to include a section for childcare providers.
We are excited about the new partnerships we have forged and feel confident that this project will go a long way toward protecting Indiana's children from the potential hazards of pests and pesticides.
To learn more about IPM or Indiana's child care pest management policy, visit Purdue University's IPM Technical Resource Center and click on "Child Care IPM."
- Al Fournier -
DEPARTMENT NEWS Certificates of Appreciation – Jim Pheasant, Project Manager of National Agriculture Pest Information System (NAPIS) Database with CERIS was awarded his 5th and 6th Certificates of Appreciation from the United States Department of Agriculture awarded in the last 12 years. Both awards were received on December 3, 2003 at an awards dinner/ceremony held at the national CAPS meeting in Las Vegas, NV. The 28 State Eastern Region (USDA/APHIS/PPQ) was a Certification of Appreciation for years of dedicated service and excellence to NAPIS and the CAPS program. Plant Protection and Quarantine/APHIS/USDA (PPQ's) management awarded to the members of the National CAPS (Cooperative Agricultural Pest Survey) committee a plaque in "recognition and appreciation for your dedication and leadership as a member of the national CAPS Committee."
Outstanding Service Award Recipient for 2003 was Bill Kielhorn. The purpose of the Outstanding Service Award is to perpetuate the standards of excellence exemplified by Purdue's Entomology Department. The Award is designed to honor performance, contributions, accomplishments and recognize continued outstanding service. A luncheon was held on November 17. [View photos]
Tippecanoe County Board of Health Appreciation Award – John MacDonald was presented an Appreciation Award on behalf of the Tippecanoe County Board of Health for his outstanding volunteer services in the development of an integrated mosquito control program, thereby helping reduce the risk of mosquito-borne disease to the citizens of Tippecanoe County on November 10, 2003. His early involvement focused on education of the staff regarding mosquito biology, meeting with county leaders (mayors and county commissioners), and training R. J. Beck and two of our Entomology students hired as summer interns, Emily Johnson and Lauren Street. [View full story]
Purdue Entomology Mixer held at Cincinnati, OH – The Department of Entomology held a Purdue Mixer at the National Entomological Society of America (ESA) meeting on Oct. 26-29, 2003. To [View photos]
Dr. James Dill was selected for the 2003 John V. Osmun Alumni Professional Achievement Award in Entomology at Purdue University. James received his B.S. '72 and M.S. '74 degree in Biology from the University of Maine and his Ph.D. '79 in Entomology from Purdue University. James is currently an Associate Program Extension Professor and Cooperating Professor of Entomology at the University of Maine. If you have someone that you would like to nominate for this award please go to our website and fill out a nomination form.
Nomination forms are due to the department by May 15, 2004.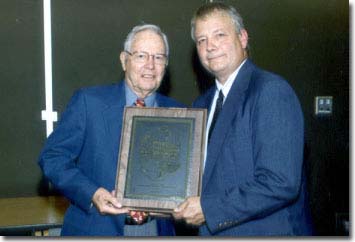 2003 John V. Osmun award winner
(l-r) John V. Osmun and James F. Dill
Dr. Tim Gibb and Al Fournier were recognized recently by the Environmental Protection Agency Region 5 "For outstanding efforts to promote school Integrated Pest Management both within Indiana and nationally." In June 2003, they received a plaque for Outstanding State and National Achievements in Integrated Pest Management in Schools. Scientists unraveling lice genome to halt blood-sucking pest – In the November issue of the Journal Insect Biochemistry & Molecular Biology, Purdue and Harvard university researchers report finding lice genes that control the breakdown of their human blood meal into energy and waste. They also identified the first gene in lice that may impact the insects' ability to fight off bacterial infections. The study is currently on the journal's web site. [View full story]
Genes for jobs – Multiple genes are expressed at different levels in worker and soldier termites – In September 26 Genome biology – published by BioMed Central, a sister company of The Scientist – Michael E. Scharf and colleagues at Purdue University show differential expression of 25 genes involved in regulatory, structural, and enzymatic processes involved in determining termite castes and their developmental precursor stages. [View full story]
NEW EMPLOYEES IN THE DEPARTMENT
Qi Zhang started as a full time employee for Virginia Ferris working in the laboratory.
Ting-Ting Lu started as a full time employee on October 6 and is working for Rich Shukle in the laboratory.
Chris Pierce joins the Department on January 12, 2004 as the new CAPS (Cooperative Agricultural Pest Survey) State Survey Coordinator.
Staff Recognition
In December at our annual Christmas party, I had an opportunity to acknowledge all of the students, staff, and faculty who received awards and special recognition during the year. Entomology received more than 70 different awards and/or recognitions in 2003.
New congratulations are in order for Jim Pheasant, coordinator of NAPIS (National Agricultural Pest Information System), who was recognized by USDA for his contributions to the National CAPS (Cooperative Agricultural Pest Survey) Committee in one award, and for his years of dedicated service and excellence to NAPIS and the CAPS program in a second award. John MacDonald, emeritus professor, received a plaque of appreciation from the Tippecanoe County Board of Health for his outstanding volunteer services in the development of an integrated mosquito control program. Peg Hague (formerly Peg Carter), secretary, was recognized for 20 years of service to Purdue. Purdue Cooperative Extension Service recognized C. Richard Edwards, emeritus professor, for his outstanding career in Extension.
Entomology students received 50 different awards and recognitions during the year, staff 6 awards and recognitions, and faculty 14 awards and recognitions. These included scholarships for undergraduate and graduate students, travel grants, award winning presentations, and various forms of appreciations. In 2003, we had a Fulbright Research Scholar (Rich Edwards), a staff promotion (Vicki Cassens moved up to the next professional grade), a faculty promotion (Jeff Stuart became a full professor), and a national award for teaching (Chris Oseto) among many others. A list of all awards and recognitions in Entomology in 2003 can be found on our website.
We're very proud of these accomplishments and appreciate all the hard work this represents. We'll continue to promote excellence in our performance and accomplishments as we take steps to better serve our constituents and deliver on our Land Grant University mission.
OUTREACH UPDATEMike Mullis began January 5, 2004 as the new Outreach Coordinator. He will serve as the point of contact for the Department regarding outreach and related efforts. Mike has an undergraduate and a M.S. in education from Purdue University. He moved to West Lafayette from Rushville, Indiana where Mike served as the Member Services Manager for a rural electric company. Along with handling customer service issues, Mike supervised the rural electric company's community grant program, managed the daily operations of the Rush County Fiber Optic Board, developed partnerships, and sought funding necessary for the creation of the Learning Center of Rush County, and developed and delivered electrical safety demonstrations to students and organizations. Prior to that Mike taught middle school for four years in the Lafayette School Corporation and earned a masters degree in Educational Technology from Purdue. He lives in West Lafayette with his wife Jenny, who is a critical care nurse and their Labrador Retriever Daisy.
The Development Council met on October 3, 2003.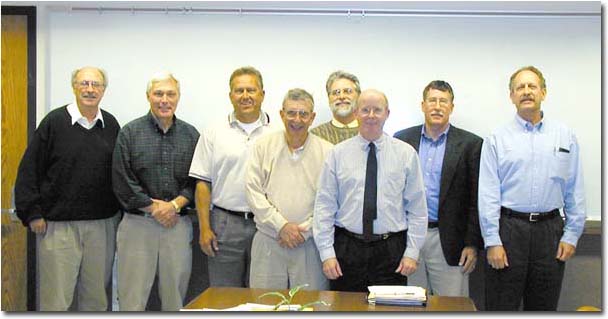 The Development Council members includes (from l-r): Rich Edwards, Joe Ruhl, Dave Mueller, Austin Frishman, Steve Yaninek, Bobby Corrigan, Mike Culy, and Bob Abrams. Missing from the photo are Marlin Bergman, Tom Turpin and John Owens.
The Development Council thanked Muriel Andrew for her contributions as a member of the council who stepped down just prior to the October meeting, and welcomed four new members at the October meeting. This included Bob Abrams (M.S. '77) Director/Engine Business Operations for Cummins Engines, Bobby Corrigan (B.S. '77, M.S. '80, Ph.D. '95) Head of RMC Pest Management Consulting, Mike Culy (B.S. '79, M.S. '82, Ph.D. '87) scientist at Dow AgroSciences, and Joe Ruhl biology teacher at Jefferson High School. The group identified several issues to focus on as they took stock of their previous accomplishments and identified several priorities for future action.
Congratulations to Kurt and Kristin Saltzmann at the birth of baby boy Michael Jeffrey Saltzmann. Michael was born on December 5.
AWARDS
Congratulations to all the participants at the OVEA meeting on October 10. This was held in Indianapolis at Dow Agro Sciences Headquarters. We had an excellent showing at the meeting and all the students did a great job on their presentations. It was a close race and the first and last was separated by only a few points. Purdue came away with 5 of the 9 awards! Winners were:
Ruth Hegarty won 1st place in the undergraduate competition at the Ohio Valley Entomological Association meeting in October. (Ruth is a Jeff High School student)

Al Fournier won 1st place for his Ph.D. paper presentation

Eric Rebek won 2nd place for his Ph.D. paper presentation

Joao Pedra won 3rd place for his oral presentation for the Ph.D. Joao was awarded $100 for his presentation.

Kim Rebek won the Graduate Student Award for Outstanding Teaching. Kim also received a Travel Grant from the Graduate Student Association.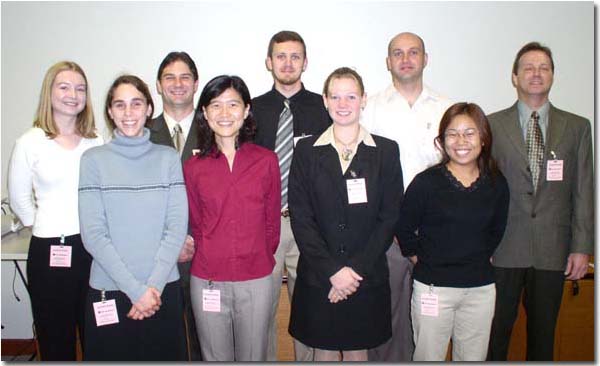 Ohio Valley Entomological Association (OVEA) Purdue team (l-r back row) Ruth Hegarty, Eric Rebek, Craig Roubos, Joao Pedra, Al Fournier; (l-r front row) Kim Rebek, Tina Wan, Lori Sulek, and Shujuan Li.
NEW UNDERGRADUATE STUDENTS
We have 4 new undergraduate students for the spring 2004 semester.Helesa Agner who is from Zionsville, IN.

Ashley Carnes who is from Greenfield, IN.
Nitsa Martinez who is from Frankfort, IN.
Tabor Wilson who is from Bristol, IN.
NEW GRADUATE STUDENTS
We have 3 new graduate students for the spring 2004 semesterAnne Radavich will be working toward her M.S. degree with Chris Oseto.
Margaret Schwinghammer will be working toward her Ph.D. degree with Gary Bennett.
Soledad Rodas who will be working on her M.S. degree with Bob O'Neil.
NEW POST DOCS
Lu Sun became a Post Doc effective September 19, 2003 working with Virginia Ferris.
Xuguo (Joe) Zhou is a Post Doc and joined the department in October. He received his Ph.D. '02 in entomology from the University of Nebraska-Lincoln. He is working with the Urban Center. He is to conduct physiological and molecular research on Midwestern termites. Our goals of this research are to develop a better understanding of Midwestern termite population biology, physiology, and case differentiation.
DECEMBER GRADUATES
The following students were December graduates from our department: Kristin Saltzmann, M.S.;
Lu Sun, Ph.D.; Randy Hamilton, Ph.D.; Jolene Hurt, B.S.
Luis Canas (Ph.D. '01) Assistant Professor at The Ohio State-Wooster, visited the department on November 13 and presented a seminar on "Using Insect Biodemography to Determine Critical Elements in the Population Ecology and Management of a Pest in a Multi-Crop System." His wife, Nuris Acosta (M.S. '98) accompanied him on this trip to visit with the department staff.
2003 PUCESA Special Award for Extension Response to Ralstonia Solanacearus Outbreak – Congratulations to Dr. Allen Hammer, Dept. of Horticulture and Landscape Agriculture, Karen Rane and Gail Ruhl, Dept. of Botany and Plant Pathology, and Dr. Robert Waltz (M.S. '81, Ph.D. '86) Dept. of Natural Resources, Division of Entomology and Plant Pathology for their efforts in handling the outbreak of southern bacterial wilt of Geranium, caused by Ralstonia solanacerum in Indiana greenhouses. They received their award October 21 at the Purdue University Cooperative Extension Service Banquet.
Congratulations to Corey Gerber (M.S. '93, Ph.D. '03) and his wife. They have a new addition to their family, a baby boy named Caden Gerber. He was born October 14. Corey stated that his son looks like his daughter Allison with dark hair and blonde eyebrows.
Angie (Richards) Resener (B.S. '93) wrote us to announce the birth of her second child. Matthew David Resener was born on July 28. His big sister, Katherine (Katie) Marie, is four and is very happy with her baby brother. Angie is happy to be an owner of Web Converting of Indianapolis where she has worked as an account manager for almost 6 years.
Ray Siegel (B.S. '87) after 14 years with the Office of Indiana State Chemist as a Pesticide Investigator, I have left the bosom of Purdue University. I am now the Structural Branch Manager with the Division of Pesticide Regulation in the Kentucky Department of Agriculture. I started June 2, 2003. In August 2003, I was elected as the new Secretary for the Association of Structural Pest Control Regulatory Officials. This organization is nationally known and works in cooperation with US EPA and the state regulatory agencies with regard to structural pesticide issues. I will keep in touch with Purdue Entomology as best as possible. After all, this is where I got my start!
David and Drusha (M.S. '85) wrote about their family. They live in Spencerville, IN and have an email address (if anyone would like it they can contact the department). They have seven children and Drusha home schools six of the seven children. David works at Raytheon. They look forward to hearing from folks this Christmas season.
Paul Cammer (M.S. '74, Ph.D. '85) stopped in during the holidays and we managed to get caught up on all that is going on with him and his family. Paul has retired from Cammer & Associates and is actively enjoying retirement by teaching freshman Molecular Biology, Advanced Biology and Post Advanced Biology. In 2003, he took a group of 15-17 year olds to Namibia for 10 days and reports they all had a very educational as well as enjoyable time. Paul and his wife, Sandy, have a daughter, Katie, 16, and a son Charlie, 14. Sandy is a lobbyist in D.C. and in his free time Paul enjoys music, bicycling, and travel.
Thomas O. Ballard (M.S. '75) upon graduation took a job with American Cyanamid Company doing field research in the state of Indiana. Tom earned a Ph.D. in Botany and Plant Pathology from Purdue in 1994. After working for 25 years with American Cyanamid, it was sold and dissolved. He now works at the University of Illinois in Champaign as a computer programmer in the Office of Business Administration. Tom's wife, Elaine, works in Benton Community School Corporation as a Technology Trainer for the four elementary schools. They have two grown children. Andrea is married and has one son, Orion and lives in Greensburg, IN. She has a B.S. in Anthropology from Ball State University. Andrea is currently working as the children's computer librarian in Greenfield and is also working on earning a Master of Library Science degree from IUPUI. Their son Ben is married and lives in Tampa, FL and has one son, Alex. Ben has a B.S. in Environmental Biology from Taylor University, and he recently took a job with King Engineering where he does environmental research.
Harry Moore (M.S. '55) is enjoying retirement. My wife and I are both in good health. We stay busy with volunteer work and some travel. In my spare time I enjoy woodworking and playing with one or more of my thirteen grandchildren. I still remember the good old days at Purdue. Best regards to everyone.
January 5-9, 2004 – 68th Annual Pest Control Conference
www.entm.purdue.edu/entomology/ext
January 25-30, 2004 – 2004 Crop Management Workshops
www.entm.purdue.edu/entomology/ext
February 7, 2004 – Purdue Ag Fish Fry
Full information and a downloadable ticket order form are available at:
www.agriculture.purdue.edu/agalumni
Feb. 18-20, 2004 - 2004 Annual HASTI (Hoosier Association for Science Teachers Convention) in Indianapolis