Winter 2005
To keep you updated, the Department is publishing a summer and winter electronic newsletter. The spring and fall printed issues will continue to be posted on our website:
www.entm.purdue.edu/entomology/news/alumni.html
TABLE OF CONTENTS

Feature Article:
Notes on Invasive Species from an Invasive Kind of Guy
Department News
From the Head Bug:
Research Outlook for Entomology
Outreach Update
Development Update
Entomology Students
Alumni News
Calendar


FEATURE ARTICLE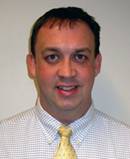 Christopher M. F. Pierce
Notes on Invasive Species from an Invasive Kind of Guy
As an invasive species myself (an Illini in The Land of Purdue), I am well aware of the problems that invasive species present. [Full Article]
Chris is the State Survey Coordinator for Indiana CAPS (Cooperative Agricultural Pest Survey).


DEPARTMENT NEWS
Outstanding Service Award 2004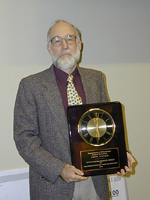 Larry Bledsoe (MS '81) receives the 2004 Outstanding Service Award. [More Photos] The award is designed to honor performance, contributions, and accomplishments and to recognize continued outstanding service in the department. Larry, a Field Crops Pest Management Research/Extension Entomologist, is responsible for converting field and forage crop research findings into educational products and to deliver them to the public and private agricultural industries. He is recognized as a leading authority on corn and soybean production in the Midwest and serves on numerous committees, projecting a positive and professional image of the department. Larry always goes out of his way to be helpful, has a strong work ethic, and is dedicated to his job and the department.
Following the OSA award presentation to Larry, the department enjoyed a buffet lunch at the Awards and Holiday Reception. The presentation and reception were held in the Pfendler Hall Auditorium and Gallery. [See Photos]

NEW STAFF
Christian H. Krupke , PhD, has accepted the position of Assistant Professor in Field Crops Entomology at Purdue University, West Lafayette, Indiana effective January 18, 2005. Christian completed his undergraduate degree in Biological Sciences at the University of Guelph, Canada in 1995. He then received a Masters degree with an emphasis in pest management from Simon Fraser University in 1999. Christian completed his Ph.D. with Jay Brunner of Washington State University in 2004. His dissertation research focused on the pheromone response and mating behavior, one of the main pest species in the area, the consperse stink bug. Christian's dissertation addressed basic questions about the proximate and ultimate functions of aggregation formation in this species, as well as the role of mate choice in the insect's mating system.
Scott Charlesworth started December 2004 as Building Deputy and Technical Assistant in Whistler. Scott, a native of Lafayette, specializes in computer graphics.
John Walker joined the CERIS team in December 2004 as a Programmer/Analyst on the NAPIS project. He previously worked for Universal Music Group in Fishers, Indiana.
Preston Wiley joined the CERIS team in December 2004 as the Network Services Specialist. Preston came from Fairnet LLC in Monticello, Indiana.
Ryan Selby , the department's new Business Office Manager, began his position in January 2005. Ryan is a Krannert graduate and comes from Crowe Chizek and Company.


DEPARTING STAFF
Kelli Knoth , Main Office Secretary, joined the business office in the College of Liberal Arts.
Nikki Kubly , Business Office Manager, has taken a position with an accounting firm in Indianapolis.
Congratulations to John Obermeyer and Cliff Sadof who were recognized in October with two prestigious awards for their service in Extension. John received the PUCESA Senior Award for his IPM communication and training efforts, and Cliff Sadof received the Sharvelle award for his pest management work on ornamentals and landscape pests for the general public and the nursery industry. Way to go John and Cliff! [Photos and full story]
The 2004 John V. Osmun Award in Entomology was presented to David B. Hogg (MS '73) on October 15th. David's seminar, "Malcom in the Middle" - The Niche for Academic Departments of Entomology, and the award presentation were held in the recently renovated Pfendler Hall. [Photos] Nominations for the 2005 Osmun Award are currently being accepted. Please go to our website to submit a 2005 Nomination Form. Nominations are due June 1, 2005.

FROM THE HEAD BUG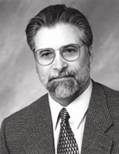 Steve Yaninek
Research Outlook for Entomology
There are many ways to look at the future. Albert Einstein was philosophical when he observed "I never think of the future - it comes soon enough." Leave it to Yogi Berra to ponder the future by looking in the past - "the future ain't what it used to be." Universities are more likely to agree with Franklin Delano Roosevelt who said "we cannot always build the future for our youth, but we can build our youth for the future."
In many respects, entomology research is evolving today to meet tomorrow's challenges. While it is impossible to know the future with certainty, we can be deliberate about the paths we choose. To this end I offer a few opinions about the directions in research I believe entomology, as a discipline and academic departments such as ours, is likely to pursue in the future.
Entomology has a bigger and more diverse research portfolio than ever before. We continue to benefit from traditional pest management programs such as those supported by USDA at the federal level and various state programs, but the real growth in recent years has been in the basic life sciences and in public health.
Entomologists today work in just about every field in the life sciences. Insects such as Drosophila, honey bees, mosquitoes, and other invertebrates often associated with entomology as well as nematodes and mite vectors are important biological models in the life science community. Entomologists are engaging these insect models along with their traditional pest management responsibilities in a new research paradigm. The result is a research portfolio that is much broader biologically, more basic, more diverse, interdisciplinary, and better funded.
The Council of Entomology Department Administrators (CEDA), a group of entomology department heads and chairs from mostly land grant universities and the USDA Cooperative State Research, Education, and Extension Service, recently took stock of the current trends and directions in research priorities across the country and come up with broad areas where entomologists are likely to be involved in the next five years. They identified the following eight areas (in no particular order) as targets and priorities:
Bio-based Products
Environmental Stewardship
Genomics
Homeland Security
Human and Animal Health
Invasive Species
Safe and Sustainability Food Supply
Science Literacy
Additional details about each initiative can be found on the CEDA website. These topics reflect many of the research priorities in the life science community and are central to the evolving research mission in the land grant universities. The real news for entomology is that our research portfolios are broadening beyond the traditional pest management research base with more fundamental science, and new attention to emerging areas of broad national interests e.g. homeland security.
At Purdue, our research portfolio is certainly moving in this direction. We work on molecular and cellular biology, physiology and biochemistry, toxicology, genetics, behavior, nematology, ecology, aquatic biology, systematics, insect pest management, host plant resistance, biological control, and functional biodiversity. This includes basic research in support of our traditional pest management mission, as well as contributions that address fundamental questions in the life sciences. Our research portfolio can be broadly divided into six signature areas based on acknowledged expertise and emerging opportunities as follows:
Genomics and Proteomics
Urban Pest Management
Crops and Livestock Pest Management
Environmental Stewardship
International Development
Science Education
More information about our research in each of these areas can be found at the following website:
www.entm.purdue.edu/research
Some examples of our current R&D efforts include molecular research focused on the search for avirulence genes in Hessian flies, evaluating the mechanism of resistance to soybean cyst nematodes, identifying specific target sites to improve pesticide resistance management, determining the genetic basis of honey bee and mosquito behaviors, characterizing the digestive inhibitors in cowpea weevils, and sequencing the first tick genome.
We'll add new molecular skills to our urban program as soon as the recently established O. Wayne Rollins/Orkin chair in urban entomology is fully endowed. In the meantime, we've increased our research capacity in urban pest management with the addition of a new insect ecologist working on multi-trophic level interactions in turf grass ecosystems.
Our environmental research has increased in recent years with more attention given to invasive species, and the addition of a new faculty member with skills in spatial biology and interest in biodiversity to augment our efforts in aquatic biology and mayfly systematics. We hope to add expertise in the area of invasive species and increase our capacity to develop new tools to rapidly detect and efficiently monitor both accidental and deliberate pest introductions.
Our extension programs continue to benefit from a strong applied research agenda that varies in depth and scope depending on the nature of the problem and the needs of the clientele group. For example, a new interdisciplinary team of faculty has been hired to develop a state-of-the-art field crops program. Our new field crops entomologist who joined the Department in January is part of this team.
Many of our research programs have corresponding international components. A good example is the Network for the Genetic Improvement of Cowpeas in Africa (NGICA). This is a network of volunteer scientists and stakeholders interested in improving cowpea production. A central tenant of NGICA is to foster the application of biotechnology tools in traditional plant breeding and selection. Leadership for this effort is provided by one of our faculty.
Our research is invariably reflected in the courses and curriculum we offer to our students. This part of our mission continues to evolve as we strive to provide our students the proper balance between core fundamentals and cutting edge knowledge. Students receive instruction from award winning teachers following a contemporary curriculum designed to provide the tools needed to be successful in today's world. We're also encouraging undergraduate research as a way to promote the next generation of scientists.
Changes and new programs in our research portfolio require new resources. To this end, the department invests in priorities outlined in our strategic plan. This is being achieved in part with strategic investments from the University and new extramural support. We're also raising faculty endowments to attract world-class scholars to join our team. Regarding new facilities, we're building a new insectary for mosquito research, raising money for a quarantine/containment facility, and a future outreach center.
Research in the life sciences continues to evolve and change, and Entomology at Purdue is riding the wave. Our research portfolio is expanding beyond the traditional pest management mission with more basic science and a strong interdisciplinary flavor. Contributing to interdisciplinary efforts from a strong disciplinary base such as entomology remains the best formula for successful and productive collaboration. While most of the expansion in our research portfolio will be funded by federal programs, support from the state and industry for local programs and targeted activities will continue to be critical. Ultimately, our research efforts will only be as relevant as the questions we address and the clientele we serve. To this end, we've adopted a strategic plan that is as dynamic and flexible as the times we live in.

~ Steve Yaninek ~


OUTREACH UPDATE
Entomology Career Development
In January the Entomology Department and the Indiana State 4-H Department at Purdue hosted the State Entomology Career Development Event. Forty-two junior division and 125 senior division students representing 19 schools from around the state of Indiana tested their taxonomic knowledge and insect identification skills. Participants passed Riker mounts that contained questions and insects for identification.
HASTI Convention
Members from the department participated in the 35th annual Hoosier Association of Science Teachers Conference in Indianapolis. By hosting sessions and talking with secondary school teachers department members promoted the use of insects in the advancement, stimulation, and improvement of science education in Indiana. Insect sessions and displays conveyed information on how to engage students in the inquiry process. CAPS Coordinator Chris Pierce gave a presentation on Invasive Species in Indiana - An Update. Outreach Coordinator, Mike Mullis captivated convention goers with the departments tractor pulling cockroaches.
The 15th annual Bug Bowl is scheduled for April 16th and 17th. With nearly 40,000 people in attendance during the Purdue Spring Fest Weekend it is the largest known insect-themed event of its kind.


DEVELOPMENT UPDATE
It is an exciting time to be at Purdue. The University is moving forward on an aggressive campaign to achieve pre-eminence and the Department of Entomology is fully engaged in the effort. We're excited about the generous gift we recently received from the O. Wayne Rollins Foundation to endow the O. Wayne Rollins/Orkin Chair in Urban Entomology.
This endowment will add a dedicated faculty program with modern molecular capabilities to bear on urban pests that complement our current R&D efforts. We're also grateful for the generous support we've received over the years from the many friends of Entomology at Purdue for a wide range of collaborative activities, scholarships, and other endowments that have been critical to our success.
Receiving two endowed chairs in one year is quite remarkable, but it doesn't pay the bills for our student-based activities. This past year the Department dispersed $45,700 from endowments and direct checks to support 31 awards for 28 student scholarships, but there are a number of development challenges that still remain. To be a leader in entomology, we've established the following development priorities to address our most critical needs:
$20,000 to renovate our student resource room to accommodate our rapidly growing undergraduate population which doubled in the past two years,
$25,000 a year in new scholarships and other endowment support to recruit the top students, promote undergraduate research, and provide travel support for student participation in professional development activities,
$1.5 million to endow a faculty enhancement fund in the name of the venerable John V. Osmun in recognition of his 60 plus years of service to the university,
Success will depend on strong backing from alumni, friends, and industry. We look forward to your continued support.


ENTOMOLOGY STUDENTS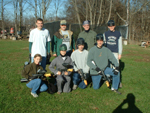 Paintball -Students take time out for recreational
activity. [More Photos]
AWARDS
Walter Baldauff received approval for $500 of undergraduate research funding. Walter will be working with Doug Richmond on nitrogen fertility and endophyte-enhanced resistance.
Students win top awards for their presentations at the Ohio Valley Entomology Association meeting held October 29th in Hanover, Indiana. The meeting was held in parallel with the Indiana Academy of Science's annual meeting.

| | |
| --- | --- |
| Rianna Arcinas | 2nd Place for Undergraduate Presentation |
| Justin Vitullo | 3rd Place for Masters Presentation |
| Shujuan Li | 3rd Place for PhD Presentation |

OUTSTANDING STUDENT AWARDS
The following students have been chosen for the department's Outstanding Student Awards. The winners of these awards are automatically nominated for the College of Agriculture's Outstanding Student Awards.
Kristi Jukovich - Freshman
Nick Seiter - Sophomore
Tyler Janovitz - Junior

NEW UNDERGRADUATE STUDENT
Emily Shebish is a codo student from Animal Science and has a degree from Purdue in Liberal Arts.

NEW GRADUATE STUDENT
Yaritza Charneco, from the University of Puerto Rico/Aguadilla, is in the MS Program with Barry Pittendrigh.

NEW POSTDOC
Kurt Saltzman (PhD '04) started his Postdoc position in January. Kurt is working with Christy Williams.

DECEMBER GRADUATES
Amber Burton, BS
Victoria Fickle, BS
Kristian Leveridge, BS
Craig Roubos, MS
Justin Vitullo, MS
Kurt Saltzman, PhD


Michael Meyer
In the Middle

It began when I earned my first teaching position. I had just graduated from the University of California, Davis credential program and was given a classroom full of thirty-three rambunctious sixth graders. I was hired to work with a "bubble" class, an unusually large group of students for a particular grade level, filling a space that would last until graduation. My peers had children of their own, and we (my future wife, Rosalee, and I) were in the beginning stages of considering kiddos. As the youngest member of the staff, I was in the middle, somewhere between my coworkers and students. Six years later, I found myself enjoying the life of an elementary instructor, but missed being actively engaged in science, and being surrounded by peers with similar interests. While relaxing after a morning of chasing birds in Southeast Arizona, I decided to pursue a graduate degree. The following year found me in the middle, being in one place while trying to get to another. With a few offers on the table, I, along with my wife and then two-year-old son Christopher, chose the Department of Entomology at Purdue University. We said, "See you soon!" to our friends and family, then hit the road. After driving for a week across the county during the summer's most intense heat wave, we arrived safe, and I quickly became part of the department's Aquatic Entomology Lab. I had experienced more of the "real world" than most of my fellow graduate students, and was nearly the age of many faculty members within the department. I found myself somewhere in the middle, a professional with a history, yet starting a new career as a student. Six years later, with a second son, Asher, as part of the family, my schooling is nearing its end. I again find myself in a peculiar situation. I have spent time and energy working on and sending off job applications, with a huge dissertation waiting to materialize. I find myself almost done, yet far from it, while eagerly anticipating employment opportunities. To date, I've had one phone interview, and have been called back for a site visit from the same institution. The entire family is on an emotional rollercoaster, a wild and exciting ride where we have little control. What does the future hold? Time will tell. Until then, I can be found in the basement of Smith Hall, somewhere in the middle.
Robert N. Wiedenmann (PhD '90) has accepted a position as the head of the Department of Entomology at the University of Arkansas beginning March 2005. Rob is currently the Director of the Center for Ecological Entomology at the Illinois Natural History.
Beth Grafton-Cardwell (MS '80) received the Citrus Research Board's Award of Excellence 2004 for exceptional service to the California citrus industry.
Dr. Phillip E. Sloderbeck (MS '77) received the Distinguished Service Award to the ESA Certification Program for outstanding contributions to the ESA Certification Program and the professionalism of entomology. Phillip is an area extension specialist with Kansas State University.
Dr. Rick Brandenburg (BS '77) received the Recognition Award in Urban Entomology, sponsored by S.C. Johnson & Son. Rick is a professor of entomology and the co-director of the Center for Turfgrass Environmental Research and Education at North Carolina State University.
Tianqi Wang (MS '96) recently sent us this update. "After graduation from Purdue I was invited to work with Dr. Robert Sites and lead a state wide aquatic insects project at the University of Missouri-Columbia. In 1998, owing to family reasons, I moved to Greenville, South Carolina. In a big move to catch the internet opportunity and new economy, I decided to apply my knowledge learned in Systematic Entomology and other academic areas under the directions of Dr. Pat McCafferty and other Faculties in Purdue, and started with a broad knowledge based internet portal business, called HouseCenter.Com. The challenges and opportunities drove me further to the peak as internet consultant, stock trading consultant, pest control consultant, Feng Shui consultant, real estate consultant, and business development consultant. I established a real estate brokerage company in Boston called House Center - TQ Realty, and an investment holding company House Center Inc. I never forgot what I heard from our graduation: It is not only what we learned today that would work for us, but it is Purdue Spirit that would carry us to broad success. Hi! to all folks - past and present- in the department."
Jolene Hurt (BS '04) sent in photos (below) of her recent world travels. She is saddened by the devastation of Ko Phi Phi, Thailand where hundreds of people were killed and the town completely destroyed by the tsunamis. Jolene will be an entomology intern at Hawaii Volcanoes National Park starting in February. Her internship is with the US Geological Survey's Palila Restoration research project.
| | |
| --- | --- |
| | |
| Namibia | Angkor, Cambodia |
| | |
| | |
| Santorini, Greece | Ko Phi Phi, Thailand |
Stoy A. Hedges (BS '81) currently serves as Manager of Technical Services for Terminix International based in Memphis, Tennessee. His most recent accomplishment was serving as the Editorial Director for the Mallis Handbook of Pest Control 8th and 9th Editions, which was published in February 2004. Stoy has authored five field guide books, is currently working on one for cockroaches with plans for four more for the series, and has more than 140 articles for PCT Magazine. PCT Magazine awarded Stoy as Professional of the Year and published a compilation of 50 of his best articles in the book ANThology: The Best of Stoy Hedges. In addition to many other honors and recognitions, Stoy has made 19 consecutive presentations at the Purdue Pest Control Conference.
Timothy Johnson (PhD '84) "After graduating from Purdue, I accepted a position of Research Scientist with Ecogen Inc. in Langhorne, PA. Ecogen was one of many agriculture biotech start-ups formed in the 1980's. Joining a new company at its birth was both exhilarating and occasionally terrifying. In 17 years at Ecogen, I served in a variety of positions from managing the discovery of biological pesticides through their development and ultimately into marketing. Probably my most notable achievement was serving as a Project Leader with several other Ecogen scientists in the discovery of a Bacillus thuringiensis isolate that produces a protein toxic to corn rootworm larvae. This discovery resulted in a patent and, after additional protein engineering and mutagenesis work by other Ecogen scientists, is the basis for Monsanto's YieldgardÒ corn rootworm resistance technology recently released into the hybrid corn marketplace.
In 2001 I joined Plato Industries, Ltd. located in Houston, Texas. At Plato Industries I am responsible for our business of providing boll weevil monitoring supplies to state boll weevil eradication programs and new product development. In the past year I have filed patents for a new grandlure pheromone dispenser for use in boll weevil monitoring and for a new trap design for monitoring adult Lepidoptera. Both products will be launched during 2005.
On a personal level, I have been married for 27 years to my wife Mary who works as a Certified Diabetes Educator at an endocrinology practice. Mary and I have two grown daughters, one who is a marine science technician at the Virginia Institute for Marine Science and a second who is presently working with a NGO in Belgrade, Serbia trying to keep people from killing each other. For those who know me I still fish (a lot) and a few years ago Mary decided to try entering triathlons. The triathlon venture has been quite a trip culminating with Mary qualifying for and competing in the World Triathlon Championship in Kona, Hawii this past October."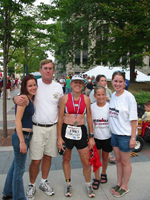 Mary's 1st place age group finish at Ironman Wisconsin
(L-R) Dana Johnson (daughter), Tim Johnson, Mary Johnson, two of Mary's nieces
Franklin Laemmlen (MS '66) will retire in July after 35 years in Cooperative Extension. Franklin is currently the County Director and Farm Advisor – Vegetable Crops/Pest Management at the University of California, Santa Barbara/San Luis Obispo Counties, California. Franklin joined the University of California in 1980 as a Farm \Advisor in Plant Pathology/Nemotology. His career began at Purdue University as Extension Assistant in the Department of Entomology. Franklin has also served as Science Master at a girls' school in Kenya, East Africa, and Associate Professor/Extension Specialist at Michigan State University.
Bruce Lube (BS '72) teaches Microbiology at Stanly Community College in Albemarle, NC. Bruce has great memories of playing basketball with Tom Turpin and Gary Finni, followed by pizza and beer at Bruno's. He and Bernie Huff still get together once a year with Ron DeHollander, a friend of Al York's.
Kevin A. Shufran (BS '82) of Stillwater, Oklahoma sent in this update. "I can't believe it has been 23 years since I left Ye Olde Entomology Hall! I am a Category 1 Research Entomologist with the USDA-ARS in Stillwater, OK. In 2004 I was promoted to GS-13. I have had the honor of becoming a Fellow in the Royal Entomological Society of London. Currently I am chair of the WCC-66 Coordinating Committee on Russian wheat aphid and other cereal aphids and serve as a grant panel chair for CSREES. I also am Adjunct Assistant Professor at Oklahoma State University. Basically I earn my keep by being the aphid geneticist, but also conduct some research in biological control. The main focus of my research program is aphid evolution/adaptation to resistant cultivars. This means getting at the truth behind the biotype myth and moving the field of plant resistance beyond the simplistic model that plant resistance genes act in an analogous fashion as pesticide selection, thus causing the occurrence of virulent "biotypes". Having received my PhD at Kansas State University, this is something like heresy but none of the late Dr. Reginald Painter's students (e.g. Prof. Eldon Ortman) have put me on the rack and forced to me to renounce! Tally Ho!"
| | |
| --- | --- |
| | |
| Himalayan Tahr | On the Hoopehorn |
Robert Dolphin (BS '65) has fond memories of Purdue and working out the ecological life history of the sweatbee, Halictus confuses, under the guidance of Dr. Leland Chandler and the leadership of Dr. John Osman while assisting Dr. George Gould in his research. He is presently a naturalist with broad interests in the natural sciences, including entomology. A runner since 1981, Robert ran his 350th marathon in 2004. At age 75 he runs about 20 marathons per year in the 4:30+ range. Go Robert!


CALENDAR
| | |
| --- | --- |
| February 12 | Purdue Ag Fish Fry, Indianapolis State Fairgrounds |
| March 20-23 | ESA NCB Meeting, Purdue University |
| April 16-17 | Spring Fest - Bug Bowl |