UNDERGRADUATE STUDENT
EVENTS, OPPORTUNITIES & DEADLINES
PRE-ARRIVAL HOMEWORK
Pre-Arrival Homework:
1. myPurduePlan-
1. instructional videos- http://www.purdue.edu/registrar/currentStudents/myPurdue/index.html
2. Readings on the myPurduePlan tool and scheduling assistant
2. Academic Expectations- reading "What is a Professor at a Research University" by Phillip Kraemer
3. Campus Safety, Health and Wellness
1. Video's with Purdue Pete and safety- https://www.youtube.com/playlist?list=PLAB9F81E9406CE19F
2. Bike Safety- https://www.purdue.edu/bikes/index.html
3. Reading- "Physical Exercise for Brain Health" from Posit Science
4. Housing video regarding Alcohol Education
4. Leadership and Professional Development- students will have readings regarding myStrengths. After the readings they will take the assessment. If students have any questions about Strengths, please direct them to Jim Hintz as he is the one on campus that facilitates this activity. His email is jimhintz@purdue.edu.
5. Diversity and Intercultural Awareness
1. Statement from the Diversity and Inclusion Office website
2. TED talk by Chimamanda Adichie "The Danger of a Single Story"
6. Academic Integrity- reading "Academic Dishonesty: The Social Implications" by Gary Pavela
7. Financial Literacy
1. My Money- http://www.purdue.edu/mymoney/
2. Resources for being financial literate: http://guides.lib.purdue.edu/financialliteracy/
3. Reading- "Choices are Everywhere: Why Can't We Just Have It All?" by Scott Wolla
4. Reading- "Investing in Yourself: An Economic Approach to Education Decisions" by Federal Reserve Bank of St. Louis
8. Academic Success- "Tips for Succeeding in College' by campus partners
9. Campus Technology- lots of ITaP resources! This includes the customer service contact information.
10. Information Literacy- libraries website and blurb about the libraries.
11. Self- Advocacy Skills
1. TED Talk by Angela Lee Duckworth- "The Key to Success? Grit
2. Reading: "True Grit: The Best Measure of Success and How to Teach It" by Vicki Davis
3. Students will take a 12 item Grit Scale assessment
12. Freedom and Expression
1. Commitment to Freedom of Expression- http://www.purdue.edu/purdue/about/free-speech.html
2. Statement of Integrity and Code of Conduct- http://www.purdue.edu/purdue/about/integrity_statement.html
3. Boilermaker Values Statement- https://www.purdue.edu/president/email/2015/We-Are-Purdue-Statement-of-Values.pdf
That's it! J Let me know if you have questions!
Kasi Jones, M.S.
Director, Orientation Programs
Student Success Programs
Purdue University
Phone: 765-496-3627
new student welcome & carnival August 18, 2017
Join us in front of Lilly Hall, GAMES, PRIZES, SNACKS AND FREE AG WATER BOTTLES FOR EVERYONE WHO ATTENDS!
UPDATE: WE WILL BE LOCATED IN FRONT OF AGAD, DUE TO CONSTRUCTION.
<![if !vml]>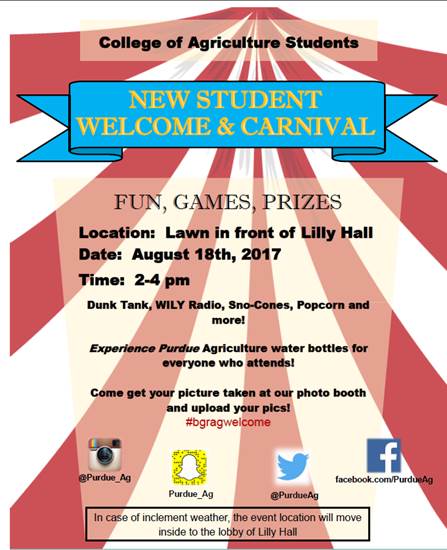 <![endif]>
ENTOMOLOGY FALL PICNIC! September 6, 2017
New students will receive their Department of Entomology T-shirt at the picnic.
<![if !vml]>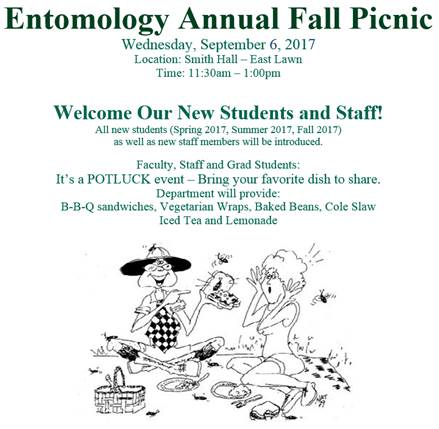 <![endif]>
STUDENT EMPLOYMENT – FALL SEMESTER
Tip: Contact the financial aid office, to find out if you qualify for work study.
Dr. Richmond's Laboratory will be hiring a couple part time students to help with:
<![if !supportLists]>1. <![endif]>Evaluation of next generation chemistries against soil-dwelling scarab larve
<![if !supportLists]>2. <![endif]>Development of biological controls for black cutworms
In addition, he will be hire several students for one or two days of work harvesting scarab larvae from infested soil.
If you are interested in any of the above work opportunities, please contact Dr. Richmond directly. drichmond@purdue.edu
The Landscape Ecology & Biodiversity lab has an opening for an undergraduate part-time research assistant during Fall 2017. Duties include sample processing, insect identification, and data entry. Applicant should have completed ENTM 206+207. Completion of ENTM 335+336 is desirable.
Applicants should be able to work 10–15 hours a week. Pay is $10/hour.
Contact Dr. Holland jdhollan@purdue.edu if interested in applying for this position.
<![if !vml]>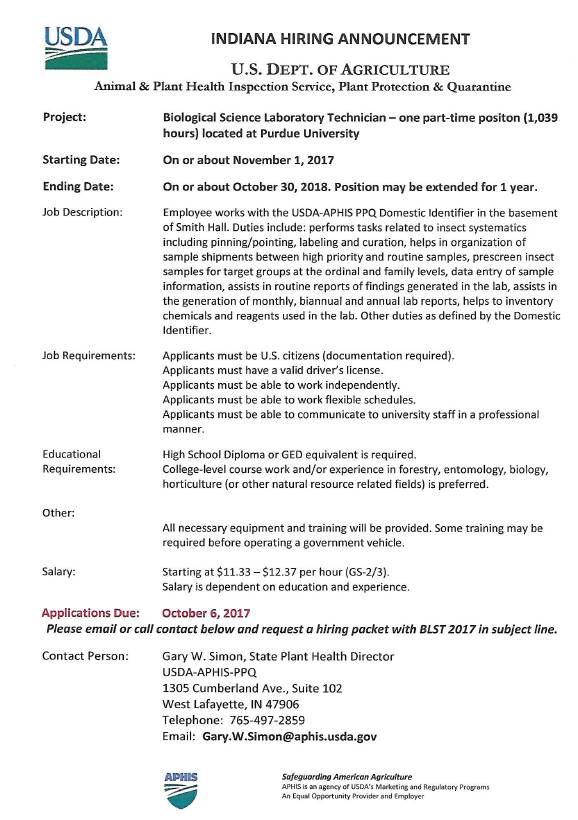 <![endif]>
Fall 2017 AG Career Fair! Save the Date!! october 3, 2017
Mark your calendars and plan to attend! The fair is open to all students and alums at Purdue and Ivy Tech.​
The Career Fair is not just for graduating students, it is for freshmen, sophomores and juniors who are exploring career paths or internship opportunities. The Career Fair is a great way to explore careers, pick-up company information and network with future employers and ask questions. The only person who can get you a job or an internship is you.
October 2, 2017- get ready for the career fair at the Resume Blitz, 11:00- 1:00 and 1:00 – 3:00, and the Employer panel 5:30-7:00 pm. Locations TBA.
College of Agriculture Fall Career Fair - Tuesday, October 3, 2017, from 9:30 am to 3:30 pm, Cordova Recreational Sports Center.
College of Ag Fall 2017 Career Fair Booklet coming September 2017.